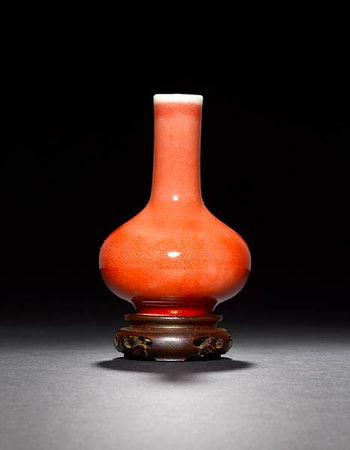 A miniature copper-red vase; Yongzheng. photo Bonhams
Of elegant pear-shaped form, covered all over with a rich mottled red glaze, thinning at the mouth to an opaque white, wood stand. 8.4cm high; Sold for HK$48,000

Provenance:/ Formerly in the collection of Brodie and Enid Lodge

Exhibited 出版: The Oriental Ceramics Society, Monochrome Porcelain of the Ming and Manchu Dynasties, London, October 1948, no.5.

清雍正 紅釉荸薺扁瓶擺件

來源:Brodie 與 Enid Lodge舊藏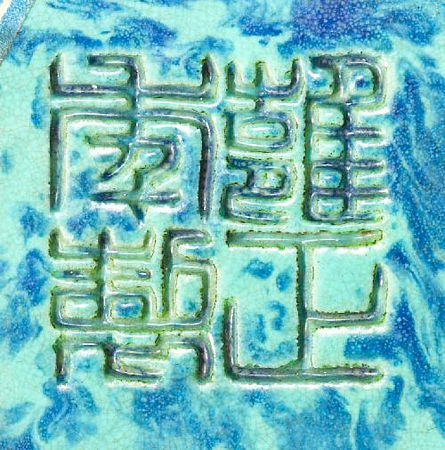 A rare 'robin's egg' bottle vase; Yongzheng four-character seal mark and of the period. photo Bonhams
Of globular form, supported on a splayed foot and surmounted by a tall cylindrical neck and everted rim, the central body decorated with a raised horizontal rib repeated at the shoulder, the neck with an additional four ribs, covered all over in a brilliant turquoise-blue glaze mottled with feathery streaks of lavender and violet creating a marbled effect, the glazed base impressed with a four-character seal mark. 21cm high. Estimate: HK$180,000 - 240,000, USD 23,000 - 31,000; This lot has been withdrawn
:
Provenance: Old French collection

清雍正 爐鈞釉竹節頸瓶 「雍正年製」篆款

It is rare to find a 'robin's egg' vase with Yongzheng reign mark, and only a small number is preserved in museum and private collections. For a pear-shaped garlic-mouth vase in the National Palace Museum, Taipei, see Qingdai danse you ciqi tezhan, Taipei, 1981, pl. 41; and for a lotus-mouth vase in the Palace Museum, Beijing, see Kangxi. Yongzheng. Qianlong. Qing Porcelain from the Palace Museum Collection, Hong Kong, 1989, pl. 120.
For a Yongzheng reign-marked pear-shaped vase sold at auction, see Sotheby's Hong Kong, 8 October 2008, lot 2515.
Bonhams. Bloch Collection; Wine and Whisky; Chinese Ceramics, Works of Art & Paintings; Jewellery, Jadeite and Wristwatches and Writing Instruments, 23 Nov 2010 to 24 Nov 2010. Hong Kong. www.bonhams.com