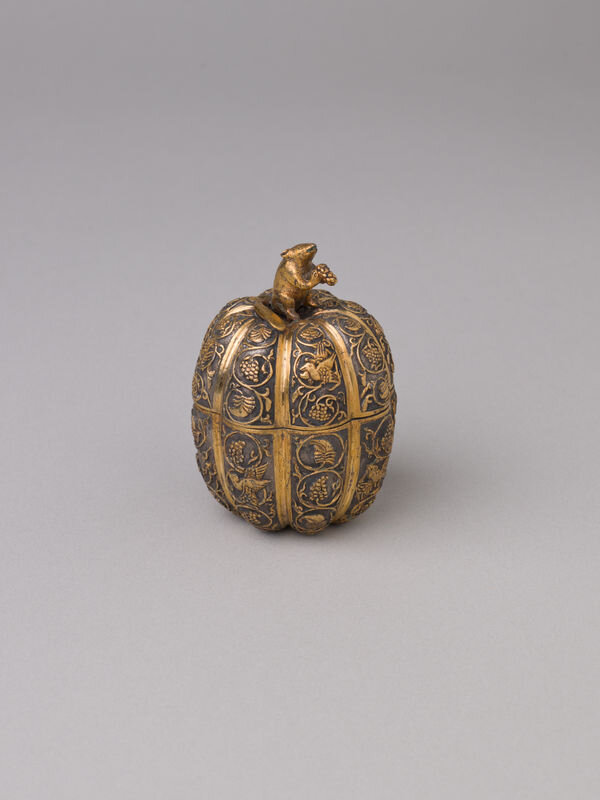 Parcel-gilt Silver Melon-shaped Box and Cover, Tang period, 618-907. Height: 8.0 cm. © Eskenazi
NEW YORK, NY.- Rare and luxurious articles made for emperors, courtiers and scholars are the focus of the fifteenth annual New York exhibition staged by London gallery Eskenazi Ltd, one of the world's leading dealers in Asian art. Early Chinese Metalwork in Gold and Silver and Works of Art of the Ming and Qing Dynasties will take place at the Ukrainian Institute, 2 East 79th Street , New York , from Tuesday 15 to Saturday 26 March 2011. The exhibition is part of Asian Art Dealers New York (AADNY) and coincides with Asia Week.

The exhibition will feature exquisitely decorated pieces from the Tang period (618-907 AD), one of the most important being a parcel-gilt silver box and cover in the form of a melon surmounted by a bushy-tailed squirrel, or tree shrew, holding a bunch of grapes. This charming piece has an excellent provenance having been acquired in Shanghai in the 1950s by the distinguished collector/dealer Walter Hochstadter.

Another small and delightful Tang piece is a silver stem-cup decorated with scrolls and trefoils, stylized scrolling peony plants, and flowers. This luxury wine cup is rare. At the time of its manufacture, it was intended for use by the elite; after the art of porcelain-making had been perfected in China , drinking vessels in precious metal would have been redundant. It was formerly in the Frederick M. Mayer collection, New York , and subsequently a private collection in Japan . Other fine examples of Tang period silver include a second cup, a fine ladle with an elegantly arching handle and bowl chased with a bird, possibly a goose, in flight, and a parcel-gilt spoon, the bowl chased with two birds standing on a branch with fruit and flowers.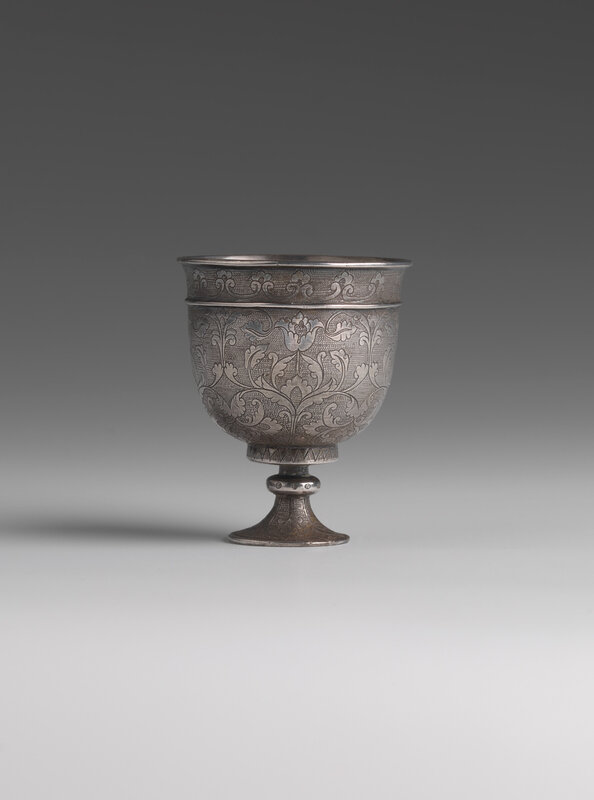 Formely in the Frederick M. Mayer collection. Silver Stem-Cup, Tang period, Tang period, 7th - 8th century; 5.5cm (H). Diameter: 4.5cm. © Eskenazi
Silver Box and Cover, Song period, 960 - 1279; 5.5cm (H). Diameter: 6.8cm. © Eskenazi
A gold hairpin with unbelievably fine filigree work and crowned with a large flowerhead would have adorned a lady of high status at the Tang court. A set of two small knives in a sheath, decorated with the most delicate gold openwork, would have been worn by a man of considerable rank; the slender lapis lazuli handles no longer have their iron blades but the gold sheath is remarkable for its finely-woven gold chain, tied with knots that have never been loosened for 1,300 years.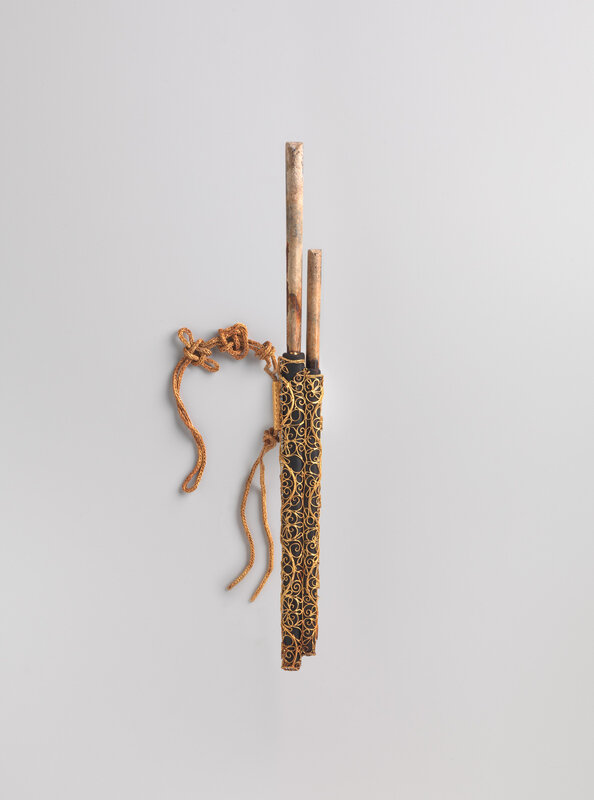 Gold Filigree Double Scabbard with Lapis Lazuli Knife Handles, Tang period, 7th century. Length of lapis lazuli handles: 4.2cm and 7.2cm. Length of gold filigree: 9.4cm and 10.4cm. © Eskenazi
An earlier piece from the Warring States period (476-221 BC) is a garment-hook (daigou) inlaid with gold, silver and jade. This extraordinarily luxurious object was probably made to accompany an important personage in the afterlife. Notable for the number of different metalworking techniques used to create it, the dragon's head hook is set with five gold plaques decorated with dragons and coiled snakes. From the same period is a tiny gold and silver standing figure, probably an official, cast with great realism. Though only 5.1 cm high, the face, hair and clothing are all depicted with astonishing detail.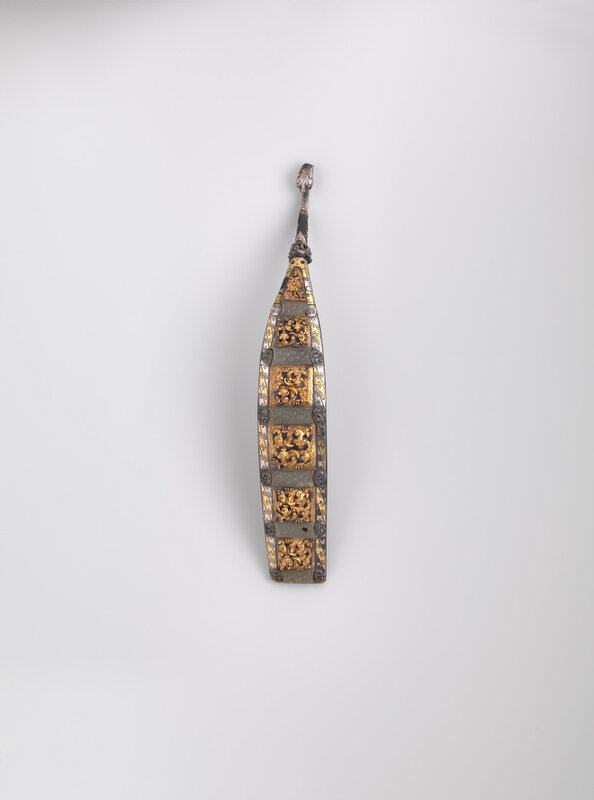 Iron, Gold, Silver and Jade Garment-Hook (daigou), Warring States period, 475 BC - 221 BC; 23.0cm (L). © Eskenazi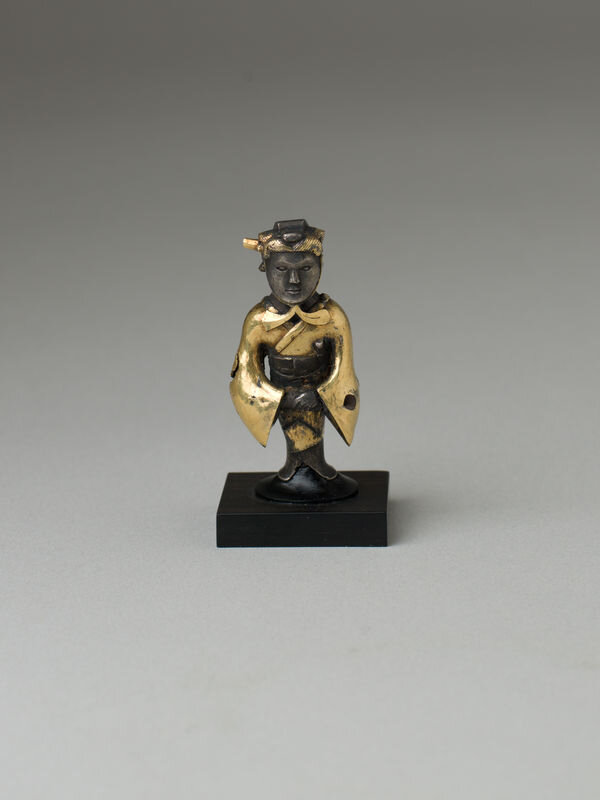 Gold and Silver Standing Figure, Warring States-Qin period, 4th-3rd century BC. Height: 5.1 cm. © Eskenazi
A fine early Ming bronze sculpture of a 'Buddhist' lion was probably made for the 'arrow game' or touhu, or as an incense burner. The game was played at banquets, the players throwing arrows into the three vessels on its back, the result being that they would concentrate so hard on winning that they would drink less. The mythical beast is depicted with a lively, striding stance, the forked and bushy tail held high.
Parcel-gilt Bronze Lion, Ming dynasty, 15th - 16th century; 40.5cm (H). © Eskenazi
Jade and rhinoceros horn were highly prized in China . Weighing in at 10.5 kg is a massive jade carving of a water buffalo from the late Ming-early Qing period, 17th century. It is one of a small group of large jade animal carvings and has an excellent provenance having been in both the E.W.L. Atterbury and the Henry Tozer collections in England in the 1940s and '50s. A piece that will raise a smile is the late 18th century jade bowl with three boys perched on a rocky base as if about to climb over its rim. A Ming dynasty rhinoceros horn libation cup is particularly unusual as it is inscribed with a date corresponding to 1582 and a poem which may be translated as You, cup, are carved of rhino horn / To cradle drink in large measure. / Though to own you is a pleasure /I must not act like Ji and Ruan. Ji and Ruan, known for their love of drink, were two of the legendary seven sages of the bamboo grove. Rhinoceros horn is notoriously difficult to carve and this virtuoso example is in the shape of an hibiscus flower, the handle a sinuous dragon clambering up its stem. Figural carvings in rhinoceros horn are extremely rare and a late Ming or early Qing (17th or 18th century) figure of Bodhidharma, also known as Damo or Daruma, the patriarch of Chan or Zen Buddhism, is a superb example.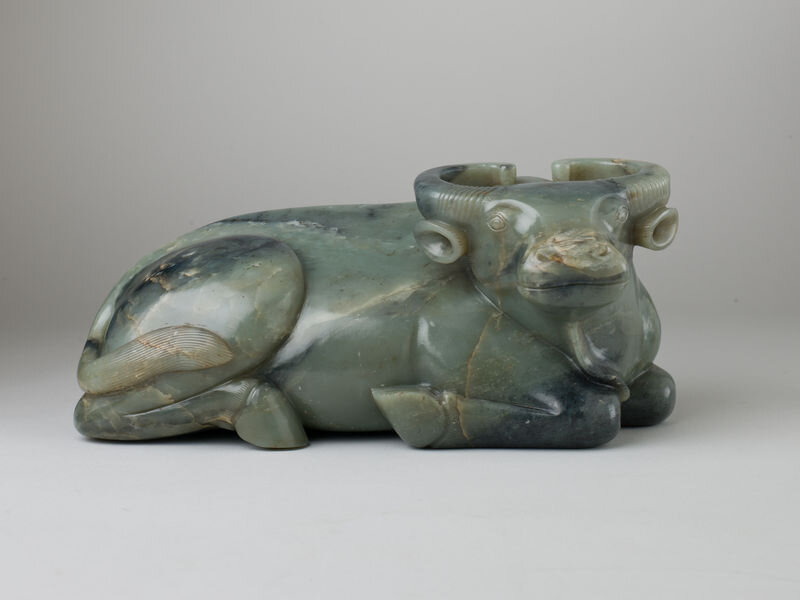 From the E.W.L. Atterbury and the Henry Tozer collections in England in the 1940s and '50s. Jade Water Buffalo, Late Ming - early Qing period, 17th century. Length: 31.5 cm, Weight: 10.5kg. © Eskenazi.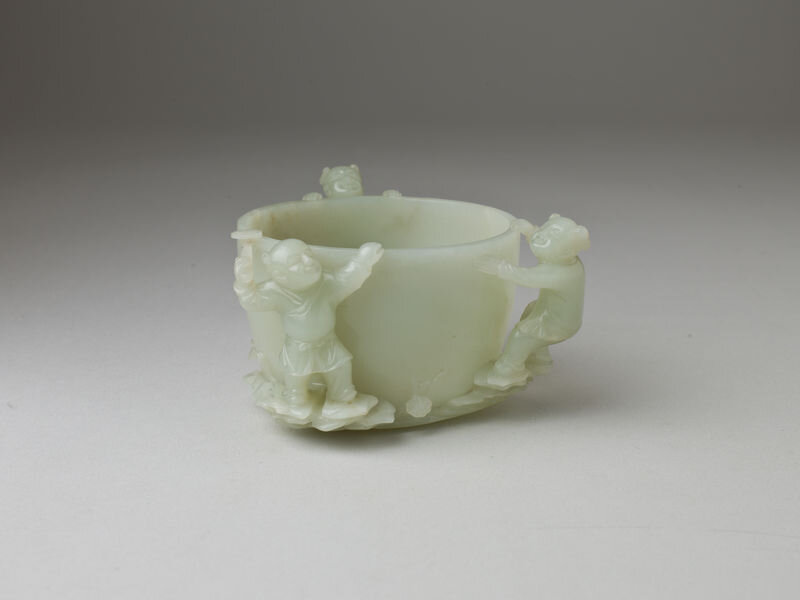 Jade Bowl with Three Boys, Qing dynasty, Qianlong period, 18th century, Height: 7.3 cm. © Eskenazi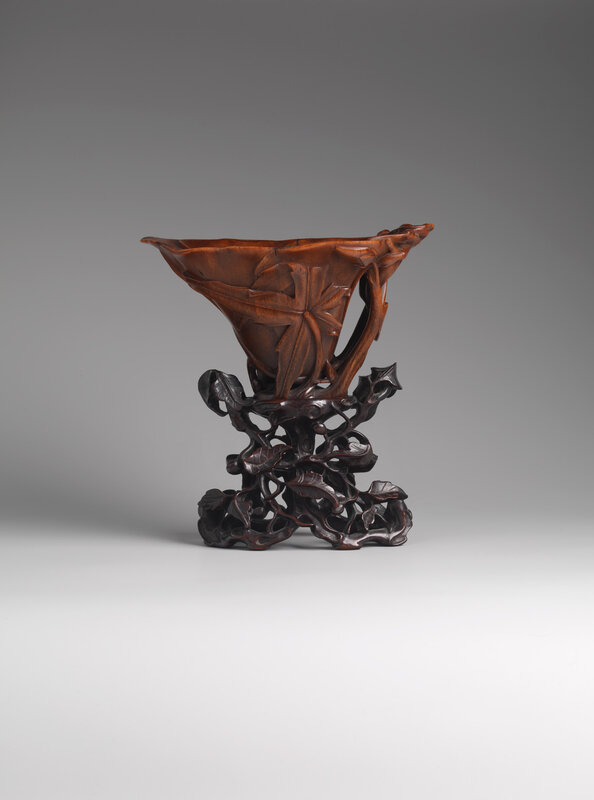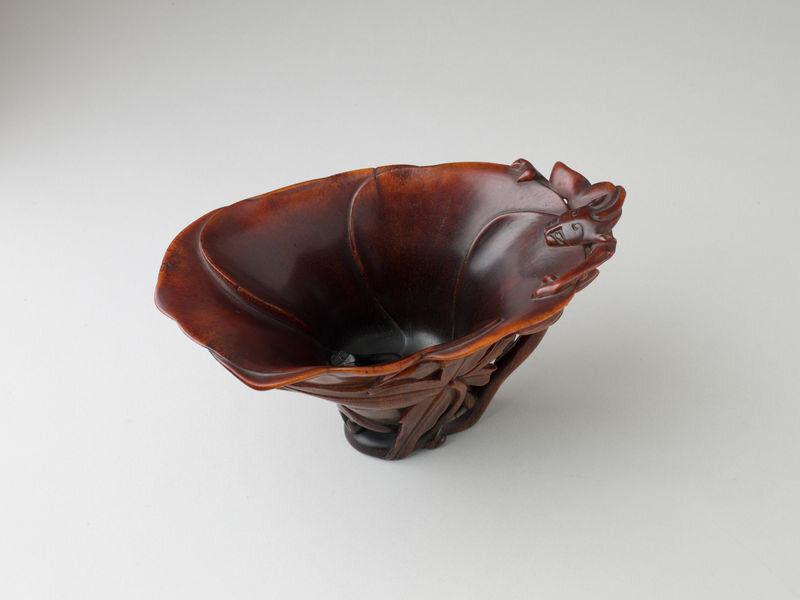 Rhinoceros Horn Libation Cup, Ming dynasty, Wanli period, 1582 AD. Height: 11.5 cm. Length: 19.4 cm.
© Eskenazi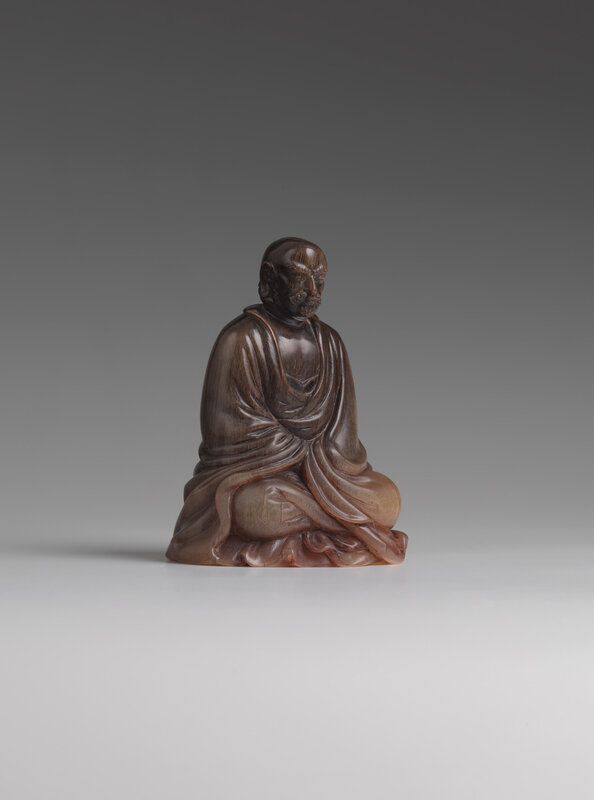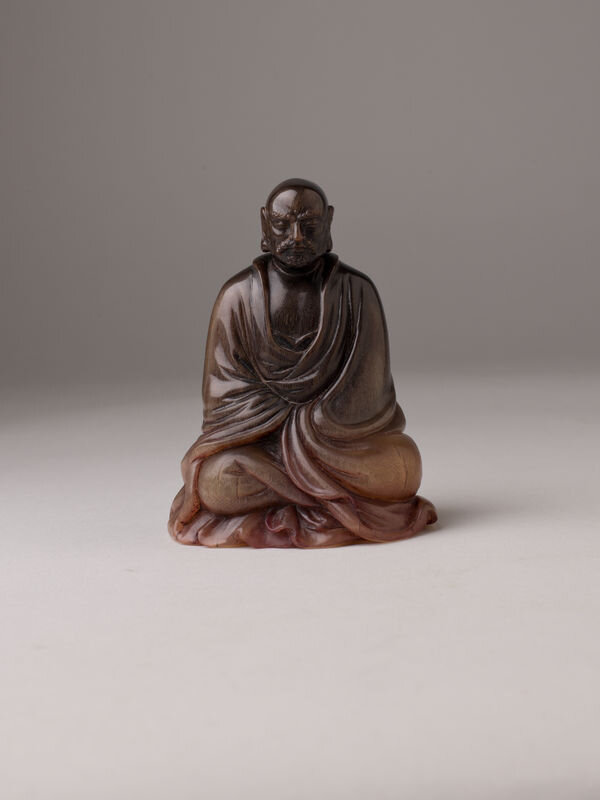 Rhinoceros Horn Figure of Bodhidharma, Late Ming - early Qing, 17th or 18th century. Height: 10.4 cm. © Eskenazi
A highly luxurious 'desk item' is a cloisonné enamel and gilt copper double container from the Qing dynasty, Qianlong marks and of the period, 1736-1795. It is in the form of a 'champion vase', harking back to archaic vessels in bronze. The twin containers are elaborately decorated in ravishing coloured enamels and set in superb gilt metal mounts featuring a bear supporting the vase on its back, a victorious bird of prey with outspread wings perched on its head.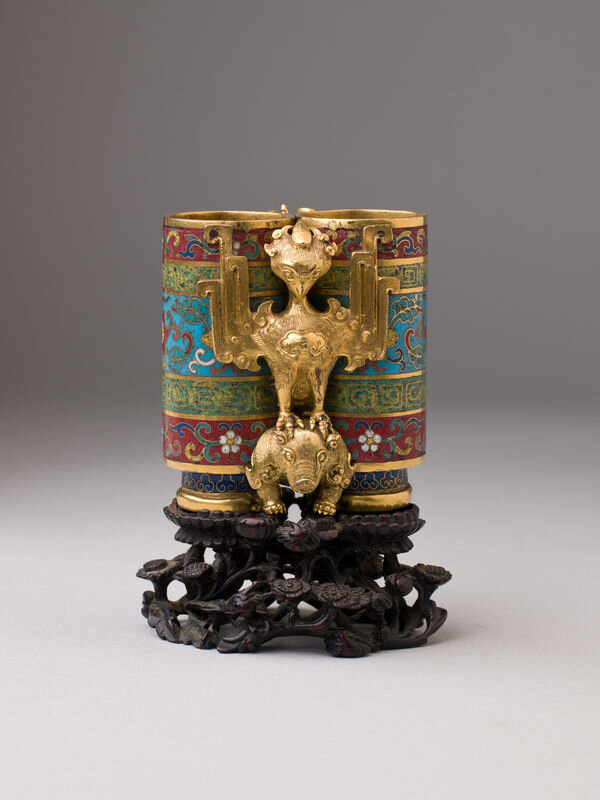 Cloisonné Enamel and Gilt Copper 'Champion Vase', Qing dynasty, Qianlong marks and of the period, 1736-1795 AD. Height on stand: 12.8 cm. © Eskenazi
Eskenazi's exhibitions are always eagerly awaited for the beauty and rarity of the objects offered and these exquisite luxury objects are no exception. Since the family business was founded in Milan in 1925, the Eskenazi name has become synonymous with expertise in oriental art. The gallery, which celebrated 50 years in London in 2010, is now in Clifford Street just off New Bond Street in London 's West End . Giuseppe Eskenazi, who has been head of the business for over 40 years, has an unrivalled reputation for his knowledge and love of the subject and clients have included over seventy of the world's major museums as well as private collectors.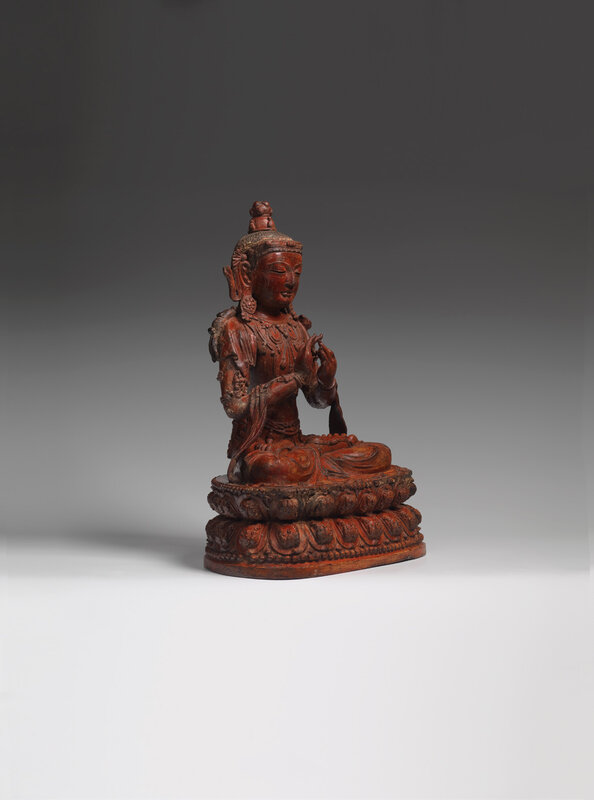 Dry Lacquer Figure of Mañjuśrī, Ming dynasty, 15th century; 41.5cm (H). © Eskenazi