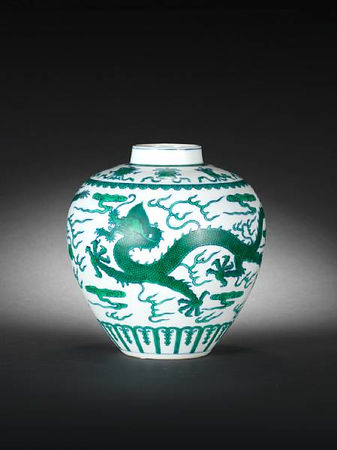 A green-enamelled 'dragon' jar. Qianlong seal mark and of the period
Of well-potted ovoid form, vibrantly painted around the sides in underglaze blue and green enamel with two scaly striding dragon in pursuit of flaming pearls, amidst cloud and flame scrolls, with a band of lappets at the base and the Eight Buddhist Emblems, Bajixiang, encicling the neck at the shoulder; 19.4cm high - Sold for HK$336,000

清乾隆 白地綠彩雲龍紋罐 「大清乾隆年製」篆款

A similar Qianlong green 'dragon' jar in the National Palace Museum, Taipei, is illustrated in Porcelain of the National Palace Museum, Enamelled Ware of the Ch'ing Dynasty, Book II, Hong Kong, 1969, pl. 13. See also a jar illustrated in Chinese Porcelain: The S. C. Ko Tianminlou Collection, vol. 1, Hong Kong Museum of Art, 1987, pl. 114.
A green-enamelled 'dragon' dish. Qianlong seal mark and of the period
With flaring rounded sides, enamelled to the interior with a central medallion enclosing a green five-clawed dragon writhing in pursuit of a flaming pearl, all outlined in black enamel, the underside decorated with a similar design of dragons in mutual pursuit of flaming pearls against a ground of incised waves. 18.1cm diam. Sold for HK$120,000
:
清乾隆 綠彩龍戲珠紋盤 「大清乾隆年製」篆款

A similar green 'dragon' dish was sold, Christie's New York, 15 September 2009, lot 374
.Bonhams. Bloch Collection; Wine and Whisky; Chinese Ceramics, Works of Art & Paintings; Jewellery, Jadeite and Wristwatches and Writing Instruments, 23 Nov 2010 to 24 Nov 2010 , Hong Kong www.bonhams.com