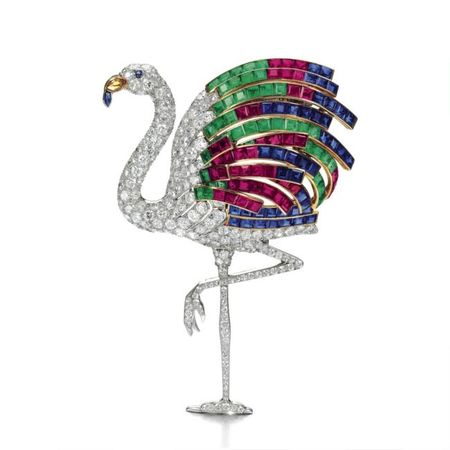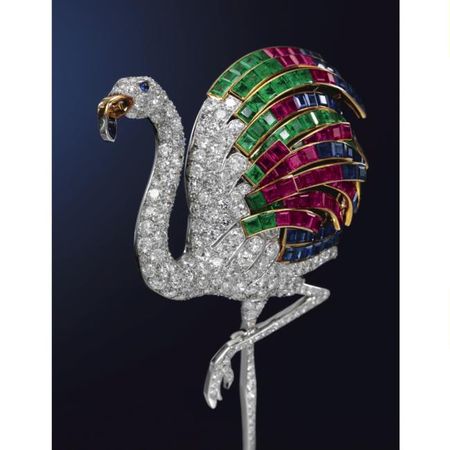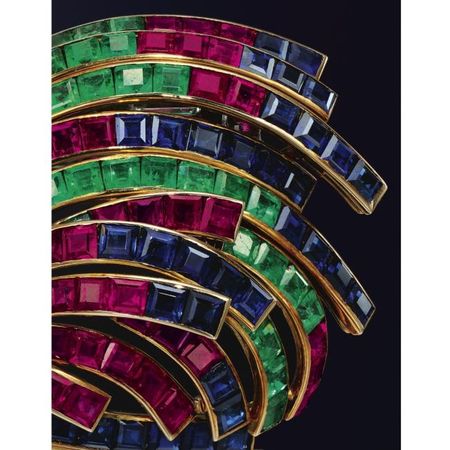 The ruby, sapphire, emerald, citrine and diamond flamingo clip, mounted by Cartier, Paris, 1940. photo Sotheby's
Designed as a flamingo in a characteristic pose, the plumage set with calibré-cut emeralds, rubies and sapphires, the beak set with a cabochon citrine and sapphire, the eye set with a similarly cut sapphire, the head, neck, body and hinged legs pavé-set with circular-, brilliant- and single-cut diamonds, measuring approximately 95mm x 65mm x 22mm, signed to the clasp MONTURE Cartier and indistinctly numbered, French assay and maker's marks. Est. 1,000,000—1,500,000 GBP.. Lot Sold 1,721,250 GBP
EXHIBITED: Cartier & America, San Francisco, USA, 19th December 2009 - 18th April 2010, extended 9th May 2010, item 25, page 120.
Living Diamonds, Flora & Fauna in Diamond Jewellery until 1960, Antwerp, Belgium, 10th October - 10th November 2002
Cartier, Goldsmith's Hall, London, 1988.
LITERATURE AND REFERENCES: Cf: Sotheby's, The Jewels of the Duchess of Windsor, Geneva, Thursday 2nd April 1987, Lot 52.
Cf: Hans Nadelhoffer, Cartier, London, 2007, page 233.
Cf: Michael Bloch, Operation Willi, London, 1984, 2nd p. of photographs after page 82.
Cf: Musée de Petit Palais, The Art of Cartier, Paris, 1989, pages 101 – 102 and 163 where the Flamingo clip is mentioned.
Cf: Nadine Coleno, Amazing Cartier, Jewelry Design since 1937, Paris, 2009, pages 26-28
Cf: Suzy Menkes, The Royal Jewels, London, 1986, Chapter 4 and page 79.
Cf: Suzy Menkes, The Windsor Style, London, 1987, chapter entitled Objects of Desire with details of several items in the jewellery collection of the Duchess of Windsor including the Flamingo.
Cf: Stefano Papi & Alexandra Rhodes, Famous Jewelry Collectors, London, 1999, pages 114 – 129 regarding the Duchess of Windsor's jewellery collection.
Cf: David Bennett & Daniela Mascetti, Understanding Jewellery, London, 2003, page 382
NOTE: Together with the panther bracelet Jeanne Toussaint was also involved in the creations of this magnificent large flamingo clip, the designer being Peter Lemarchand. The Duchess of Windsor is known to have worn this brooch soon after acquiring it, when she is recorded in a photograph with the Duke wearing it as they arrived at the Ritz Hotel, Madrid, on his forty-sixth birthday on 23rd June 1940. [Michael Bloch, Operation Willi, 2nd p. of photographs after p.82].
From Cartier's archives it is apparent that in order to make this jewel, the Duchess had several of her own pieces unmounted so that the stones could be re-used in this clip; jewels used included a necklace and four bracelets to supply the 42 calibré-cut rubies, the same number of sapphires and emeralds and 102 diamonds that make up this piece.
Peter Lemarchand was a true designer in every sense of the word, taking directly from nature their salient elements, he had a true awareness of natural surroundings and wild animals. He spent much of his time painting in his Montparnasse studio. In 1948 Toussaint paid tribute to him commenting on, "our common love for animals and birds"; the creation of Cartier's 'Great Cats' and amazing jewelled birds came out of this shared vision. Naturalistic jewels became gradually more stylised in the mid 1940's. This flamingo is depicted at rest with one leg up and the feathers created from calibré-cut emeralds, rubies and sapphires are curved and raised, more three-dimensional rather than flat.
"Lemarchand's animal figures have vigour, plasticity and an inimitable sense of movement – thanks it must be said, to the virtuoso technique of the Cartier craftsmen who executed the designs and who could capture the articulate litheness of a great cat or emphasise the tail of a bird of paradise with a flexible platinum setting...." [Hans Nadelhoffer page 233]. He even took inspiration from the Egyptian collections at the Louvre including bronzes of the feline Egyptian goddess Bastet.
Sotheby's. Exceptional Jewels and Precious Objects Formerly in the Collection of The Duchess of Windsor, 30 Nov 10, London www.sothebys.com