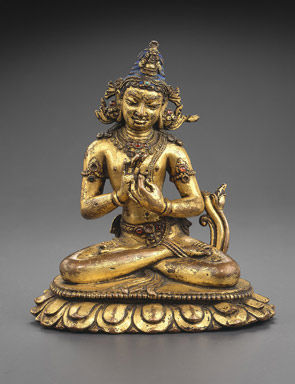 Bodhisattva Maitreya, Finely cast in harmonium posture and with serene, compassionate expression. A fine work of a nepalese artist. Gilt copper, Nepal, 11th century.
NEW YORK, NY.- Acting under one umbrella for the first time, over thirty-five prominent Asian art specialists, five auction houses and museums throughout New York will join forces to present Asia Week New York, which will take place from March 18-26, 2011.

"As a result of our combined efforts, we are confident that this dynamic week will be stronger and more unified than it ever has been for the collectors, curators and scholars who converge here annually for a whirlwind round of gallery and museum exhibitions, lectures, auction sales and private receptions," said Carlton Rochell, Chairman of Asia Week New York 2011. According to Rochell, all the events will be listed in a comprehensive Asia Week guide.

Launching the Asia Week festivities, a private cocktail reception will be held at Asia Society on Friday, March 18. The next two days will be packed with numerous Asian Art Open Houses, which are part of the week-long round of highly anticipated activities of auctions, museums and gallery exhibitions presented by the Asia Week participants.

"Asia Society is pleased to co-host the Friday evening reception for Asia Week New York, preceded by a panel discussion at our Park Avenue headquarters," said Melissa Chiu, Vice President Global Arts Programs and Museum Director, Asia Society.

According to Chiu, Asia Society will also recognize Asia Week New York with its annual gala benefit reception and dinner on Monday, March 21. "Asia Week New York has always been an important opportunity to see and to celebrate Asian arts and culture across the city, and we look forward to this spring's events," she said.

"The myriad cultures and artistic movements throughout the populous and diverse region known as Asia are often and intriguingly interrelated," said Henry Howard-Sneyd, Sotheby's Vice Chairman, Asian Art, Americas. "We look forward to this diversity and dynamism being reflected throughout New York as it will be in the important artworks available at Sotheby's during the week. The collaboration with our colleagues in the trade is further enhanced by the involvement of the city's cultural institutions to create what will surely be a unique and extraordinary week of activities and events."

"This is an exciting moment in time for Asian Art," said Tina Zonars, Christie's International Director of Chinese Works of Art. "We are delighted to be at the heart of Asia Week New York, which brings together dealers, museums and many other art institutions recognized by collectors around the world."

On Tuesday March 22, a lecture and private reception at the Japan Society will be held to preview Bye Bye, Kitty!!! - an ambitious, unprecedented group show featuring recent work by young Japanese artists, most of whom are based in Japan and have not exhibited in New York.

"Japan Society Gallery is delighted to play a leading role in Asia Week 2011," said Joe Earle, Vice President Japan Society & Director of Japan Society Gallery. "For over two years we have been working with exhibition curator David Elliott to assemble a selection of new paintings, videos, sculptures, and installations that meld traditional styles with challenging visions of Japan's troubled present and uncertain future. This work not only offers a feast for the senses, but also demolishes our preconceptions about contemporary Japan and its art."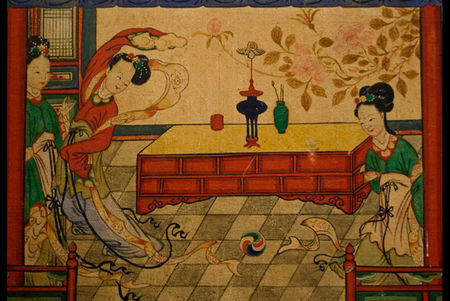 Guo Ziyi's Banquet by Guo Ziyi (697-781 AD).