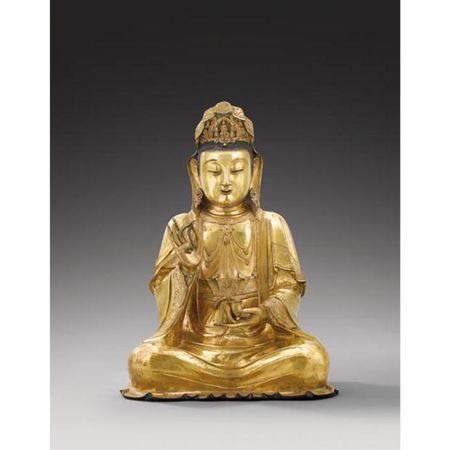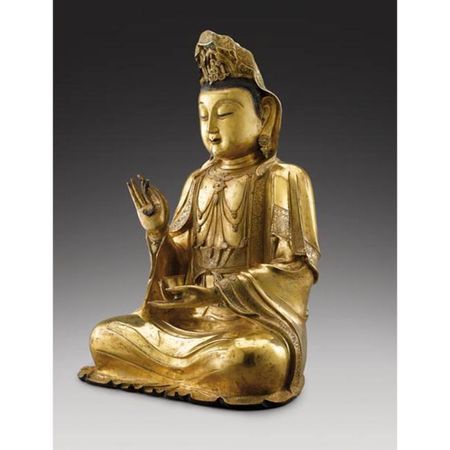 Bodhisattva Avalokitesvara en bronze doré. Chine, Dynastie Ming, XVE-XVIE siècle. photo Sotheby's
assis en dhyanasana, un bol dans la main gauche, la main droite relevée tenant une tige, l'expression sereine, les yeux mi-clos, une robe nouée sous la poitrine, un châle recouvrant sa tête et son diadème orné du bouddha Amithabu, la robe richement ciselée laissant apparaître son collier; 51 x 37 x 25 cm, 20 x 14 1/2 x 9 4/5 in. Est. 350,000—450,000 EUR. Lot Sold 612,750 EUR
NOTE: This figure of Avalokitesvara is impressive for its large size and ornate detailing and rare for the veiled head gear she adorns ; see a related gilt-bronze figure of Avalokitesvara of magnificent proportions also wearing a veiled crown embellished with a figure of Amitabha, in the National Palace Museum, Taipei, was included in A Special Exhibition of Recently Acquired Gilt-Bronze Buddhist Images, National Palace Museum, Taipei, 1996, cat. no. 24.
Avalokitesvara is the most popular of all the bodhisattvas, appearing in myriad forms with numerous epithets : The Compassionate One, Lord Who Gazes Down, Lord of the World, and Lotus Bearer. The compassion of the bodhisattva is expressed in the subtle gestures of this elegant sculpture, the mudras signifying the bestowal of charity and reassurance. The cult of Avalokitesvara in China is interwoven with that of Guanyin and manifestations of the bodhisattva developed independently from Tibetan Lamaist traditions. This statue of Avalokitesvara, identified by the small effigy of Amitabha on the crown, has been cast in the traditional Chinese taste, as seen in the fuller proportions of the torso and face.
For a later example of a figure of Avalokitesvara cast in this style and head gear, but holding a small child and seated on a lotus flower base, see one in the Warren Cox collection, illustrated in Hugo Munsterberg, Chinese Buddhist Bronzes, Tokyo, 1967, pl. 73. Further related figures of Avalokitesvara but adorning an elaborate crown, include one in the Denver Art Museum, Denver, published in Hai-wai yi-chen. Chinese Art in Overseas Collections: Buddhist Sculpture, vol. 1, Taipei, 1986, pl. 176 ; another of this size sold at Christie's Hong Kong, 30th April 1995, lot 606A ; and a smaller example sold in our New York rooms, 8th May 1981, lot 72.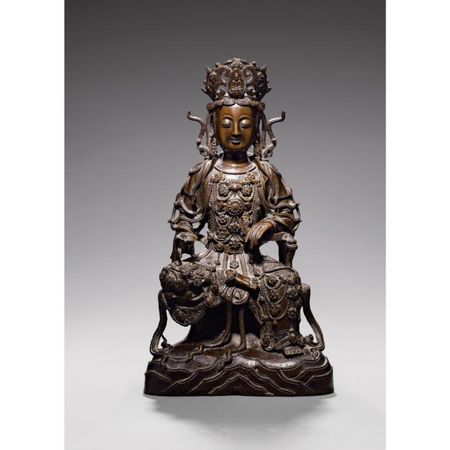 Statuette de Guanyin en bronze patiné. Chine, époque Ming, XVIIE siècle. photo Sotheby's
assise en sukhasana, tenant une coupe dans la main droite, arborant de longues boucles d'oreille et de nombreux colliers ouvragés, sa couronne découvrant une image de Bouddha; 31,5 cm, 12 3/8 in. Est. 10,000—15,000 EUR Lot Sold 12,500 EUR
Statuette de boddhisattva en bronze partiellement doré. Chine, Dynastie Ming, fin XVIE-début XVIIE siècle. photo Sotheby's
assis, faisant le mudra de l'enseignement et tenant dans sa main gauche une coupe, arborant des colliers, de longues boucles d'oreille et une haute couronne découvrant une image de Bouddha, le visage doré, les yeux mi-clos; 30 cm, 11 13/8 in. Est. 7,000—8,000 EUR. Lot Sold 9,375 EUR
Sotheby's. Asian Art, 16 Dec 10, Paris www.sothebys.com