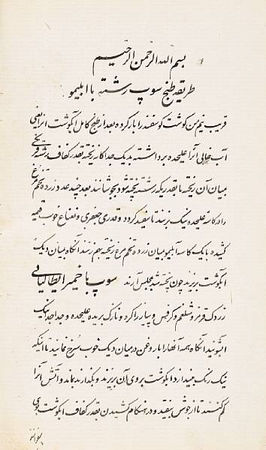 The Persian manuscript was commissioned by Muhammad Quli Khan-e Qajar Quyunlu, Majd al-Sultaneh. Photo: Bonhams.
LONDON.- Bonhams next sale of Indian and Islamic Art on January 19th 2011 in New Bond Street, features a 19th century recipe manuscript that offers a fascinating insight into the preparation of various dishes in Qajar Persia, more than a century ago.

Commissioned by Muhammad Quli Khan-e Qajar Quyunlu, Majd al-Sultaneh (d. 1905), this Persian manuscript is a slim volume of 37 folios, written in a wonderfully elegant nasta'liq script in black ink, with the names of recipes written in larger script. It is estimated to sell at a very modest £400-600.

Alice Bailey, Head of the Indian and Islamic Department at Bonhams, comments: "For anyone who is interested in the food of other cultures, this collection of Persian recipes compiled in the 19th century from Iranian as well as European sources, offers a wonderful window into a culture famed for its culinary sophistication. Every aspect of Persian arts and crafts is imbued with complex subtleties, and the art of food preparation was no stranger to this cultural discipline. Much has been lost of the rich written culture of Persian cookery which makes this manuscript rather special."

Majd al-Sultaneh, who describes himself as the Commander of Ten Thousand, was most probably the grandson of Fath 'Ali Shah Qajar (reg. 1797-1834). The book was written during the finals years of the Qajar Dynasty, an Iranian royal family of Turkmen origin who ruled Iran from 1794 to 1925.

One of the more unusual dishes is a recipe for barbequed skewered peacock, traditionally served on a silver platter complete with head, neck and plumes. The entire bird was first stripped of its skin and feathers very carefully leaving the neck intact. The insides were then taken out, cleaned and bits of fat rubbed with salt and pepper placed inside. The bird was then wrapped in greaseproof paper, placed on a large skewer and cooked, preferably over an open flame.

Another version of this recipe involved stuffing the bird with vegetables and spices and then frying it. Once the peacock was cooked it was elegantly placed on the platter, covered with its skin and feathers and the neck and head propped up, as if it were to take flight. The redressing of the peacock was a laborious process and the dish was eaten cold, not by choice, but because the preparation took so long.

This recipe book belongs to a tradition of writing down Iran's well-known culinary excellence which unfortunately has largely been lost. Two of the earliest classical cookbooks in Iran that have survived are from the Safavid period (1502-1736). The Kār-nāmeh dar bāb-e tabbākhī va sanat-e ān ("Manual on cooking and its craft") written in 1521AD by Ḥaji Mohammad-Alī Bāvaṛčī Baḡdādī was written for an aristocratic patron at the end of the reign of Shah Ismail.

The recipes include measurements for ingredients, often detailed directions for the preparation of dishes, including the types of utensils and pots to be used and instructions for decorating and serving them. The ingredients and their combinations in various recipes are very similar to those in use today. The large quantities specified, as well as the generous use of such luxury ingredients as saffron, suggest that these dishes were prepared for large aristocratic households, even though in his introduction, the author claimed to have written it "for the benefit of the nobility, as well as the public".

The untitled recipe book up for auction on the 19th of January also contains recipes which have been translated from European cookbooks and possibly picked up during the writer's visits to Europe. There is particular attention paid to soups, of Portuguese, French and Italian origin, one with the enigmatic title "Queen's Potage Soup", likely a reference to Queen Victoria. Although it begins with soups, fried bread and sauces, the recipes do not follow a traditional "starter, main, pudding" format and are mixed. A recipe for English Christmas pudding, for example, comes before a vegetable dish.

Some of the recipes incorporate European terms for ingredients that even by the end of the 19th century were still unknown in Iran. Tomatoes for example were simply called tomat or foreign aubergines. The compiler of the manuscript was keen to avoid including any ingredients which might offend the Persian largely Shi'a readership and wherever lard or wine is recommended, the unnamed translator has suggested alternatives.