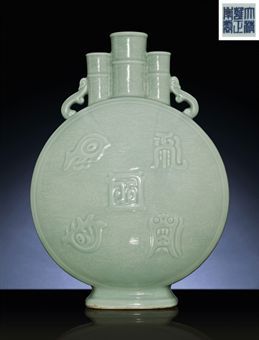 A superb large celadon-glazed tripled-neck moonflask. Yongzheng six-character sealmark and of the period (1723-1735). Photo: Christie's Images Ltd., 2010
Sturdily potted of flattened circular form, the body finely moulded on each side with five Daoist emblems, the Five Sacred Peaks, reserved on a ground of finely incised lingzhi branches and trailing vapour, repeated on the narrow sides and the three ribbed cylindrical necks, with a pair of scrolled leaf-form handles, all under an even glaze of sea-green tone; 20 in. (50.8 cm.) high. Estimate HK$4,000,000 - HK$6,000,000 ($517,385 - $776,077) HK$4,000,000 - HK$6,000,000 Price Realized HK$20,820,000 ($2,692,032)
Provenance: Previously sold at Sotheby's New York, 6 November 1981, lot 304
Notes: The five distinctive moulded marks on the present vase are Daoist talismanic diagrams or insignia known as the 'True Forms of the Five Sacred Mountains', Zhenxing Wuyue. These Five Sacred Mountains of China are identified by the upper right symbol, the Eastern Peak of Mount Tai (located in Shangdong province); the lower right, the Southern Peak of Mount Heng (Hunan province); the lower left, the Western Peak of Mount Hua (Shaanxi province); the upper left, the Northern Peak of Mount Heng (Hebei province); and the central emblem represents the Central Peak of Mount Song (Henan province). These five are also symbolic of the Five Elements: metal, fire, wood, water and earth; and a balance to the cosmic order.

These diagrams can be traced back as far as the Song dynasty and by the Ming Wanli period these images were popularly engraved on stone stelae. Cf. a rubbing from a stone stele dated to 1604 and kept at the Zhong-yue Miao, or Temple of the Central Peak, on Mount Song in Henan province, illustrated in Daoism and the Arts of China, The Art Institute of Chicago, 2000, p. 358, no. 137. Daoists believed that paper printed with these emblems, and carried on the body, acts as a talisman by invoking protection from the spirits of the mountains and helps the wearer to subjugate lesser spirits. It was thought that the Ming emperor Jiajing was a devout Daoist and a number of Daoist emblems, predominately trigrams or bagua, appear as motifs on blue and white ceramics of the period, such as the double-gourd vase in the National Palace Museum Collection, Taipei, illustrated in Blue-and-White Ware of the Ming Dynasty, Book V, CAFA, Hong Kong, 1963, pl. 5. However, the application of these emblems did not make their appearance on ceramics as a major decorative motif until the Qing dynasty Yongzheng period.

The neck on the present flask also has spiritual significance in that the larger central cylindrical neck flanked by two smaller ones, is suggestive of the character, shan, or 'mountain'. Traditionally mountains were the dwelling places of immortals and the three most notable mountains were known as Peng Lai, Fang Zhang, and Ying Zhou. It was with these sacred mountains in mind that Emperor Yongzheng expanded his father's imperial gardens at the Yuanmingyuan, 'The Garden of Perfect Brightness', to include pavilion with Daoist references such as Pengdao Yaotai, 'The precious pavilion of Pengdao', and provide Daoist appellations to gardens such as Fenglinzhou, 'Islets of the Phoenix and Dragon'.

The only other example of this same shape, motif and glaze appears to be a Qianlong-marked flask sold at Christie's New York, 3 June 1993, lot 240.
Christie's. Important Chinese Ceramics and Works of Art, 1 December 2010, Hong Kong www.christies.com