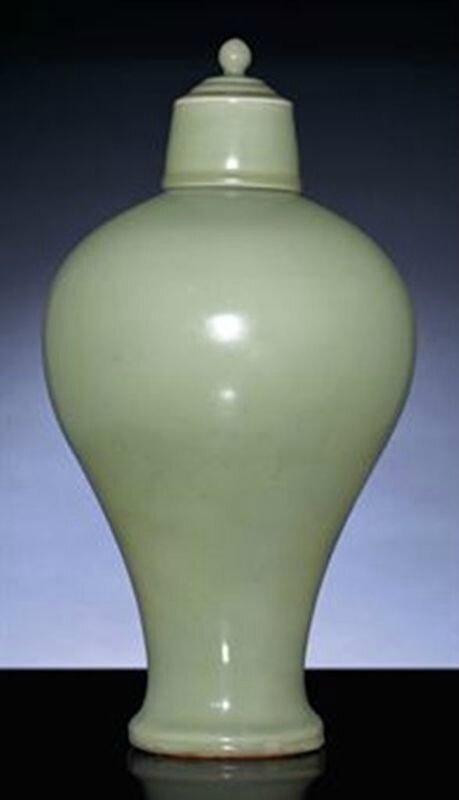 Lot 3104. A very rare early Ming Longquan celadon meiping and cover. Ming Dynasty, 15th century. 7 3/4 in. (45 cm.) high, box. Estimate HK$2,000,000 - HK$3,000,000 ($258,692 - $388,039). Price Realized HK$6,980,000 ($902,516). Photo: Christie's Images Ltd., 2010
The stoutly potted body tapering to a spreading foot with square-cut rim and the rounded shoulder rising to a short conical neck, the bell-shaped cover with bud-form finial, covered overall with a glaze of soft olive-green tone. 1
Provenance: The Tsui Museum of Art, Hong Kong
Notes: The commanding form and excellent potting of this meiping, complemented by the handsome and lustrous glaze, distinguish it as an excellent example of its type. A very similar meiping and cover dated to the Yuan or early Ming dynasty is illustrated in Selected Treasures of Chinese Art: Min Chiu Society Thirtieth Anniversary Exhibition, Hong Kong, 1990, no. 125.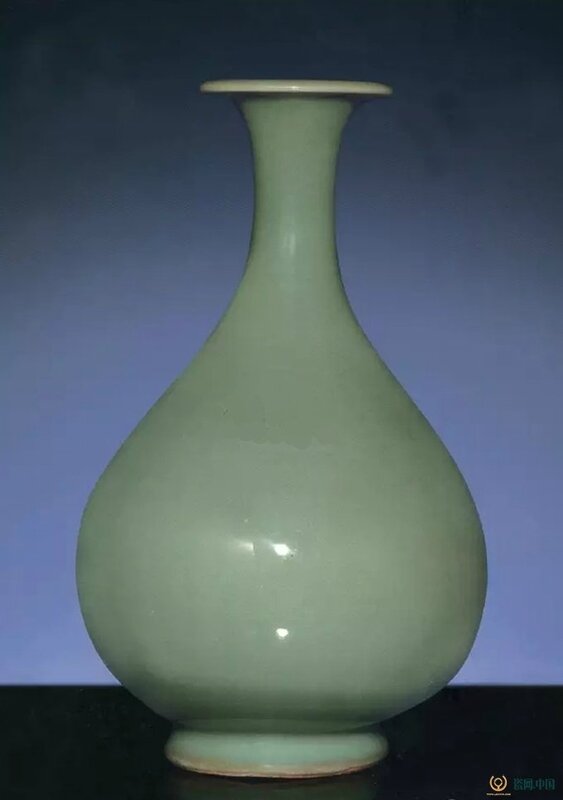 Lot 3105. A very rare early Ming Longquan celadon pear-shaped vase, yuhuchunping, Hongwu period (1368-1398). 13 1/4 in. (33.5 cm.) high. Estimate HK$1,000,000 - HK$1,500,000 ($129,346 - $194,019). Price Realized HK$2,660,000 ($343,939). Photo: Christie's Images Ltd., 2010
The elegant pear-shaped body raised on a spreading foot and surmounted by a slender neck rising to a flared mouth, covered overall with a glaze of even pale olive-green tone, the unglazed foot ring burnt orange in the firing, wood stand, Japanese wood boxes.
Provenance: A Japanese private collection, Gifu
Notes: The shape of this vase is similar to those produced in the Imperial kilns in Jingdezhen decorated in underglaze-blue or underglaze-red, dated to the Hongwu period.

An early Ming Longquan yuhuchunping of similar form in the National Palace Museum, Taipei, is illustrated in Green-Longquan Celadon of the Ming Dynasty, Taipei, 2009, pp. 102-103, no. 49. A slightly smaller but similarly proportioned Longquan vase from the Idemitsu Collection dated to the late Yuan-early Ming dynasty is illustrated in Chinese Ceramics in the Idemitsu Collection, Japan, 1987, pl. 587. Another Longquan vase, closer in size to the present example (33 cm. high) and dated to the early Ming dynasty was sold at Sotheby's Hong Kong, 26 October 2003, lot 49. A Longquan yuhuchunping of more elongated proportions dating to the Yuan dynasty was excavated in 1984 in Qingtian County, Zhejiang, illustrated by Zhang Bai, Complete Collection of Ceramic Art Unearthed in China, Vol. 9 (Zhejiang), Beijing, 2008, p. 211, no. 211.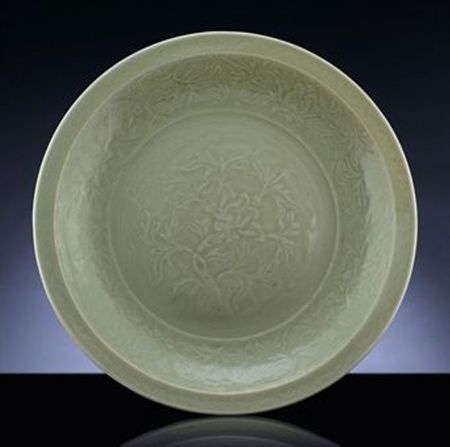 A rare early Ming massive carved Longquan celadon charger. Ming Dynasty, 14th-15th century. Photo: Christie's Images Ltd., 2010
The shallow charger with convex centre well carved with a large tree peony amidst leafy branches on a combed ground within carved bracket-lobed borders, the cavetto fluidly carved with a continuous peony scroll beneath the everted rim, which is carved with an undulating wave scroll, covered overall with a glaze of sea-green tone except for a wide unglazed ring on the base which has burnt orange in the firing; 20 1/2 in. (52.1 cm. diam.). Estimate HK$700,000 - HK$900,000 ($90,542 - $116,412). Price Realized HK$920,000 ($118,956)
Provenance: Estate of Abby Aldrich Rockefeller
Collection of Mr. and Mrs. David Rockefeller
A New York private collection
Notes: A similar, though smaller (33 cm. diam.) dish with everted rim, also carved with a peony scroll beneath a wave border, and enclosing a spray of peony in the interior, dated to the 15th century, is illustrated by R. Krahl, Chinese Ceramics in the Topkapi Saray Museum Istanbul - I - Yuan and Ming Dynasty Celadon Wares, London, 1986, p. 310, no. 272.
A very rare early Ming Longquan celadon carved jar. Ming Dynasty, 15th century. Photo: Christie's Images Ltd., 2010
Of spherical shape with a short base and narrow rimless aperture, carved into four equal segments divided by bamboo borders, each panel containing a shaped ogee cartouche enclosing the characters Qing Xiang Mei Jiu, 'Pure and fragrant fine wine', below a floral spray, all under a thick green glaze stopping above the burnt orange foot; 11 1/4 in. (28.5 cm.) high. Estimate HK$300,000 - HK$400,000 ($38,804 - $51,738). Price Realized HK$740,000 ($95,682)
Provenance: The Jingguantang Collection
Notes: No other jar of this design appears to be recorded.

Compare the hexagonal Longquan celadon guan and cover also divided into segments and carved with alternating floral and character panels illustrated in Mayuyama, Seventy Years, vol. I, p. 173, no. 511.
Christie's. Important Chinese Ceramics and Works of Art, 1 December 2010, Hong Kong www.christies.com