A pair of Chinese famille rose wine-pots and covers and a large cup and saucer. Yongzheng (1723-1735). Photo: Christie's Images Ltd., 2010
The wine-pots each modelled with overhead upright handle and short curved spout, painted to the globular body with sprays of chrysanthemum to one side, and sprays of peony to the other, the flat covers painted en suite; and a cup and saucer decorated to the exterior with branches of peony, Chenghua six character mark to the base. The wine-pots 16 cm. high (4). Est. €1,000 - €1,500. Price Realized €13,750Provenance: From the collection of F. Bodenheim, Amsterdam.
A set of six Chinese famille rose Batavian ware baluster vases and covers, Qianlong (1735-1796). Photo: Christie's Images Ltd., 2010
Each decorated with leaf-shaped panels enclosing flowering branches of peony, damages and repair; 28 cm. high (6). Est. €1,500 - €2,000. Price Realized €5,625
Property of a Dutch nobleman.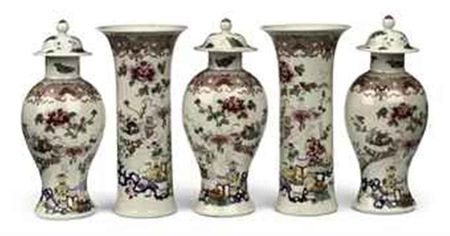 A Chinese famille rose five-piece garniture, Qianlong (1735-1796). Photo: Christie's Images Ltd., 2010
Comprising three baluster jars and covers and a pair of beaker vases, each decorated with 'Antiquities' and branches of peony below a composite border at the rim, the covers painted with scattered flower-sprays and with knop flower-head finials, some damage and repair. The baluster jars and covers 27 cm. high; the beaker vases 26 cm. high (5). Est. €2,000 - €3,000. Price Realized €2,500
Christie's. European Noble and Private Collections incl. Fine Paintings, 14 - 16 December 2010. Amsterdam www.christies.com