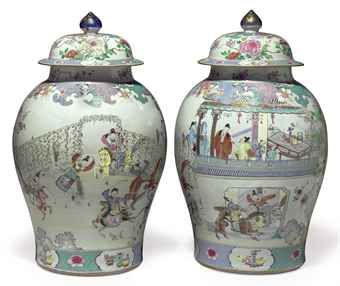 A large pair of famille rose jars and covers. Yongzheng-Early Qianlong period. Photo: Christie's Images Ltd., 2010
Very finely enameled in a delicate famille rose palette with a continuous scene of the Yang Family Lady Generals practicing in the rose-trellised courtyard of a palace, two ladies galloping out of the palace gate while court gentleman cheer them on from a balcony above, all below richly colored and patterned lappets issuing blossoms around the shoulders, repeated on the cover centering a blue and gilt lotus bud knop, together with a pair of white-painted and parcel-gilt wood pedestal bases. 24½ in. (62.2 cm.) high (6) - Estimate $100,000 - $150,000
Notes: The Yang family was celebrated in the Song Dynasty for their military prowess and their loyalty to the Emperor. Three generations of Yang Generals were victorious in battles protecting China from northern invaders in this period; it is said that one eldest son, Yang Yuanping, even rode from Wu Tai Mountain dressed as a decoy Emperor to save Song Taizong from his enemies.

But perhaps the most poignant loyalty story of the Yang family is that of the Lady Generals, wives who rode out to battle to avenge their husbands' deaths, a tragedy that had resulted from a traitorous defection. The revered story of the Yang Lady Generals is even the subject of a forthcoming film (summer 2011) by top director Ronnie Lee, starring Gong Li, Zhang Ziyi, Zhou Xun, Tang Wei and Michelle Yeoh.

Here the Lady Generals practice for battle with bamboo rods in place of swords. Their fancy robes and sweet expressions - one even fixes her hair, her rod held in her teeth - would seem to belie the violence of their mission. Clearly by this period, some six centuries later, the story has become less a grim story of revenge and more a happy-ending tale of virtue.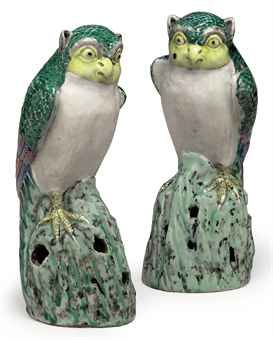 A rare pair of famille rose owls. Late 18th-Early 19th century. Photo: Christie's Images Ltd., 2010
Perched on pierced rockwork bases, their colorful wings folded over their long tails and their beady eyes picked out in black; 10½ in. (26.6 cm.) high (2) - Estimate $50,000 - $70,000
Notes: According to M. Cohen and W. Motley, 18th century Western ornithologists recorded several species of small owls or owlets in Asia. See Mandarin and Menagerie, pp. 274-77, where the authors illustrate a single and a pair of owls in the Sowell Collection. Like other Chinese export animals, owls were likely based on European models. Owls, though associated with ferocity in China, are, of course, associated with wisdom in the West, and owls were made in German and Dutch faience, as well as at a least one 18th century English porcelain factory.

Small Chinese export porcelain owls have been found in the Mottahedeh collection (later split up, as the above authors note) and the Hodroff collection, as well as at auction, but all of these examples are well under ten inches high and naturalistically colored in sepia. There does not seem to be another large scale pair of owls with famille rose enameling recorded.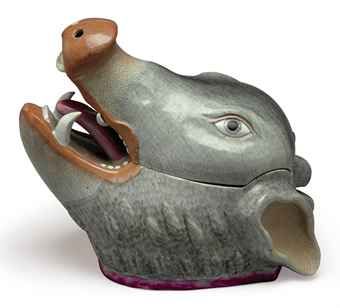 A boars's head soup tureen and cover, circa 1760. Photo: Christie's Images Ltd., 2010
The animal head naturalistically modeled with raised snout and staring eyes, the mouth open revealing teeth, tongue and fangs, his snout and ears glazed in tones of iron-red and his hide markings in densely packed strokes of grisaille, molded around the jaws and neck with rows of bristles above a pink enamel collar, at the back of the head three large knobs; 14 3/8in. (36.5cm.) long (2) - Estimate $30,000 - $50,000
Provenance: The collection of Florence Adele Sloane Burden and James A. Burden of Manhattan and Long Island, New York. A granddaughter of William H. Vanderbilt, eldest son of the Commodore, Florence numbered among her cousins Gertrude Vanderbilt Whitney and Consuelo Vanderbilt, Duchess of Marlborough. She traveled in Europe with Gertrude and with such friends as Helena Woolworth McCann and Henry du Pont, buying for her townhouse and for the house on Long Island, a Delano & Aldrich design built in 1913.
By descent through the family.
An American private collector.
Notes: A boar's head of this model from the collection of Mrs. Lammot du Pont Copeland is in the Peabody Essex Museum and illustrated by W.R. Sargent, The Copeland Collection, p. 202, where the author notes that the records of the Dutch East India Company document an order of 25 boar's head tureens in the 1763 season. In 1764 nineteen were shipped home to Holland but a further order was not fulfilled because "the supercargoes considered them too risky."
The animal tureen form was fashionable in Europe in the mid-18th century, when faience or soft-paste models were made at Strasbourg, Palissy, Chelsea, Höchst and other factories. A faience boar's head tureen made at Kiel in Denmark is illustrated by D.L. Fennimore and P.A. Halfpenny in The Campbell Collection of Soup Tureens at Winterthur, p. 173, as is a Chelsea example, p. 148, where the authors quote a Chelsea factory auction catalogue of March 18, 1755 listing "a very curious TUREEN in the form of a BOAR'S HEAD." Whether Chinese porcelain or European pottery, boar's head tureens must have made an impressive effect on the dining table, especially when filled with hot soup or stew emitting clouds of steam through the snout.
A very large pair of famille rose court ladies. Qianlong period. Photo: Christie's Images Ltd., 2010
The ladies standing in mirror image, holding up flaring vases to serve as candleholders, wearing floral robes tied with patterned aprons and over pleated skirts, their high topknots decorated with floral ornaments: 17¾ in. (45 cm.) high (2) - Estimate $30,000 - $50,000
Notes: Court lady candleholders were among the most fashionable production of the high-end export trade in the later 18th century, typically made about ten or twelve inches high, a little more than half this size. Likely they were inspired by the 17th century Japanese Bijin figures made in Kakiemon porcelain, also modeled standing in their colorful robes holding vases, that would have been seen by early China traders. For the Japanese prototype see an example from the Jenyns collection illustrated in Porcelain for Palaces: The Fashion for Japan in Europe 1650-1750, pl. 165. For a sixteen inch pair of Chinese ladies similar to the present lot see Christie's, New York, 26 January 2006, lot 40.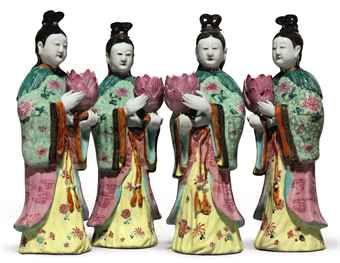 A set of four court lady candleholders. Qianlong period. Photo: Christie's Images Ltd., 2010
The ladies standing in pairs, each with a lotus bud-form candleholder held to left or right, their hair in elaborate topknots secured with floral ornaments, their colorful robes topped with pink skirts and over their shoulders short peacock feather capes; 11½ in. (29.2 cm.) high (4) - Estimate $30,000 - $50,000
Notes: Elegant court ladies holding vases are found in several sizes, with varied famille rose decoration, and were clearly amongst the more desirable forms of upmarket 18th century Chinese export porcelain (see lot 88). But they are usually found in pairs; a set of four is very rare.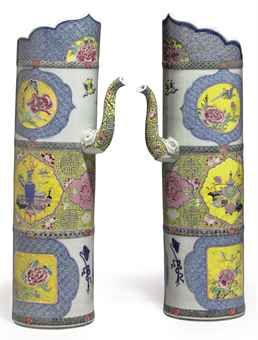 A large pair of famille rose "Monk's cap" ewers and covers, 18th-19th century. photo: Christie's Images Ltd., 2010
Decorated with raised borders of diaper pattern enclosing panels of flowers or "antiques" alternating with pink dragon panels, a curving spout issues from a monster mask on the side and pierced for the insertion of a handle, the flat circular covers similarly decorated below a bud finial; 21 in. (53.3 cm.) high (4) - Estimate $10,000 - $15,000
Notes: The duomuhu or "monk's cap" ewer is derived from a Tibetan prototype, beylep, often made of metal and used for storing milk tea in Lamist monasteries. The form came to the Chinese Imperial court with presentation gifts made by highly placed Tibetan monks during the reign of the Yongle emperor. Later vessels with the distinctive arched cresting were adopted by the Chinese and made at Jingdezhen.
An unusual pair of famille rose gin bottles. circa 1740, The silver covers, 19th century. photo: Christie's Images Ltd., 2010
The arched rectangular sides finely enameled with peony and birds perched on prunus branches; 10½ in. (26.6 cm.) high (4) - Estimate $7,000 - $10,000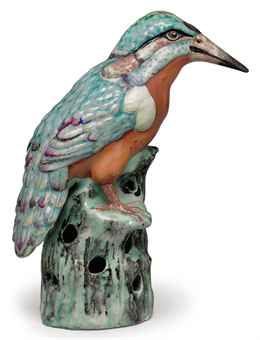 A famille rose kingfisher. Qianlong period. Photo: Christie's Images Ltd., 2010
The colorful bird perched on a hollow tree-stump, his wings folded over his long tail and his head slightly cocked in alert pose; 8¾ in. (22.2 cm.) high - Estimate $7,000 - $10,000
A famille rose "Cornucopia" charger, circa 1730-40. Photo: Christie's Images Ltd., 2010
Richly enameled with a purple cornucopia of peony, tulip, hydrangea and clematis blooms with an ornamental cabbage leaf behind, the rim with a gilt and grisaille band of scrolling vine and flowers; 12 5/8 in. (32 cm.) diameter - Estimate $6,000 - $8,000
Notes: Dishes in this lavishly enameled pattern were found in the Hodroff collection (sold Christie's, New York, 23 January 2008, lot 408) and the Dreesman collection (sold Christie's, London, 10 April 2002, lot 370.)
A Portuguese market famille rose armorial soup plate, circa 1765. Photo: Christie's Images Ltd., 2010
Vividly enameled with game motifs, including fish, hare, doves and a leg of mutton encircled by a floral wreath, the rim with the SALDANHA banner, the arms, and landscape vignettes of a fisherman and hunter in landscape between the inscription DE ALBUQUERQUE; 8¾ in. (22.2 cm.) diameter - Estimate $5,000 - $8,000
Notes: This richly enameled service was made for Dom Gaspar de Saldanha e Albuquerque (c.1720-?), Prelate of the Church of Lisbon, son of the Governor and Captain-General of Rio de Janeiro and brother of the 1st Count of Ega. See N. de Castro, Chinese Porcelain and the Heraldry of the Empire, p. 105. The American city, Albuquerque, New Mexico, was named in 1706 for an earlier Albuquerque, either Alfonso, famed Portuguese explorer (1453-1515) and first Viceroy of India, or the Spanish Duke de Albuquerque, 34th Viceroy of New Spain.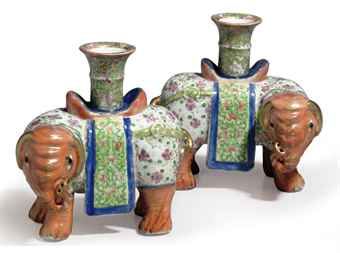 A pair of "Canton famille rose" elephant candleholders, 19th century. Photo: Christie's Images Ltd., 2010
With floral-decorated saddle blankets and candle nozzles; 6 1/8 in. (15.5 cm) high (2) - Estimate $4,000 - $6,000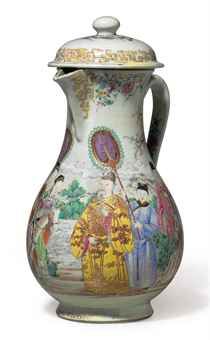 A large famille rose jug and cover, circa 1745-50. Photo: Christie's Images Ltd., 2010
Finely enameled with a wedding procession, the bride arriving with a saddled spotted pony, the groom in dragon-decorated yellow robes, each with servant shading their head with a purple fan, the bride's elegantly dressed retinue bearing presentation gifts, the groom followed by court gentleman in elaborate blue and pink robes, all beneath borders of spotted yellow fretwork terminating in serpent heads; 15¾ in. (40 cm.) high (2) - Estimate $3,000 - $5,000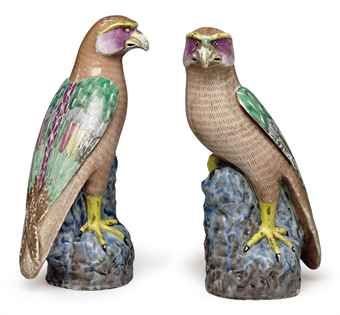 A pair of famille rose hawks. 19th century. Photo: Christie's Images Ltd., 2010
Modeled in mirror image on blue rockwork bases, their beady black eyes alert and their heads held high, colorful wings folded over their bodies picked out in sepia feathering, purple and yellow heads with a spot of green; 10 5/8 in. (27 cm.) high (2) - Estimate $2,500 - $4,000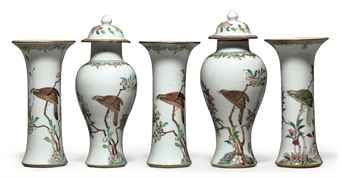 A small five-piece famille rose garniture.. Yongzheng-early Qianlong period. Photo: Christie's Images Ltd., 2010
Each enameled with a hawk perched on a flowering branch, the reverse with another small bird on an iron-red branch growing from a grisaille weathered rock, comprising three beaker vases and two baluster vases and covers; 9 in. (22.8 cm.) high, the baluster vases and covers (7) - Estimate $2,500 - $3,500
A pair of famille rose hawks. 19th century. Photo: Christie's Images Ltd., 2010
Perched on green tree stump bases, their heads held forward as if spotting their prey, touches of purple on their breasts and backs with their main plumage grey shading to dark brown; 8¼ in. (20.9 cm.) high (2) - Estimate $2,000 - $3,000
Christie's. Chinese Export Art , 25 January 2011, New York, Rockefeller Plaza www.christies.com