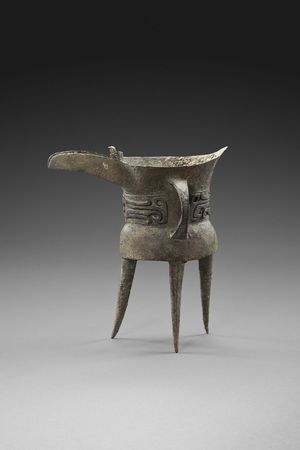 Vase archaïque, Jue. Chine, dynastie Shang, période d'Erligang, XVIe-XIVe siècle avant JC © BRAFA 2010
Bronze à patine verte; H 15,5 cm - Prix sur demande
Le corps du vase, à section ovale et à fond plat, possède un resserrement médian qui délimite la partie renflée située en partie basse. Il est orné, sur une face, d'une frise représentant un masque de taotie de type primitif, en léger relief. Trois pieds fins et triangulaires, une anse latérale semi-circulaire et plate, long bec verseur.
Archaic wine vessel, Jue; Bronze with green patina; H 15.5 cm; China, Shang dynasty, Erligang period, 16th-14th century BC - Price on application
Oval flat-bottomed body consisting in two parts: a convex skirt and a concave upper part that flares outward to the rim and is decorated with a single register and a primitive taotie mask in the center, opposite a large loop handle. Three triangular legs.
La galerie Oriental Bronzes fut ouverte à Londres en 1987, puis à Paris en 1997. En 2008, elle devint la Galerie Christian Deydier. Dans le vaste domaine qu'est l'archéologie chinoise, elle présente particulièrement des bronzes archaïques et des pièces d'orfèvrerie, que Christian Deydier choisit d'un œil expert. Les vases rituels en bronze, principalement de la dynastie Shang y côtoient de délicates fibules de l'époque des Royaumes Combattants, des bijoux et de la vaisselle d'apparat en or ou en argent doré, des dynasties Tang (début VIIe–début Xe siècle) et Liao (Xe siècle). Des terres cuites et d'exceptionnelles sculptures des dynasties du Nord et de la dynastie Tang viennent compléter la collection d'objets de la galerie.
Galerie Christian Deydier @ BRAFA (Brussels Antiques & Fine Arts Fair), Stand N°78. 21-30 january 2011
Christian Deydier. 30 Rue de Seine. F-75006 Paris, France. T +33 (0)1 40 20 97 34 - F +33 (0)1 40 20 97 39 - www.galeriechristiandeydier.com - galerie@deydier.com