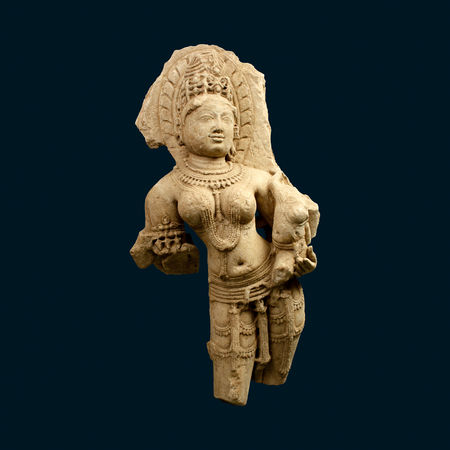 Ambikâ. Inde, Rajasthan, XIIe siècle © BRAFA 2010
Marbre blanc. H 96 cm - Prix sur demande.
Dans l'iconographie hindoue, elle est considérée comme la « Grande déesse », symbolise l'énergie cosmique et combat les forces des ténèbres. Ici elle est représentée debout avec un déhanché ondulant en triple flexion, le tribhanga, qui accentue les formes de la taille et des cuisses.
Elle tient dans son bras gauche un enfant qui s'appuie sur sa hanche ; son autre main, fracturée à ce jour, devait contenir une branche de manguier. Le halo est orné d'un décor floral et sa coiffure très sophistiquée se compose de rangs perlés et de pierres précieuses qui recouvrent sa chevelure. Son visage est caractérisé par une forme ronde, une bouche charnelle, des yeux en amande et une arcade sourcilière bien définie. Richement parée, elle porte de merveilleux éléments de parure. Les canons de beauté indiens associés aux formes pleines et sensuelles sont parfaitement mis en valeur sur cette sculpture. Par son aspect bienveillant la sculpture, cette représentation serait plutôt jaïne qu'hindoue.
Provenance : collection privée, Asie
Ambika. Marble. H 96 cm. India, Rajasthan, 12th century
Ambika, who in Hindu iconography is considered to be the 'Great Goddess', symbolizes cosmic energy and fights the forces of darkness. Here she is portrayed in a curving triple-bend stance, the tribhanga, which accentuates the waist and thighs. With her left arm she holds a child on her hip. Her other hand, which is broken off, probably held a mango tree branch. On her halo is a floral design and her highly sophisticated hairdo includes pearls and precious gems. Her face is round, with full lips, almond-shaped eyes and well-defined eyebrows. Her jewelry is rich. All the precepts of Indian beauty are perfectly present in this sculpture. Probably Jain rather than Hindu
Provenance: Asian private collection
Après une carrière internationale au sein de la banque JP Morgan, Christophe Hioco s'est consacré, il y a maintenant huit ans, à sa passion de toujours: l'art asiatique. La galerie est spécialisée dans l'art ancien du Vietnam, avec notamment des bronzes de la culture de Dông Son, dans l'art bouddhique d'Asie du sud-est, l'art indien et l'archéologie chinoise. Faisant preuve d'une exigence à la fois artistique, émotionnelle et esthétique dans le choix de ses œuvres, Christophe Hioco accorde la plus grande importance à la provenance et à la qualité des pièces. Christophe Hioco participe à la Brussels Oriental Art Fair depuis 2007 et à la Brussels Antiques & Fine Arts Fair (BRAFA) depuis 2009.
Christophe Hioco @ BRAFA (Brussels Antiques & Fine Arts Fair), Stand N°124. 21-30 january 2011
by appointment. Paris, France. T +33 (0)1 53 30 09 65 - M +32 (0)470 59 48 32 - M +33 (0)6 64 98 65 50 - F +33 (0)1 72 70 33 28 - www.galeriehioco.com - info@galeriehioco.com