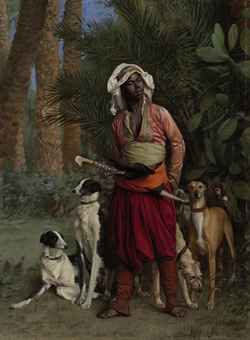 Jean Léon Gérôme (Vesoul 1824-1904 Paris), Master of the Hounds, signed 'J.L.GEROME' (lower right), oil on canvas, 13 x 9¾ in. (33 x 25 cm.). Estimate $700,000 - $1,000,000. Photo: Christie's Images Ltd., 2011
NEW YORK (REUTERS).- An iconic 19th Century painting depicting an Ottoman Empire reserve soldier and his hunting dogs is generating buzz ahead of an auction next week, due to a rise in popularity of Orientalist art.

The artwork, "Master of the Hounds" by Jean Leon Gerome is expected to fetch $700,000 to $1 million on January 26, during Christie's auction of Old Master & 19th Century paintings, drawings and watercolors that could total as much as $56 million.

Gerome's paintings and the Orientalist genre overall -- which often depict Arab and North African subjects -- are experiencing a revival, according to Diana Branham, a specialist in 19th Century art at Christie's.

Museums in Paris, Los Angeles and Madrid have recently featured Gerome's work.

"Part of the reason Orientalist paintings fell out of favor is that they were seen as colonialist art," Branham explained. "Now there is a real effort to rethink these artists and see their historical importance. Popularity of genres really comes and goes in waves."

The art market is booming as the financial industry recovers following a painful global recession. Christie's estimates its global sales total for 2010 was $5 billion, a record annual total for the company.
Sir Peter Paul Rubens (Siegen 1577-1640 Antwerp), An écorché study of the legs of a male nude, with a subsidiary study of the right leg, with inscription 'P. Rubbens' (verso), pen and brown ink, 10 x 7 1/8 in. (25.4 x 18.2 cm.). Estimate $100,000 - $150,000. Photo: Christie's Images Ltd., 2011
Other art seen likely to garner attention is a previously unpublished anatomical study by Sir Peter Paul Rubens. Until recently it was known only through two copies -- in the Royal Museum in Copenhagen and the Albertina in Vienna.

The piece is from the collection of a leading scholar of Rubens' work, Ludwig Burchard, which stayed in his family after his death in 1960. It is expected to sell for $100,000 - $150,000.
Luca Carlevarijs (Udine 1663-1730 Venice), View of the Molo, Venice, looking West, oil on canvas, 40 x 68¾ in. (102 x 174.5 cm.). Estimate $3,500,000 - $4,500,000. Photo: Christie's Images Ltd., 2011
Other highlights of the sale include the "View of the Molo, Venice, looking West," by 18th Century painter Luca Carlevarijs, which could fetch from $3.5 million-$4.5 million.

A two-day sale in the same category in London in December totaled $47.8 million. Roughly a quarter of the sales were from outside the traditional markets of Europe and the United States, Christie's said. Eight percent were bought by Asian clients.

"We've really seen an increase in interest in European art from Asia over the past year or so," said Georgina Wilsenach, head of sales for Old Master Paintings at Christie's. (Reporting by Kristina Cooke; Editing by Patricia Reaney)