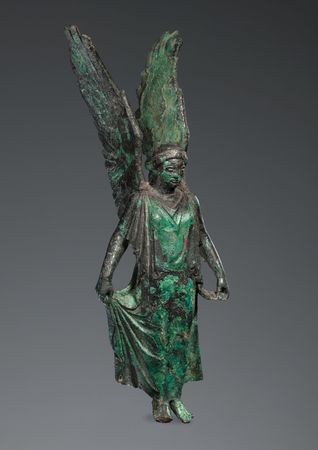 Statuette de Niké, déesse de la Victoire, aux ailes déployées. Art grec classique, milieu du Ve siècle BC. Courtesy Phoenix Ancient Art
Bronze. H 20 cm - Prix sur demande.
Nike (the goddess of victory) with widespread wings. Bronze figure. Classical Greek art, mid 5th century BC. H 20 cm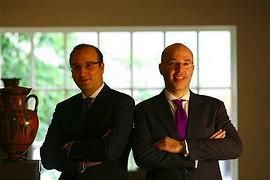 Phoenix Ancient Art est spécialisée dans les oeuvres d'art ancien qui constituent l'essence même de la civilisation occidentale, allant de la Mésopotamie à l'Egypte, la Grèce et la Rome classique, l'Europe centrale, l'Eurasie, et le Sud-Ouest asiatique, du VIe millénaire avant JC jusqu'au XIVe siècle. Chaque objet témoigne de la grande virtuosité des artisans de l'époque et du raffinement de ces glorieuses cultures disparues. Qu'il s'agisse de sculptures de divinités, de bronze harmonieux et majestueux, de verreries fines et élégantes, d'exquises mosaïques ou de bijoux étincelants, tous ces objets sont à jamais uniques et font partie de l' Histoire de l'Humanité.
Phoenix Ancient Art @ BRAFA (Brussels Antiques & Fine Arts Fair), Stand N°89. 21-30 january 2011
Hicham Aboutaam, Michael C. Hedqvist, Ali Aboutaam. 6 Rue Verdaine, CH-1204 Geneva, Suisse. T +41 (0)22 318 80 10 - F +41 (0)22 310 03 88 - www.phoenixancientart.com - paa@phoenixancientart.com

47 East 66th Street @Madison, New York USA-10021 NY, Etats-Unis. T +1 (0)212 288 7518 - F +1 (0)212 288 7121 - info@phoenixancientart.com