Time Magazine dress. Printed paper designed by Walter Lefmann and Ron de Vito, United States, 1967 ROM967.77. Gift of TIME International of Canada Ltd. Royal Ontario Museum © 2011. All rights reserved.
TORONTO.- The Royal Ontario Museum has unveiled its newest installation in the Patricia Harris Gallery of Textiles & Costume. Riotous Colour, Daring Patterns: Fashions + Textiles 18th to 21st centuries is a dazzling display featuring over 120 textiles and costumes from around the world drawn from the ROM's extensive textile and costume collection. These historical and contemporary printed textiles, many on display for the first time, provide insight into the lives of textile makers, sellers and users.

"This new exhibit demonstrates that fashion exists in vivid colour throughout the world and the desire to look smart has driven many of humankind's technical advances," said Dr. Alexandra Palmer, Nora E. Vaughan Fashion Costume Curator, Textiles and Costumes in the ROM's World Cultures department. "These displays feature some of the ROM's finest examples of late 18th to early 19th century textiles, ranging from women and children's fashions to pattern-dyed textiles of Africa and Asia."

Gallery Highlights
At the entrance of the Harris Gallery, the Jennifer Ivey Bannock Exhibit changes frequently to highlight new acquisitions, curatorial research and textile-related topics in the news. The newest display entitled Clothing as Canvas presents paper fashions that emulate textiles, and fashion and textiles that copy printed paper from the 1940s to the present. Included in this section are the first paper dresses made in 1966 by Scott Paper Limited, Bandana and Op Art, and MPH Design's digitally printed World Trade Center Tyvek© dress, as well as a silk dress imprinted with newspaper headlines, designed by John Galliano for Christian Dior. This noteworthy garment was worn in 2000 by Torontonian Kara Alloway.

The Lynda Hamilton Exhibit showcases the Pattern-Dyed Textiles of Asia and Africa and the wide range of techniques used to create them, revealing the little-known links between hand and industrial printing and eastern and western traditions. Examples in this exhibit include a wide selection of East African kanga wraps, West African mud and tannin cloths, a Japanese stenciled kimono, a batik sarong from Indonesia, two shiromani wrappers from the Comoros Islands, a screen printed cotton tabby woman's jacket, and dress by Norma Kamali from the early 1980s.

The Flavia Redelmeier Exhibit, highlighting Fashion and Interiors: Late 18th – 21st Centuries, explores the manners in which many leading artists have applied their work to printed textiles. Examples include a 1955 man's tie and a 1966 woman's shirt by Pablo Picasso and a 2007 digitally printed textile designed by Toronto-based Jeremy Laing and Jeremy Stewart for Laing's collection. Fashion designers frequently utilize high art for a fashion print, with outcomes often witty, ironic and political. The textile used by Jean Paul Gaultier in a 1994 dress and a man's T-shirt co-opts the scandalous early French Renaissance Melun diptych by Jean Fouquet. Virgin and Child Surrounded by Angels (c.1450) depicted the contemporary beauty Agnès Sorel as the Madonna in an eroticized pose and dressed in the height of fashion. Dame Vivienne Westwood's Sex Pistols handkerchiefs (1976-1977), printed with a tattered Union Jack and a portrait of Queen Elizabeth II with a safety pin in her nose, are also displayed here, as are Valentine's Day panties by the Canadian Smoking Lily Studio (2002). These are printed with Pierre Trudeau's portrait in an ironic response to his 1967 remark that "the state has no business in the bedroom of the nation."

Striking and Innovative: Printed Fashions in the 19th Century features women and children's fashions, c. 1790s-1880. These demonstrate the manners in which inventive manufacturers enticed consumers by combining hand and mechanical printing techniques, thereby creating new colours and patterns. The resultant fashions using the latest scientific inventions in textile production clearly signified modernity. A woman's cotton day dress and belt (c. 1826-34), printed with wood block and engraved rollers in abstracted floral geometric forms, illustrates the complexities of these 19th century fashionable textiles. Other examples included children's wear in finely printed cottons that, although carefully sewn and often boned, were practical because they were washable. A fine muslin gauze dress c. 1868 – 1872, was beautifully printed in Scotland with a motif of thistles influenced by the photographs of Adolphe Braun, a textile designer turned photographer.

Patricia Harris Gallery of Textiles & Costume
The Patricia Harris Gallery of Textiles & Costume opened to the public in April 2008 as part of the Renaissance ROM expansion project. Named in honour of Mrs. Patricia Harris, in appreciation of the ongoing generous support of Mr. and Mrs. William and Patricia Harris, the Gallery is located on Level 4 of the ROM's Michael Lee-Chin Crystal.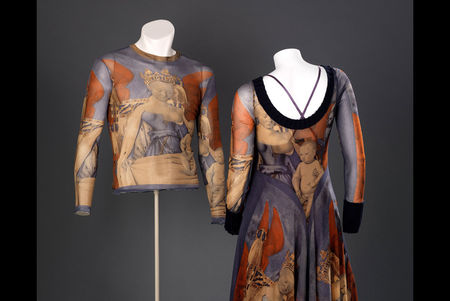 Woman's dress and man's T shirt designed by Jean Paul Gaultier, Textile based on painting Virgin and Child Surrounded by Angels by Jean Fouquet, Dress and T shirt produced by Fuzzi Spa. Photo silk-screened nylon machine knit. Designed in Paris, France; made in Italy, 1994, 2001.128.9 Gift of Christopher Estridge (T shirt) 999.113.3.1 Gift of Karen Mulhallen (dress). Royal Ontario Museum © 2011. All rights reserved.