Georges Seurat, Seated Nude: Study for 'Une Baignade', 1883. Conte crayon on cream paper: 31.70 x 24.70 cm. National Gallery of Scotland
EDINBURGH.- An outstanding collection of French master drawings will be the focus of a new display at the National Gallery Complex in Edinburgh next spring. Over the last thirty years the Gallery has carefully and deliberately strengthened its holdings in this area, and is now home to one of the best collections of French drawings in the UK. Among the 60 works on show, ranging in date from the Renaissance to the end of the nineteenth century, will be superb examples by artists such as Claude Lorrain, Nicolas Poussin, J A D Ingres, and Georges Seurat. Highlights will include an exceptional preparatory drawing by Poussin for his great painting Dance to the Music of Time, and Seurat's Seated Nude, a study for the central figure in his celebrated painting Bathers at Asnières.

Of all the major European schools of drawing the French is one of the richest and most fertile. Its variety, as demonstrated in this exhibition, embraces the refinement and elegance of the sixteenth-century School of Fontainebleau; the playful sensualities of the Rococo period and the contrasting rigour of Neoclassicism in the eighteenth century; and the stylistic and formal innovations of nineteenth-century artists from the Romantics to the Post-Impressionists. Reflecting this diversity, French Drawings: Poussin to Seurat will feature a wide-ranging selection of drawings, from studies for ambitious, large-scale paintings, to landscape sketches made in the open air; from designs for tapestries to intimate figure studies. Underpinning the vigorous evolution of French drawing and uniting all of the works on show here is a constant delight in the possibilities offered by the medium.

The display will also feature exceptional images by a number of artists who will be less familiar to most, including a distinctive drawing of a young, pregnant Jewish woman wearing a sarma, an extraordinary cone-shaped metal headdress. The drawing, by Louis Roguin (active1843-71), was made in Algeria, where the artist appears to have spent much of his career. Also of note are a highly finished drawing by Etienne Jeaurat (1699-1789), depicting a well-to-do bourgeois Family in an Interior, and an exceptionally beautiful Study of Drapery by Joseph-Ferdinand Lancrenon (1794-1874), which points to a talent unjustly overlooked by posterity.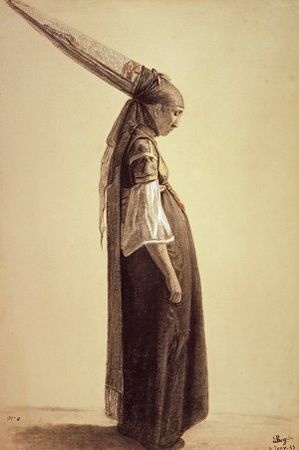 Louis Roguin, A Jewish Lady from Algiers − National Gallery of Scotland
Jean-Antoine Watteau, Studies of two Gentlemen standing and a Lady seated recto (Studies of Footsoldiers, a Drummer and two Cavaliers verso) − National Gallery of Scotland
Camille Pissarro, Figures at the Banks of the Marne, near Chennevières, in the Region of the Varenne-Saint-Maur − National Gallery of Scotland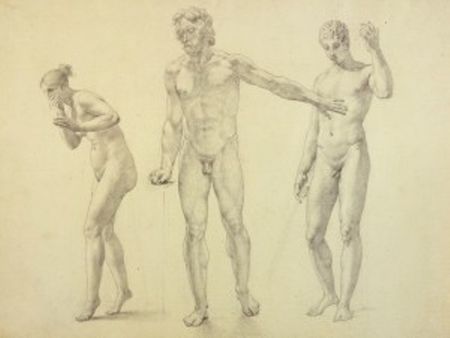 Anne-Louis Girodet de Roussy-Trioson, Study for Racine's 'Phaedra', Act IV, Scene II − National Gallery of Scotland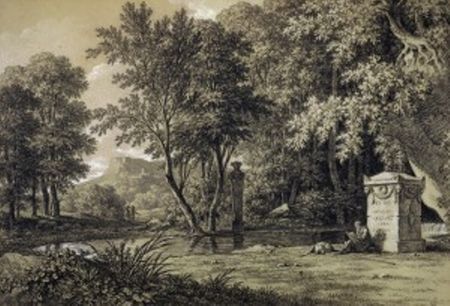 Pierre-Henri de Valenciennes, Classical Landscape with Monument − National Gallery of Scotland
Nicolas Poussin, A Dance to the Music of Time. Pen and brown ink and wash, 14.8 x 19.8 cm. National Gallery of Scotland