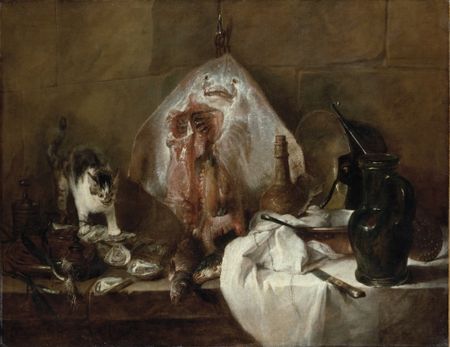 Jean Siméon Chardin (1699-1779), Ray also called Kitchen Interior (1725-1726). Oil on canvas, 114 x 146 cm. Paris, Musée du Louvre.
MADRID.- The Museo del Prado presents the exhibition Chardin, a comprehensive survey of the work of Jean Siméon Chardin (1699-1779). Chardin is one of the leading names in 18th-century French painting but has never been the subject of an exhibition in Spain, which only houses three of his paintings, all in the Museo Thyssen. After being shown at the Palazzo dei Diamante in Ferrara, the exhibition is presented in Madrid thanks to the sponsorship of Fundación AXA. It comprises 57 paintings by this great master of the still life and of genre painting, including some works not shown in the version of the exhibition seen in Italy. The exhibition is on view from March 1 to May 28, 2011.
Since the exhibitions on Chardin organized in conjunction with the bicentenary of his death and the tercentenary of his birth, in 1979 and 1999 respectively, there have been no further revisions of the relatively small oeuvre (around 200 works) of this admired and highly original artist. Featuring 57 paintings, the present exhibition offers a rare opportunity to appreciate Chardin's work and is the first on the artist to be held in Spain.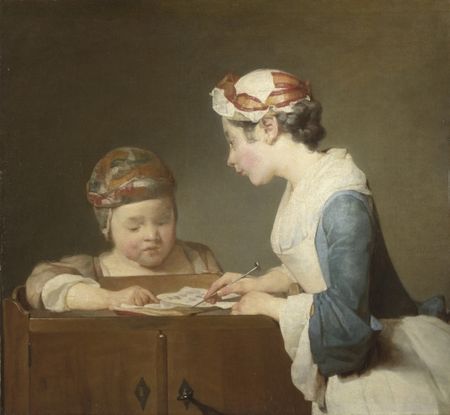 A unique painter
"I make use of colours but I paint with sentiment", Chardin himself said of his way of painting. The result was works that are very different to those of the other French painters of the 18th century such as Watteau, Boucher, Fragonard or David. The artist described how he focused on the objects in his still lifes: "I have to forget everything that I have seen and even the way that others have depicted these motifs."

In the words of the exhibition's curator, Pierre Rosenberg, Honorary Director of the Louvre and the leading expert on Chardin: "If I had to define his still lifes in a single word, that word would be 'silence'". And indeed it is this palpable silence in Chardin's still lifes that differentiate them from the work of most of the other leading painters in that genre, which had traditionally been considered a minor one and whose recognition in the 18th century favoured the development of Chardin's highly distinctive style.

Chardin enjoyed success in his own lifetime, while later artists such as Cézanne, Matisse, Picasso, Morandi and Lucien Freud considered him their master.