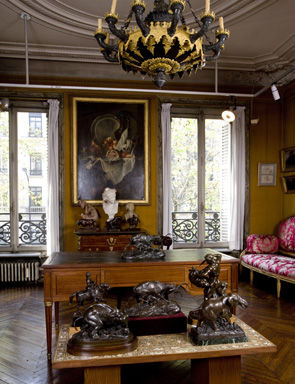 The Fabius Frères Gallery is known worldwide for the exceptional quality, condition and provenance of the works of art in their collection. Photo: Sotheby's.
Paris, le 16 mars 2011 - Sotheby's, en association avec PIASA, a l'honneur d'annoncer la vente de la collection de la galerie Fabius Frères, qui aura lieu à Paris les 18 et 19 octobre2011.
La galerie Charpentier sera pendant une semaine le théâtre d'une vente événement dispersant près de 400 lots de sculptures, mobilier, objets d'art, dessins et tableaux du XlXe siècle, estimés aux alentours de 9 à 14 millions €.
La collection de la galerie Fabius Frères est mondialement réputée pour l'exceptionnelle qualité de ses oeuvres, leur état de conservation remarquable, et leur provenance historique impeccable.
En sculpture, la collection constitue sans aucun doute l'ensemble du XIXe siècle le plus important jamais présenté en vente publique. Deux artistes majeurs qui comptent parmi les sculpteurs les plus créatifs de leur époque forment le noyau de cette collection: Antoine-Louis Barye et Jean- Baptiste Carpeaux.
Le mobilier est composé d'un subtil mélange de pièces classiques du XVlIle siècle et de créations plus exubérantes du XIXe siècle. Le mobilier classique est magistralement représenté, du style Louis XIV à celui de l'Empire. Le XlXe siècle, période tant défendue par la galerie Fabius Frères depuis des décennies, sera illustré par les réalisations des grands ébénistes comme Grohé ou Diehl, mais aussi par des meubles néo-Renaissance étonnants de Dufin.
Au sein des arts décoratifs, la céramique et le verre tiennent une place d'honneur avec des pièces offrant une riche diversité des modèles, et la présence d'oeuvres singulières et raffinées (Théodore Deck, Eugène Collinot, Maurice Marmot...).
Enfin la collection compte également un intéressant ensemble de tableaux et dessins par les sculpteurs Carpeaux et Barye ainsi que quelques beaux portraits et scènes de genre du XlXe siècle par Carolus Duran, Jean Beraud ou Adoiphe Yvon.
Fondateur de l'une des plus prestigieuses galeries d'art parisienne, Elie Fabius fut l'un des principaux acteurs du marché de l'art des années 1890-1940. Passionné par les souvenirs de Napoléon et Lafayette, les objets d'art chargés d'histoire, les sculptures de Barye et de Carpeaux, il remit au goût du jour l'art du XIXe siècle alors peu considéré. Les oeuvres qu'il a défendues sont aujourd'hui dans les collections des plus grands musées en Frarice et aux Etats-Unis. L'oeuvre d'Elie Fabius fut poursuivie par ses fils, et avec la même élégance et la même passion, par son petit-fils François, disparu en 2006.
Les maisons Sotheby's et PIASA ont particulièrement fières de la confiance témoignée par Madame Armelle Fabius, et d'avoir été choisies pour organiser la vente d'une collection aussi prestigieuse.
Une sélection des oeuvres les plus importantes de la vente sera exposée à:
New York chez Sotheby's 29 avril - 4 mai 2011
Londres chez Sotheby's 10 mai - 16 mai 2011
Paris chez Sotheby's 18juin - 22juin 2011
Monaco à l'Hôtel de Paris 4 août - 7 août 2011
Hong Kong chez Sotheby's 30 septembre - 5 octobre 2011
L'exposition de l'ensemble de la collection aura lieu galerie Charpentier du 13 au 17 octobre 2011.
PARIS.- Sotheby'sannounced today that, in partnership with the auction house PIASA, it will sell the Fabius Frères Gallery collection on the 18th and 19th October 2011 in Paris.

The 400 sculptures, pieces of furniture, works of art, drawings and 19th century paintings, estimated to sell for € 9 - 14 million, will be on view at the Galerie Charpentier for five days prior to the sale.

The Fabius Frères Gallery is known worldwide for the exceptional quality, condition and provenance of the works of art in their collection.

The selection of sculpture to be offered represents perhaps the most important group of 19th century sculptures ever sold at auction and includes works by two of the leading European sculptors of their time, Antoine-Louis Barye and Jean-Baptiste Carpeaux.

The furniture section comprises classical 18th century pieces and more exuberant creations from the 19th century. The classical furniture ranges from the period of Louis XIV to Empire Style. For decades the Fabius Frères Gallery promoted the furniture of the 19th century, including works by major cabinetmakers such as Grohé or Diehl, as well as astonishing Neo-Renaissance creations.

In the decorative arts section, ceramics and glass from the Fabius Freres Gallery collection are represented with a rich diversity of pieces, and unique and refined works by Théodore Deck, Eugène Collinot,and Maurice Marinot.

The collection brings to sale an interesting group of paintings and drawings by the sculptors Carpeaux and Barye, as well as some great 19th century portraits, and genre paintings by Carolus-Duran, Jean Beraud and Adolphe Yvon.

Founder of one of the most prestigious Parisian art galleries, Elie Fabius became one of the principal actors of the art market from the 1890s to the 1940s. Passionate about Napoleon and Lafayette memorabilia, and objects of historical significance, as well as sculpture by Barye and Carpeaux, Fabius brought the 19th century style back into fashion. Pieces which passed through his hands are now in the collections of the most important museums in France and in the United States. Elie Fabius's work was carried on first by his sons and then with the same elegance and passion by his grandson François, deceased in 2006.

Sotheby's and PIASA are very proud to have been entrusted by Mrs Armelle Fabius with the sale of such a prestigious collection.

A selection of the sale highlights will be exhibited:

New York at Sotheby's 29th April – 4th May
London at Sotheby's 10th – 16th May
Paris at Sotheby's 18th – 22th June
Monaco at Hotel de Paris 4th – 7th August
Hong Kong at Sotheby's 30th September – 5th August

The whole collection will be exhibited at the Galerie Charpentier from the 13th to 17th October 2011.