Roberto Capucci, 2001. By Fiorenzo Niccoli. Courtesy of the Philadelphia Museum of Art
PHILADELPHIA, PA.- Roberto Capucci, a master of color, form, and innovative silhouettes, was one of the founders of modern Italian fashion in the early 1950s. Today, after six decades of creative achievement, he remains one of Italy's most influential and imaginative artist-couturiers. Capucci (b. 1930) captured the attention of the international press at an early age, drawing praise from designers such as Christian Dior when he was still a teenager. His work has appealed to Italian aristocrats like the noblewoman Maria Pace Odescalchi, Italian actress Elsa Martinelli, whom he helped project to fame, and American actresses Marilyn Monroe, Esther Williams, and Gloria Swanson. Today, Capucci fascinates and inspires contemporary designers such as Ralph Rucci, who admires Capucci's dedication to the purity of his art. Covering his couture designs from the 1950s to his recent sculptures, Roberto Capucci: Art into Fashion (March 16 – June 5, 2011) is the first major survey of his work in the United States. It is organized by the Philadelphia Museum of Art and the Fondazione Roberto Capucci in Florence and will be seen only in Philadelphia.

Timothy Rub, The George D. Widener Director and CEO of the Philadelphia Museum of Art, stated: "Roberto Capucci breaks down the boundaries between art and fashion. The architectural and sculptural quality of his work, his innovative techniques and his extraordinary use of color will have exceptionally wide appeal to those interested in style and design."

"Capucci is what every designer aspires to be—an artist who is true to himself," added Dilys Blum, the Jack M. and Annette Y. Friedland Senior Curator of Costume and Textiles at the Museum. "While he was considered an international 'boy wonder' during the 1950s, creating wonderfully exciting pieces in the aesthetic tradition associated with the work of Cristobal Balenciaga and Charles James, he ultimately chose to leave the commercial world to pursue interests that went well beyond fashion. In his work one can see the pure joy of creativity."

Capucci frequently finds inspiration in nature, sculpture and architecture. He considers his dresses to be "habitats" and thus does not restrict his work to the shape of a woman's body.

Roberto Capucci: Art into Fashion is comprised of nearly 90 works spanning the artist's career, with supplementary film clips and historical photographs that document the parallels between his designs and the Italian fashion world. The exhibition will trace Capucci's artistic career chronologically, from his discovery in 1951 to his sculptures from 2007. Early works include a cocktail dress with train from 1952-1953, and the Rosebud dress from 1956, as well as the iconic Nine Dresses (1956), inspired by the rings of water produced by tossing a stone. His revolutionary box silhouette—shaped with four seams instead of the usual two—represented a bold departure from the traditional fitted form of the period and garnered him the prestigious Filene's Fashion Award in 1958. The international press declared him to be Italy's best designer and the New York Times lauded his "vigor, imagination, and uninhibited originality."

Capucci was born in Rome in 1930 and studied at the Accademia delle Belle Arti. He briefly worked as an apprentice to the designer Emilio Schuberth and opened his first atelier in Via Sistina in Rome in 1950, moving to Via Gregoriana in 1955, where he remains today. During this time, Capucci was introduced to Giovan Battista Giorgini, a buying agent for high-end American department stores who became his champion. Giorgini organized the first Italian high-fashion show in Florence in 1951 and continued to produce shows until 1965. Capucci presented his first collection in the second of Giorgini's fashion shows in July 1951.

From 1962 to 1968, Capucci presented his collections in Paris to much acclaim and was praised for his inventive use of plastic, his Op Art-inspired designs made from woven ribbons (the 1965 Optical dress) that paid homage to the artist Victor Vasarely, and embroidered evening dresses that glowed in the dark. Upon his return to Rome in 1968, Capucci continued his experimentation with commonplace materials such as raffia, wire, and stones in the tradition of the Italian Arte Povera movement of the same period. In 1978, he created the white satin Colonna dress, modeled after a Doric column. The dress represented a key turning point in Capucci's career, as he started to explore the idea of dress as actual sculpture. The exhibition will contain dramatic sculpture dresses from the 1980s and early 1990s, such as the intricate Bougainvillea (1989) that reveal the striking use of pleating and exploration of color and form that are now his signature.

As he continued to explore new directions in the use of line, color, texture, and volume, Capucci refused to compromise his vision in the service of purely commercial concerns, and in 1980, he resigned from the Italian couture system. Instead, he presented a singular collection each year in a different city including Tokyo, New York, and Berlin. Since 1992, he has continued to conceive and exhibit unique sculptures, including a landmark series presented at the 1995 Venice Biennale. Among the works on view will be the series of eight dress sculptures, Return to Origins: Homage to Florence, from 2007.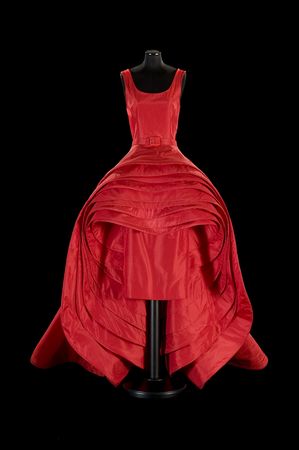 Nove Gonne (Nine Skirts), 1956, By Roberto Capucci (Italian, b. 1930). Sala Bianca Palazzo Pitti Florence. Sculpture-dress, 'bello' red silk taffeta, overlapping elements on the skirt. Claudia Primangeli / L.e C. Service. Courtesy of the Philadelphia Museum of Art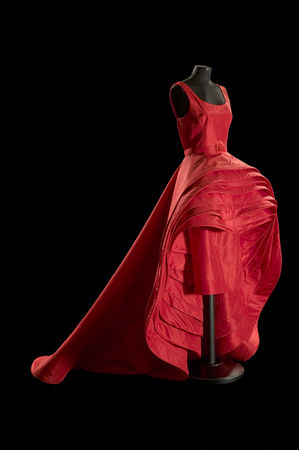 Nove Gonne (Nine Skirts), 1956, By Roberto Capucci (Italian, b. 1930). Sala Bianca Palazzo Pitti Florence. Sculpture-dress, 'bello' red silk taffeta, overlapping elements on the skirt. Claudia Primangeli / L.e C. Service. Courtesy of the Philadelphia Museum of Art
Homage to Vasarely, 1965. By Roberto Capucci (Italian, b. 1930). Rue Cambon Atelier Paris. Dress, black and white woven satin ribbons, 'optical' effect, black plumes. Claudia Primangeli / L.e C. Service. Courtesy of the Philadelphia Museum of Art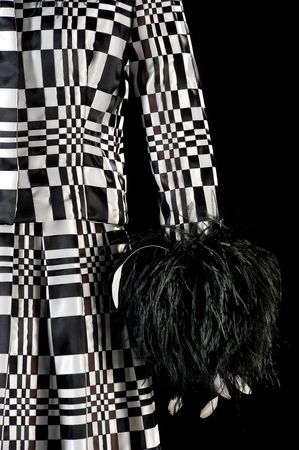 Homage to Vasarely (detail), 1965. By Roberto Capucci (Italian, b. 1930). Rue Cambon Atelier Paris. Dress, black and white woven satin ribbons, 'optical' effect, black plumes. Claudia Primangeli / L.e C. Service. Courtesy of the Philadelphia Museum of Art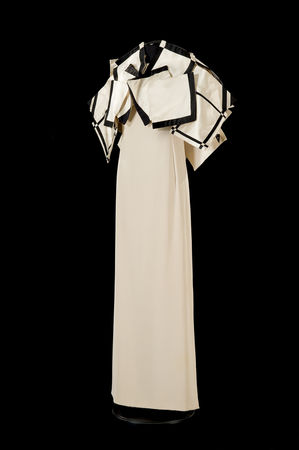 'Sculpture Dress', 1987. By Roberto Capucci (Italian, b. 1930). Museo di Palazzo Venezia Rome. Sculpture-dress, butter colored crepe, satin bolero with white squares and black inlays. Claudia Primangeli / L.e C. Service. Courtesy of the Philadelphia Museum of Art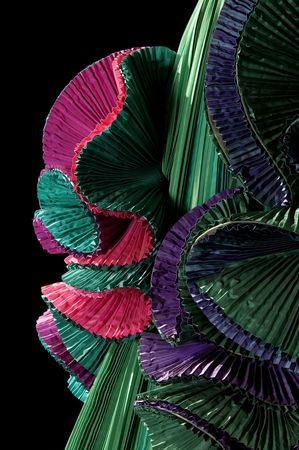 'Bouganvillea,' 1989. By Roberto Capucci (Italian, b. 1930). Galleria Nazionale d'Arte Moderna Rome. Sculpture-dress, green plissé taffeta, shades of green and cyclamen in the tufts. Claudia Primangeli / L.e C. Service. Courtesy of the Philadelphia Museum of Art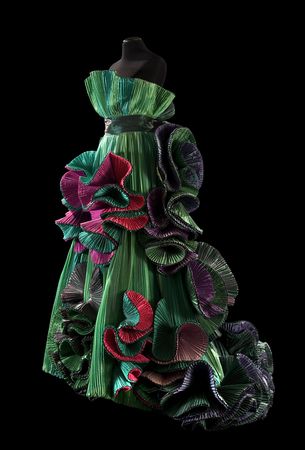 Bougainvillea, 1989. By Roberto Capucci (Italian, b. 1930). Galleria Nazionale d'Arte Moderna Rome. Sculpture-dress, green plissé taffeta, shades of green and cyclamen in the tufts. Claudia Primangeli / L.e C. Service. Courtesy of the Philadelphia Museum of Art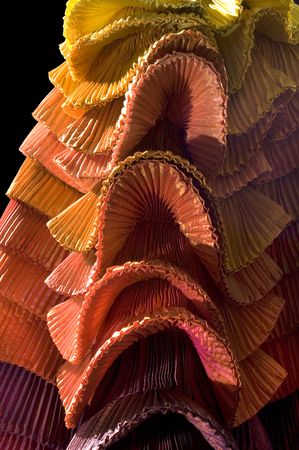 'Sculpture Dress' (detail), 1992. By Roberto Capucci (Italian, b. 1930). Schauspielhaus Theatre Berlin. Sculpture-dress, multi-coloured plissé taffeta, overlapping pleats on the skirt. Claudia Primangeli / L.e C. Service. Courtesy of the Philadelphia Museum of Art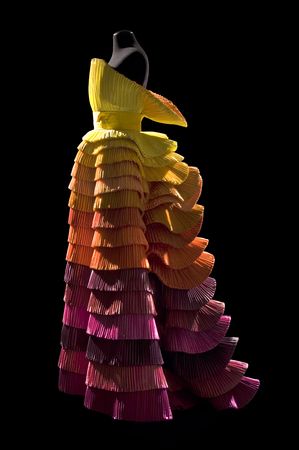 'Sculpture Dress,' 1992. By Roberto Capucci (Italian, b. 1930). Schauspielhaus Theatre Berlin. Sculpture-dress, multi-coloured plissé taffeta, overlapping pleats on the skirt. Claudia Primangeli / L.e C. Service. Courtesy of the Philadelphia Museum of Art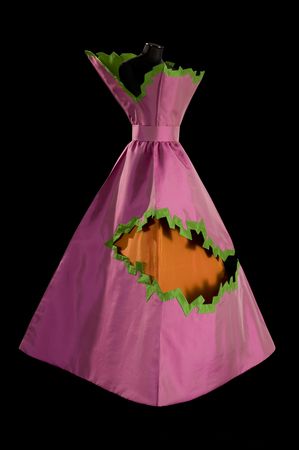 'Crepe,' 2007. By Roberto Capucci (Italian, b. 1930)Roberto Capucci Foundation Museum Villa Bardini Florence. Sculpture in the Box Line style. Fuchsia taffeta, green borders, orange taffeta inside. Courtesy of the Philadelphia Museum of Art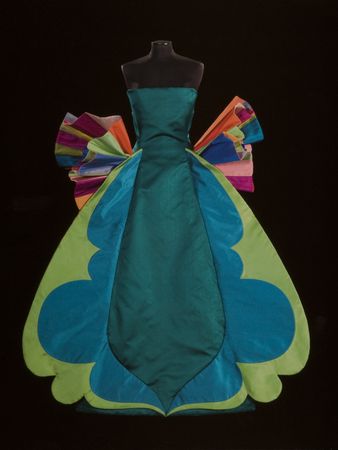 Sculpture Dress, 1992. Designed by Roberto Capucci, Italian, born 1930. Satin, 72 x 60 x 40 inches (182.9 x 152.4 x 101.6 cm). Fondazione Roberto Capucci. Courtesy of the Philadelphia Museum of Art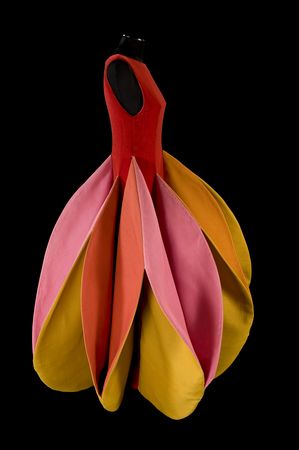 Arancia Sculpture Dress, Fall/Winter 1982. Designed by Roberto Capucci, Italian, born 1930. Velvet and gazar, 72 x 60 x 40 inches (182.9 x 152.4 x 101.6 cm). Fondazione Roberto Capucci. Courtesy of the Philadelphia Museum of Art