A Rare Chinese 'Famille-Rose' 'Millefleurs' Altar Garniture, Qianlong Seal Marks and Period (detail). Photo: Sotheby's.
NEW YORK, N.Y.- Following the success of last week's Asia Week sales series at Sotheby's New York, which brought an incredible $71.3 million for Chinese porcelain and works of art, today's auction of Property of a Palm Beach Private Collector achieved $8,397,649, almost double the pre-sale high estimate*. The auction was led by a strong group of over 80 pieces of Chinese porcelain and works of art, most notably A Rare Large Chinese 'Famille-Rose' 'Millefleurs' Altar Garniture bearing six character Qianlong marks and of the period, which more than doubled it's high estimate in selling for $2,098,500. The garniture has provenance going back to England at the end of the 19th century, and is further distinguished by the fact that all five pieces have survived together.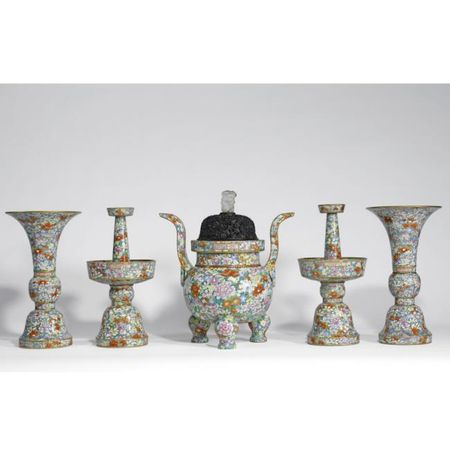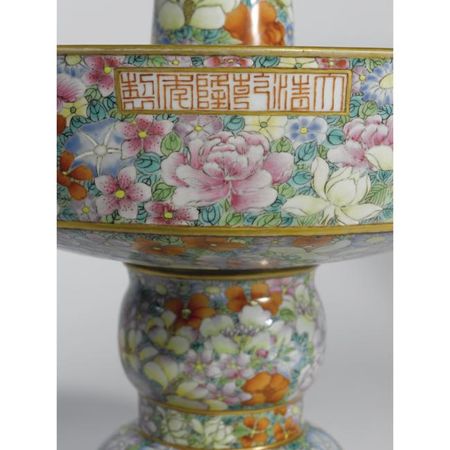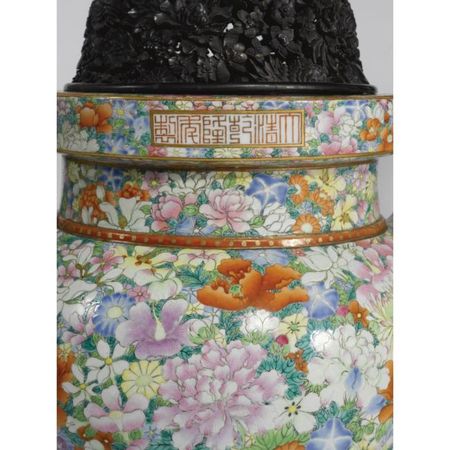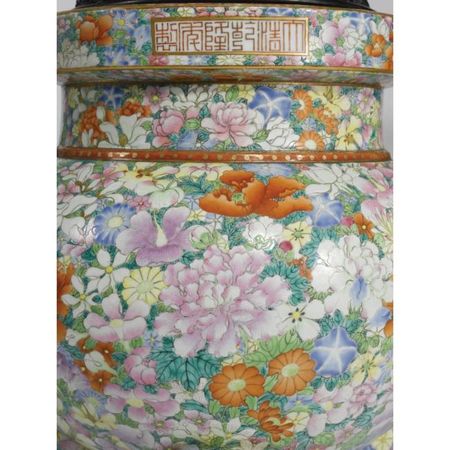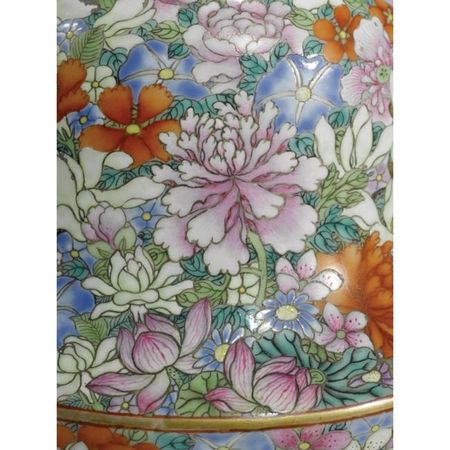 A Rare Large Chinese 'Famille-Rose' 'Millefleurs' Altar Garniture. Qianlong Seal Marks and Period. Photo: Sotheby's.
comprising a censer raised on three cabriole legs and set with curved upright handles, with a later carved and pierced wood cover set with a rock crystal finial, a pair of candlesticks and a pair of gu vases, each piece finely painted with a dense pattern of colorful flowerheads within gilt rims, the interiors and the undersides of the bases enamelled in turquoise. 6 pieces.; height of candlesticks 18 1/4 in., 46.3 cm. Estimate: $500,000-700,000. Lot Sold $2,098,500 (£1,309,843) to Littleton & Hennessy Asian Art
PROVENANCE: Richard Bennett, Esq., D.L., Thornby Hall, Thornby, Northamptonshire, from circa 1900.
Edgar Gorer, London, 1910
The Collection of Judge Elbert H. Gary, New York (by 1911).
American Art Association, Inc., New York, 19th April, 1928, lot 58.
Parish-Watson & Co., New York.
French & Company, New York.
LITERATURE AND REFERENCES: Edgar Gorer and J. F. Blacker, Chinese Porcelains and Hardstones, London, 1911, vol. II, pl. 200.
NOTE: Complete altar garnitures are rare, and the present example appears to be the only known complete set in a millefleurs pattern. The complex and colorful decoration is extremely striking in combination with the simple, bold metalwork-derived forms of these devotional pieces and it is likely that the luxuriant flower decoration was intended to symbolize prosperity, a subject not inappropriate for an Imperial altar garniture. Millefleurs patterns first appear on wares made during the reign of the Yongzheng emperor, but seem to have reached a pinnacle of quality during the Qianlong period, as subsequent Jiaqing and Daoguang marked examples tend to be less finely executed.
Unsurprisingly, given the complex nature of the decoration, and the resultant skill and time required for their execution, millefleurs patterns are also very rarely found on wares of the scale of the present examples. Most closely related in size are a vase from the Grandidier Collection, now in the Guiment Museum, illustrated by M. Beurdeley and G. Raindre, Qing Porcelain - Famille Verte, Famille Rose, London, 1987, pp. 118-9, no. 164; and a beaker in the Liaoning Provincial Museum, illustrated in The Complete Works of Chinese Ceramics, Shanghai, 1999-2000, vol. 15, no. 37. The latter vase is also marked on the exterior and may have originally been part of a larger garniture set.
The present garniture has a distinguished provenance to two important collections. Richard Bennett (b. 1849) was a major collector of books and manuscripts as well as Chinese porcelain, and appears to have acquired many of his pieces direct from sources in China in the late 19th century. Much of his collection was sold through Edgar Gorer in 1911 to William Hesketh Lever, whilst the present garniture was already in the possession of the American Judge Elbert H. Gary by 1911, when Gorer and Blacker published their extensive two volume work Chinese Porcelains and Hardstones, in which the present garniture is illustrated. Gary (1846-1927) was an integral force behind the founding of U.S. Steel in 1901, for which he brought together J.P. Morgan, Andrew Carnegie and Charles M. Schwab. The steel town of Gary, Indiana was named for him on its founding in 1906. He lived in New York in grand style and collected primarily under the influence of Sir Joseph Duveen. The sale of his decorative arts alone was conducted over three days and his Chinese ceramics warranted a separate introduction in the auction catalogue.
Other highlights from the Chinese works included a group of six Rare Chinese 'Famille-Rose' 'Soldier' Vases offered over two lots–one as a pair and one as a group of four–which achieved $1,565,000 in total. Today represented possibly the first time that six vases of this rare, large and highly-decorative form have appeared together in one sale. Additionally, A Fine Chinese 'Ru'-Type Vase, Qianlong Mark and Period soared past its pre-sale estimate of $60,000 in achieving $794,500.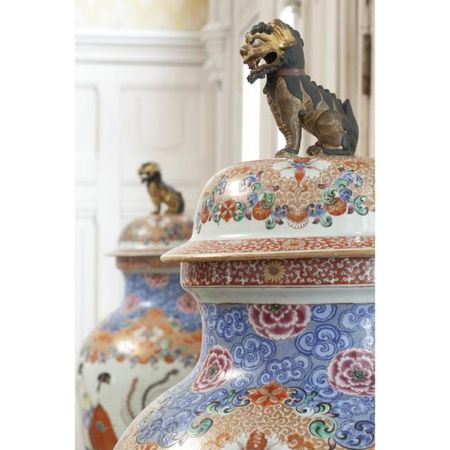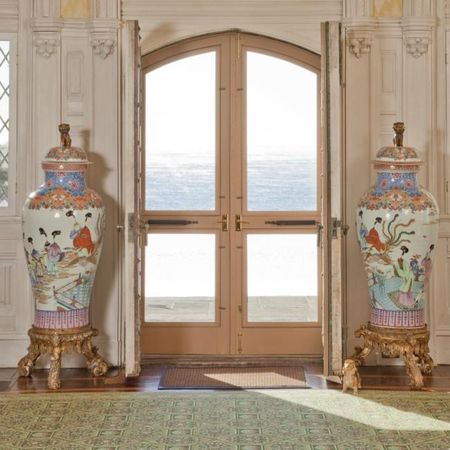 A Fine and Rare Chinese 'Famille-Rose' 'Soldier' Vases and covers, Qing dynasty, circa 1740. Photo: Sotheby's.
each of tall baluster form, finely painted around the sides with two ladies standing on a terrace with two deer and a crane observing Xi Wang Mu, Queen Mother of the West, as she appears before them seated on a phoenix, attendants floating amongst clouds behind her, all beneath a deep, elaborately patterned border of iron-red foliate scrolls and blue enamelled clouds around the neck and shoulder, the domed covers similarly patterned and surmounted by gilt-biscuit lion-dog knops. Together with a pair of later giltwood stands. 6 pieces; height of vases 50 in.; height of stands 13 1/2 in. 127 cm; 34.3 cm. Estimate 300,000—500,000 USD. Lot Sold 872,500 USD (£544,598) to Littleton & Hennessy Asian Art
PROVENANCE: Property of a Gentleman, sold, Sotheby's, London, 4th November, 1969, lot 182.
NOTE: The terms 'soldier' or 'dragoon' which are frequently applied to vases of this massive size are taken from an event in 1717, when Augustus the Strong, (1670-1733), King of Poland and Elector of Saxony and inveterate porcelain collector, traded a regiment of soldiers for a group of porcelain including several blue and white Kangxi period vases of this very large size. Those vases came from the collection of Friedrich Wilhelm I of Prussia and had been housed within his own porcelain collection at Schloss Oranienburg.
'Soldier' vases, despite their large size, appear to have been made in some quantity, and examples exist in blue and white, iron-red and gilt, Imari and famille-rose palettes. Most of these are now found in the West and it is generally assumed that they were made for the export market, although the subject matter and particularly fine quality of the decoration on the present examples might suggest otherwise. Figural decoration, particularly on the large scale of the present pieces, is an extremely rare subject for vases of this size, which are usually decorated with flowering plants or exotic birds. Only one other pair is known with directly related figural decoration. Depicting large figures of ladies on a terrace playing a game of go, that pair was formerly in the collection of Alfred Morrison at Fonthill House, and was sold at Christie's, London, 18th October, 1971, lot 30; and again at Sotheby's, Paris, 27th June, 2001, lot 316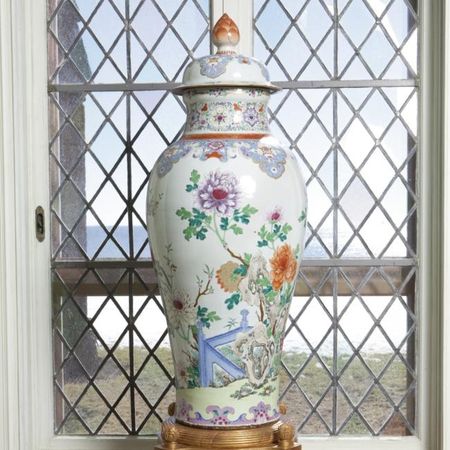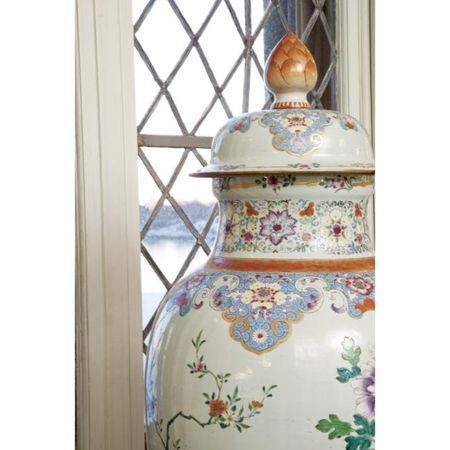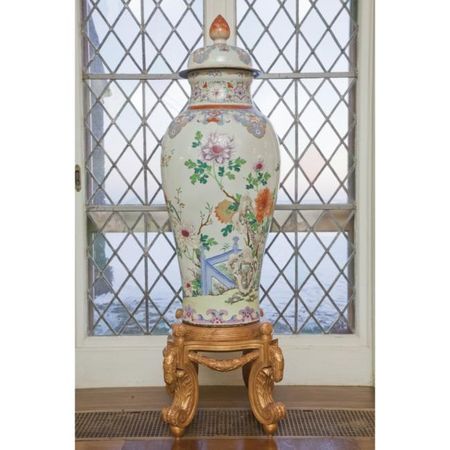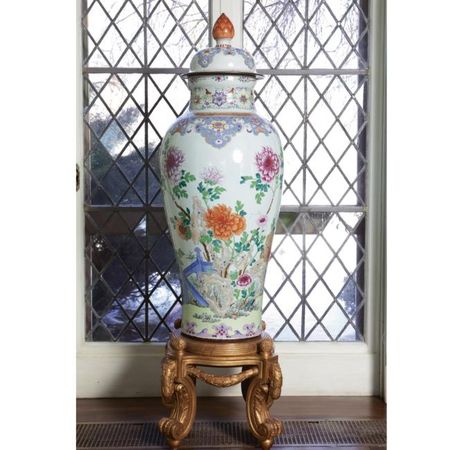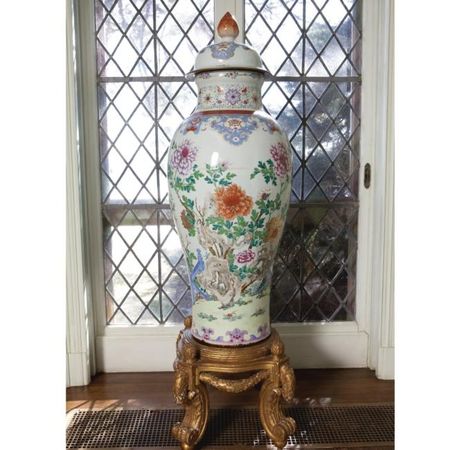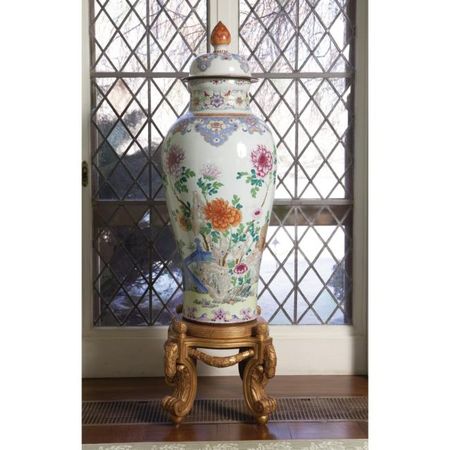 A very Rare Set of Four Chinese 'Famille-Rose' 'Soldier' Vases and Covers. Qing Dynasty, circa 1740-50. Photo Sotheby's
each of tall baluster form, finely painted with a continuous scene of peonies and other flowering plants in a garden with rockwork and blue fencing, beneath a ruyi-edged border filled with flowerheads on a blue scroll ground and a formal border of flowerheads around the waisted neck beneath a bamboo and flowerhead band around the rim, the covers each painted with matching patterned panels beneath a lotus knop. Together with four later giltwood stands. 12 pieces. Estimate 200,000—300,000 USD. Lot Sold 692,500 USD (£432,245) to an Anonymous
NOTE: No other groups of four identically decorated famille-rose 'soldier' vases which have survived together appear to be recorded. A pair of vases with the same subject matter and same distinctive palette dominated by pink, blue and purple, was sold at Christie's, London, 2nd July, 1962, lot 107.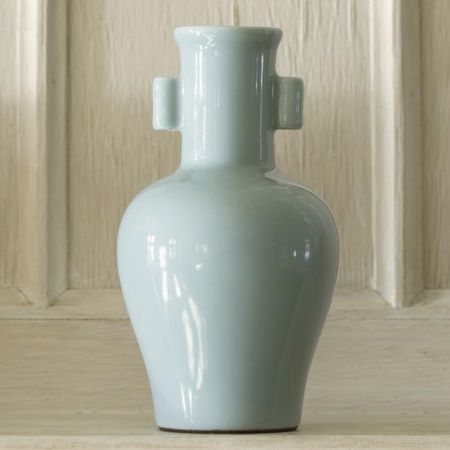 A Fine Chinese 'Ru'-Type Vase, Qianlong Mark and Period. Photo Sotheby's
of archaistic form, with rounded shoulders beneath a cylindrical neck set with two short tubular handles, all covered in an even, unctuous gray-blue glaze, thinning to white at the neck rim and at the tops of the handles, the footrim dressed in dark brown; height 7 5/8 in., 9.4 cm. Estimate 40,000—60,000 USD. Lot Sold 794,500 USD (£495,912) to a, UK Dealer.
NOTE: Imitations of the celebrated Song dynasty 'Ge', 'Ru' and 'Guan' glazes were extremely popular during the Yongzheng and Qianlong periods, and appear most often on vessel of archaistic form. 'Ru'-type glazes appear in a number of different blue and blue-gray shades, with some exhibiting a crackled surface and others smooth as in the present example. The brown wash on the foot was intended to simulate the dark brown bodies of many of the Song wares, and may also be seen on lots 15 and 19 in the present sale.
Although many different archaic forms were copied or adapted, the form of the present lot is extremely unusual, with tubular handles of this type appearing most frequently on 'Ge' or 'Ru'-type glazed vases of conventional fang hu form.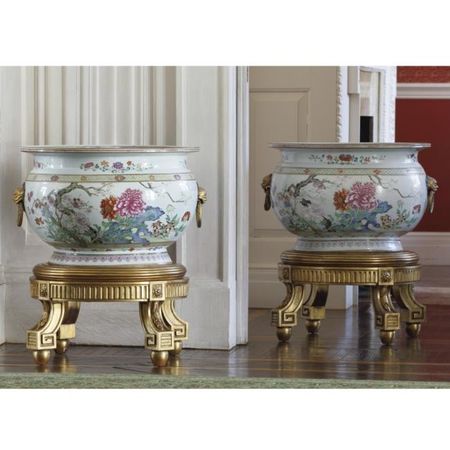 A Pair of Chinese 'Famille-Rose' Fish Bowls, Qing Dynasty, circa 1735-40. Photo Sotheby's
each very finely painted on the exterior between gilt biscuit mask handles, with peonies, prunus and other flowers between narrow pale green diaper bands below the rim and on lower body, the flat rim reserved with panels of flowers on a green and lavender diaper ground, the interior painted with fish amongst weed and peony and magnolia. Together with later giltwood stands. 4 pieces; diameter of fishbowls 22 1/2 in., height of stands 12 in. 57.2 cm; 30.5 cm. Estimate 80,000—120,000 USD. Lot Sold 314,500 USD (£196,305) to an Asian Private Collector
PROVENANCE: Collection of Alfred Morrison (1821-1897), Fonthill House, Tisbury, Wiltshire (bearing 'Fonthill Heirlooms' paper labels numbered 592/2)
Collection of John Morrison
The Rt. Hon. The Lord Margadale of Islay, T.D.
Christie's, London, 18th October, 1971, lot 12.
Vita Juel, London.
NOTE: During the middle of the 19th century Alfred Morrison assembled one of the finest English collections of Chinese porcelain and works of art. Justly celebrated for both its quantity and quality, the porcelains in the collection included both Imperial pieces and fine examples of wares made for export to the West during the reigns of the Yongzheng and Qianlong emperors. The present fishbowls, which fall into the latter category, are of a general type made in some quantity - judging by the number of surviving examples - but which are rarely so finely decorated. An example of the more usual type is illustrated by George C. Williamson, The Book of Famille-Rose, Tokyo, 1970, pl. LIII; and another pair may be seen in the present sale, lot 60, below.
A pair of Chinese Export 'Famille-Rose' Fish Bowls. Qing Dynasty, circa 1775. Photo Sotheby's
each painted wtih phoenix birds amongst flowers and blue rockwork in a fenced garden, set with gilt biscuit handles. Together with later giltwood stands. 4 pieces; diameter 23 in. 58.4 cm. Estimate 30,000—50,000 USD. Lot Sold 86,500 USD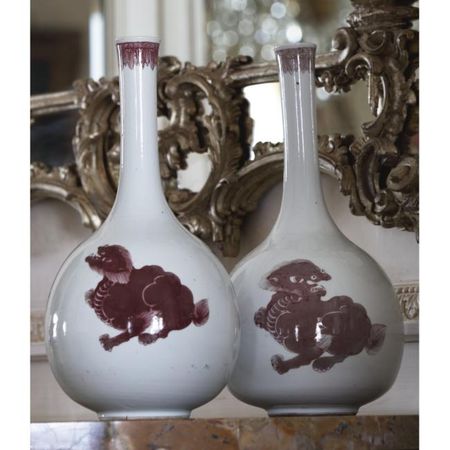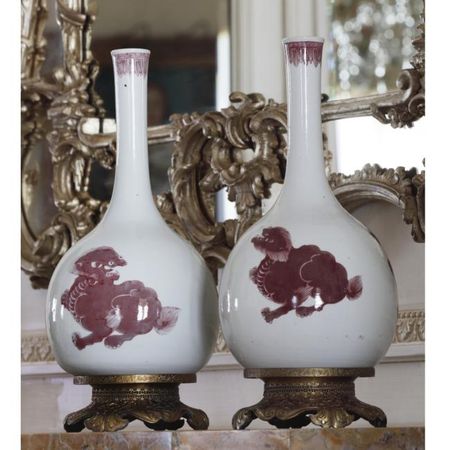 Two Chinese Underglaze-Red Bottle Vases, Qing Dynasty, Kangxi Period. Photo Sotheby's
each globular body well painted in varying tones of underglaze-red with three Buddhist lions, their eyes picked out in underglaze-blue, all beneath a slender neck and border of stiff leaves and fretwork below the slightly flared rim. Together with two later gilt-metal stands. 4 pieces; heights 15 3/4 and 16 in. 40 and 40.6 cm. Estimate 30,000—40,000 USD. Lot Sold 182,500 USD (£113,913) to an American Private Collector
NOTE: Bottle vases decorated in underglaze-red with this subject matter appear to have been made in at least two sizes, with examples of the smallest size - usually 6 to 7 inches in height - more commonly found. The present examples are also unusual in having the addition of the stiff leaf border around the neck, which appears on only one other recorded example, that from the Collection of Lord Barnard, sold at Christie's, London, 28th July 1975, lot 126. An interesting variation on the same theme, however, can be found a bottle from the Collection of Augustus the Strong, now in the Staatliche Kunstsammlungen, Dresden, illustrated by Eva Strober, "La maladie de porcelaine." East Asian Porcelain from the Collection of Augustus the Strong, Leipzig, 2001, p. 51, (together with two other smaller examples). This bottle has the addition of large stiff leaves beneath the rim and a ruyi border around the base of the neck, both executed in iron-red enamel and gilding, as well has having gilt highlights on the body of the lions. This overglaze decoration was almost certainly added in Europe. For a fine example of a large bottle of the more usual type without the stiff leaf border, see Regina Krahl, Chinese Ceramics from the Meiyintang Collection, London, 1994, vol. II, p. 109, no. 734.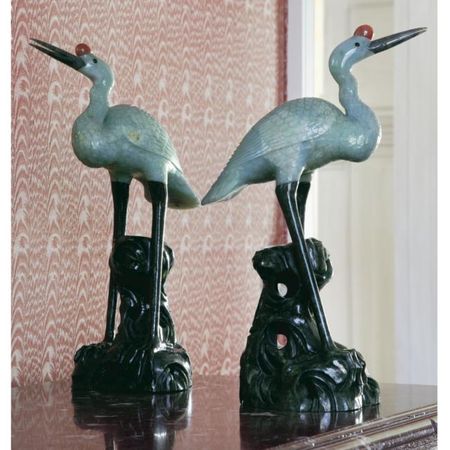 A pair of Chinese Hardstone Figures of Cranes. Late 19th / 20th Century. Photo Sotheby's
each with jadeite body, grey jade beak and carnelian crest, supported on separate green hardstone, possibly spinach jade, legs and rockwork base. 4 pieces; height 18 1/2 in. 47 cm. Estimate 15,000—25,000 USD. Lot Sold 146,500 USD (£91,442) to an Asian Dealer
Eighteenth-century English furniture also performed strongly, led by A Fine and Large George II Giltwood Side Table in the Manner of Matthias Lock, circa 1750 that brought $362,500, more than triple its high estimate, as well as A Pair of George III Giltwood Mirrors that sold for $122,500.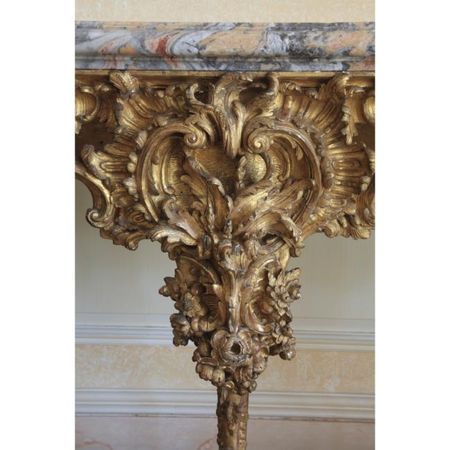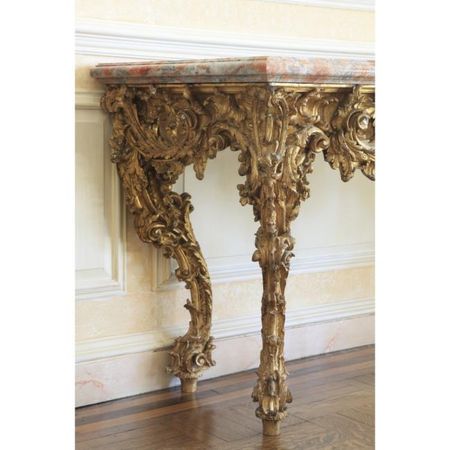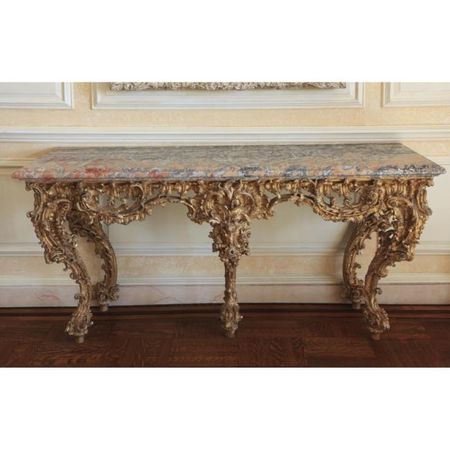 A fine and large George II giltwood side table in the manner of Matthias Lock, circa 1750. Photo Sotheby's
the later rectangular marble top with molded edge above a pierced frieze carved with rocaille and foliate conjoined C-scrolls centered by an acanthus spray flanked by C-scrolls with feathered flamework, raised on cabriole legs made of conjoined acanthus foliate and rocaille-carved legs headed by cabochons and centered by floral garlands and ending in scrolled acanthus-carved feet; height 35 in.; width 73 in.; depth 27 in. 89 cm; 185.5 cm; 69 cm. Estimate 70,000—100,000 USD. Lot Sold 326,500 USD (£203,795) to an Anonymous.
PROVENANCE: By repute, Rothschild family of Vienna
Wildenstein & Co., New York
NOTE: The present table with its bold carving and robust design bears numerous similarities to the designs and work of Matthias Lock (b. c. 1710-d. 1765). During the 1740s Lock embarked on a new facet of his career issuing a series of engraved plates illustrating carvers' ornament in the French taste, the first of these issued in 1740 being A New Drawing Book of Ornaments, Shields, Compartments, Masks &c., this being followed in 1744 by Six Sconces and in 1746 by Six Tables. A number of these were re-issued in the 1760s, and in 1752 he published a number of designs in collaboration with H. Copland.
Similar manuscript drawings for the present table are included in two folio volumes of drawings which were acquired by the Victoria and Albert in 1862 and 1863 from his grandson George Lock. Largely unpublished, they include many original compositions and others which are closely related to the published work of Thomas Chippendale and to Ince and Mayhew.
Two designs from Six Tables, 1746, and several drawings from the Lock Album contain carved elements found on the present table. These include: the C-scroll and cabochon carving to the heads of the legs, the conjoined C-scroll apron (Six Tables, plate 9), the floral garland to the legs (Six Tables, plate 10), the central cartouche made up of C-scrolls surrounded by ruffled flamework (Lock Album, no. 108), the large acanthus spray to the central cartouche (Lock Album, no. 2584), and the foliate scrolled feet which scroll inwards (Lock Album, no. 2584). The pierced rocaille and flamework to the frieze is found in almost all of the table designs. It is also interesting to note that the present table has a flat front, which follows the design of the two tables in plate 9 of Six Tables, as well as the two manuscript drawings, no. 2584 and 108.
Matthias Lock is recorded as one of a number of joiners and carvers bearing the same name and probably members of the same family which appears to span three or more generations. After being apprenticed to his father, also Matthias, a joiner in the parish of St. Paul's, Shadwell in London, and to Richard Goldsaddle, a carver in the Parish of St. Martin's-in-the-Fields, he appears to have become a journeyman in his own right in 1731. Other than his recorded marriage to a Mary Lee in 1734, no other documents appear to survive regarding his career until 1744 when his name appears in Thomas Johnson's The Life of the Author. Johnson (b. c. 1714-c. 1778) was an eminent carver, gilder and designer who, in 1744, was employed in the workshop of Thomas Whittle, the London carver and gilder. It is obvious from Johnson's memoirs that Lock was also employed by Whittle at that time, describing him as 'the famous Matthias Lock, the most excellent carver, and reputed to be the best Ornament draughts-man in Europe'. It is further apparent that Lock had been employed in Whittle's workshop for some years and that he held an influential position within it. Lock obviously became Johnson's mentor, lending him his drawings to copy and furthering his skills as a craftsman, designer and draughtsman. Although Lock's association with Whittle and his partner Samuel Norman seems to have continued until at least 1755, Johnson does note that he had 'greatly declined in his health, so that he did not attend the shop so much as their business required'. While his precise role with Whittle's firm still remains unclear, his parallel career as an independent contractor is equally not fully documented, although Christopher Gilbert believes that he did work in this capacity for Thomas Chippendale.
A table with similar pierced rocaille apron to the present table originally in the collection of Sir John Mordant Cope of Bramshill, Hants., is now at Temple Newsam House, no. 451 (illustrated in Christopher Gilbert, Furniture at Temple Newsam House and Lotherton Hall,, London: 1978, vol. II, p. 360); the form of the legs is very similar to a mahogany altar table by William and Richard Gomm made for Stoneleigh Abbey, circa 1764; the robust carving also bears similarity to a pair of tables which were at Lowther Castle, Westmorland before 1947 and sold in these rooms, Property from a Private Collection, October 28-29, 1988, lot 474 ($480,000) and a table from the collection of the Earl of Wilton, formerly at Ditchley Parks, sold in the same aforementioned sale, lot 476 ($190,000), another smaller table with very similar feet and legs sold at Christie's, New York, October 21, 1999, lot 218 ($66,000); another table with similar legs sold at Sotheby's, London, John Keil, Furniture from 154 Brompton Road, April 7, 1998, lot 25. Furthermore it is worth comparing the carving of these tables to the carving and form of a pair of wall brackets attributed to Lock and sold at Christie's, New York, Property from the Collection of Mr. and Mrs. Alexander Saunderson, April 15, 2005, lot 200.
A pair of George III Giltwood Mirrors in the manner of John Linnell, circa 1760. Photo Sotheby's
height 6 ft. 7 in.; width 41 in. 200.6 cm; 104.1 cm. Estimate 50,000—70,000 USD.Lot Sold 122,500 USD (£76,462) to an Anonymous
An early Victorian Mahogany and Parcel-Gilt Composition Center Table. Photo Sotheby's
with associated inset circular brocatelle marble top; height 29 1/2 in.; 4 ft. 8 1/2 in. 74.9 cm; 143.5 cm. Estimate 20,000—30,000 USD. Lot Sold 104,500 USD (£65,227) to an Anonymous
Sotheby's. Property of a Palm Beach Private Collector, 29 Mar 11, New York www.sothebys.com