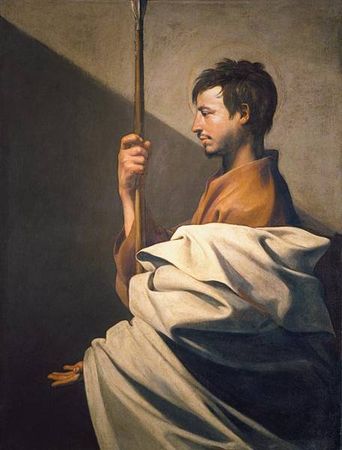 During his time in Rome, Ribera deployed a precise descriptive manner and a use of chiaroscuro to offer innovative depictions of traditional subjects such as the Five Senses, the Apostles, and figures of Philosophers. In Naples, he made use of the same artistic resources to imbue his devotional subjects with a unique sense of intensity, rigour and drama. The exhibition is organised into different sections that group together related works or focus on specific periods during Ribera's time in Rome and his early years in Naples.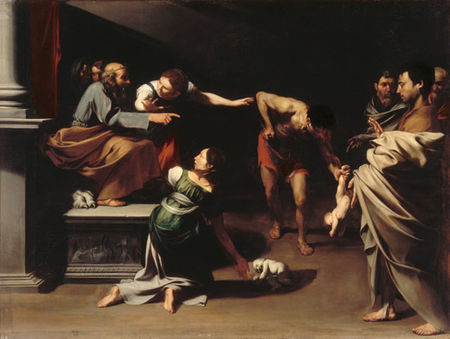 The first section of the exhibition is entitled "José de Ribera versus the Master of the Judgment of Solomon". It juxtaposes several of the few known paintings that have traditionally been attributed to Ribera during the earliest period of his career with other important works previously considered to be by the so-called "Master of the Judgment of Solomon". This section includes a number of the outstanding canvases from the "Cosida Apostle Series", loaned from the Longhi Foundation. Shown alongside them are three of the "Five Senses", which is a crucial series for a reconstruction of the young Ribera's activities and in which the artist's technique and approach already reveals his self-confidence and desire for originality. Compositionally, the Apostle paintings are particularly rigorous, with extensive backgrounds that play a key role in the creation of a sense of dramatic climax. In the "Senses", the figures fill the pictorial space, while their actions are depicted in a highly naturalistic manner. These characteristics explain why for many years the two series were attributed to different artists.
Democritus, José de Ribera, Oil on canvas, 120 x 90 cm. 1615 - 1616. Switzerland, Private Collection
Following this section, the exhibition includes another unique group of works under the heading "From Rome to Naples: half-length figures". During his years in Rome and his early period in Naples, Ribera also depicted numerous single figures or pairs, which are generally depicted half-length and in front of a table. Most of them are New Testament saints. In works of this type the artist deployed his precise, effective style to depict realistic human types and compositions in which the figure is located in the foreground and occupies almost all the pictorial space. The result is a series of powerful, rigorous images that would be the starting-point for future innovations, making Ribera's artistic vocabulary and subject-matter among the most unique and distinctive of its day. During this period he began to depict philosophers, such as Origen and Democritus, using pictorial formats similar to those of his saints, although these early versions do not involve the association between poverty and philosophy to be found in later paintings of such figures.
The Flagellation of Christ, José de Ribera. Oil on canvas, 140 x 118 cm. c. 1617. Naples, Quadreria dei Girolamini