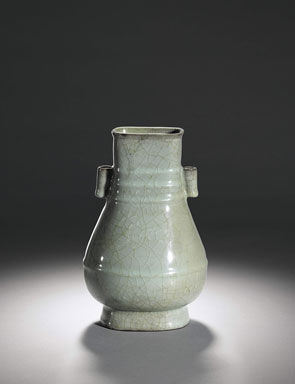 An extremely important and rare "Guanyao" Hu-shaped vase, Southern Song Dynasty, 12th century. Estimate: £2,500,000-£3,000,000. Photo: Sotheby's.
LONDON.- Sotheby's presents the first of its 2011 London Sales of Fine Chinese Ceramics and Works of Art. The auction will feature 343 lots and will take place in London on Wednesday, May 11th, 2011. Every item in the sale has been meticulously selected as an iconic example of its genre and in total the auction is expected to realise in excess of £11 million.

The highlight of the auction is an important and rare 12th century 'Ice Crackle Guan' vase of the Southern Song Dynasty. The vase, which was originally created for the Imperial Chinese court, formed part of the collection of Mr and Mrs Alfred Clark, who rank among the greatest English collectors of Chinese ceramics of the early 20th century. This is the first example of the archetypal 'Guan' style, from the official kilns of Hangzhou to appear at auction and it is estimated at £2,500,000-£3,000,000. The Song dynasty (960-1279) was the classic period which defined Chinese style and informed concepts of ceramic excellence the world over. 'Guan', the official ware of the Southern Song court, is perhaps the most admired and desirable of all Chinese ceramics. The vase combines the exceedingly rare combination of an archaic bronze shape, with a glaze displaying the fabled 'ice crackle'. Its luminescent surface evokes light shining through superimposed shards of ice – the most rarified of the 'Guan' effects.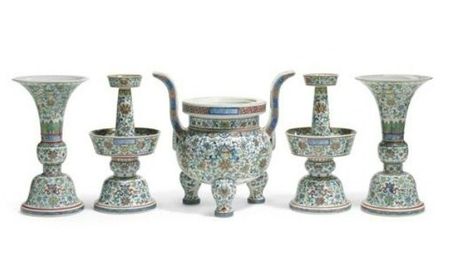 A rare and impressive doucai altar garniture. Qianlong seal marks and period. Estimate £800,000 - 1,200,000. Photo: Sotheby's.
Sotheby's will also offer for sale a spectacular and extremely rare five-piece doucai Qianlong period altar garniture. Only one other comparable example appears to be recorded.** Consisting of a tripod incense holder, two candleholders and a pair of gu-form vases, the garniture is decorated with the distinctive doucai technique, developed in the Ming dynasty. Each item is finely painted in bright enamels with beribboned Eight Buddhist Emblems, entwining lotus scrolls, plaintain leaves, lotus lappets and ruyi-headed borders. All are inscribed with six-character Qianlong seal marks. The garniture was commissioned by the Qing Court for use in one of the Imperial family's ancestral halls and is estimated at £800,000-£1,200,000.

Aside from its Imperial history, the garniture has a remarkable provenance, having been acquired by Lord Herbert Kitchener, an avid collector of Chinese antiques, in the early 20th Century.

Kitchener presented the objects to Sir Thomas Hohler, the highly decorated Field Marshall and proconsul who won fame for his imperial campaigns and central role in the First World War.
A rare underglaze-red "magpie and prunus" moonflask Qianlong seal mark and period. Estimate: £300,000-500,000. Photo: Sotheby's
A further highlight of the sale is a Rare magnificent Qianlong seal mark and period moonflask (est. £300,000 to £500,000). The vessel is distinguished by a rare copper-red underglaze and bears the striking motif of a magpie perched on a gnarled prunus branch – a device more often associated with blue and white ceramics. The flask's flattened globular body rises from a short oval foot to a waisted neck flanked by a pair of ruyi handles. The vase is closely related to a vessel from the Palace Museum in Beijing. Another is held in the Chinese Ceramics collection of the Rijksmuseum in Amsterdam. Both in shape and design this flask closely follows an early Ming blue and white original. The flat, moonflask form is highly prized - an adaptation of much earlier foreign pilgrim bottles made from leather. During the Tang dynasty these became the inspiration for ceramic replicas and it is believed they were designed to contain wine.

* Estimates do not include buyer's premium