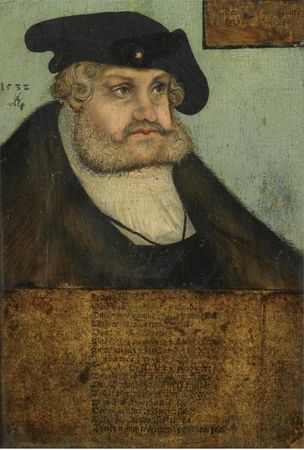 Lucas Cranach the Elder (Kronach 1472 - 1553 Weimar), Portrait of the Elector Frederick III the Wise of Saxony (1463-1525). Photo Sotheby's
oil on panel, with inscribed verses on paper attached to the panel; signed with the artist's device of a winged serpent and dated upper left: 1532; 20.3 by 14.4 cm. Estiate 60,000—90,000 EUR. Lot Sold 204,750 EUR
PROVENANCE: Bought in Berlin by the present owners in the 1980s.
NOTE: This is one of a number of portraits painted by Lucas Cranach of his most important early patron Frederick 'the Wise'. The earliest dated example of this particular type is that of 1522 formerly in Gotha, Schlossmuseum, now lost, which shows the Elector before his beard turned grey.1 The demand for repetitions of this particular portrait continued after the Elector's death in 1525, to which the number of posthumous autograph versions attest, such as this painting and the one sold, London, Sotheby's, 27 April 2006, lot 22.

In 1532, the date of this portrait, John Frederick the Magnanimous (1503-1554), upon his accession to the Electorship, commissioned Cranach and his workshop to paint around 60 small scale portrait pairs of his deceased uncle Frederick the Wise and of his father, Frederick's brother, John the Steadfast (1468-1532) who had succeeded him. These portraits were completed and paid for the following year. The portraits in memory of both the Electors were often accompanied by laudatory verses glued to the panel, as here, and it is highly likely that this painting is one of those commissions. One such portrait of John the Steadfast, for example, was sold, London, Christie's, 8 December 2005, lot 36. Given the sheer size of this one commission alone, it must be assumed that a large part of these portraits of the Electors were produced with the assistance of Cranach's son and workshop.
Duke Frederick was a patron of considerable importance. Jacopo de Barbari (who preceded Cranach as Court painter) and Conrad Meit also worked for him, and he was the first important noble patron of Albrecht Dürer, who painted seven pictures for him, including his portrait (1496, Berlin) and the great Martyrdom of the ten thousand of 1508 now in Vienna. In 1502 he founded the University of Wittemberg at which in 1512 Martin Luther became Professor of Theology. Though he protected Luther as the Protestant Reformation grew, and was also a patron of Erasmus, the Elector himself always remained a Catholic.
Cranach entered the service of Duke Frederick the Wise, the Elector of Saxony, at his court in Wittemberg in the spring of 1505. Under Frederick III Saxony became the leading state in the Empire and the cradle of the Reformation. Cranach remained with the House of Saxony for nearly fifty years, until his own death, serving three successive Electors. In 1508 the Duke conferred on him the coat-of-arms with the winged serpent that became the basis of his standard signature, as on this painting.

We are grateful to Dr. Dieter Koepplin for suggesting that this painting, in all probability, is painted by Lucas Cranach the Elder, assisted by his son Lucas Cranach the Younger and by his studio.
1. See M.J. Friedländer and J. Rosenberg, The Paintings of Lucas Cranach, London 1978, p. 100, no. 151.
Sotheby's. Old Master Paintings Sale, 10 May 11, Amsterdam www.sothebys.com