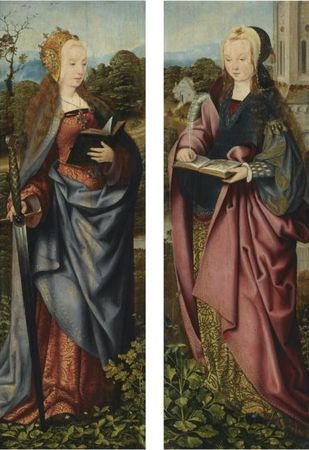 The Master of Frankfurt (Place unknown 1460 - 1533 (?) Place unknown), Saint Catherine; Saint Barbara. Photo Sotheby's
a pair, both oil on panel; each: approx. 69.3 by 24.4 cm. Estimate 40,000—60,000 EUR. Lot Sold 96,750 EUR
PROVENANCE: Dr. Freund, Berlin;
With Bachstitz, The Hague, 1921, no. 3;
Mrs. A. Keller, New York, by 1924 (here and above as one panel);
With Schaeffer & Brandt Inc., New York, on consignment from Mrs. A. Keller on 4 April 1945;
With Kunsthandel P. de Boer, Amsterdam, 1961 (as two separate panels);
J. van Praag, Blaricum;
Bequeathed to the present owner by the widow of the above.
EXHIBITED: Berlin, Kaiser Friedrich Museum, before 1921;
The Hague, Bachstitz Gallery, Exhibition of Primitiv Masters, 1922, no. 12;
New York, Gallery Kleinberger, Loan Exhibition of German Primitives for the benefit of the American Red Cross, November 1928, no. 24 (lent by Mrs. A. Keller);
Laren, Singer Museum, Nederlandse Primitieven uit Nederlands particulier bezit, 1 July – 10 September 1961, no. 67 and 68 (as two separate panels).
LITERATURE AND REFERENCES: M.J. Friedländer, 'Der Meister von Frankfurt', in Jahrbuch königlichen preussischen Kunstsammlungen, 1917, p. 149;
M.J. Friedländer, 'Die Primitiven Ausstellung im Haag', in Der Cicerone, 1922, p. 814;
International Studio, June 1926, fig. 55, reproduced in colour;
M.J. Friedländer, Alt Niederländische Malerei, vol. VII, 1929, no. 130 d;
M.J. Friedländer, Early Netherlandish Painting, vol. VII, 1976, no. 130D, plate 103;
S.H. Goddard, 'The Master of Frankfurt and his Shop', in Verhandelingen van de Koninklijke Academie voor Wetenschappen, Letteren en Schone Kunsten van België: Klasse der Schone Kunsten, vol. 46, no. 38, 1984, p. 149, no. 75 (as Shop of the Master of Frankfurt, circa 1508).
NOTE: These panels were first connected to the Master of Frankfurt by Friedländer in 1917. He correctly observed that the two Saints also appear in the altarpiece of the Virgin and Child with Saint Anne, now in the Museum der Bildenden Künste, Leipzig (inv. no. 1366).1 His view was followed by Goddard, who further noted that the panels at some point must have formed a single painting, as they appeared as a single panel in the exhibition catalogue of the Bachstitz Gallery, The Hague, in 1922.

The so called Master of Frankfurt takes his name from two important altarpieces produced for and still in Frankfurt-am-Main: the Altarpiece of the Holy Kinship, in the Historisches Museum, and the Crucifixion Triptych, in the Städelsches Kunstinstitut.2 According to Peter van den Brink, he and other anonymous Antwerp masters of the time, should no longer be considered as single masters with assistants, but as well organised workshops, where numerous altarpieces were produced for the open market and work was efficiently divided. On the basis of photographs, he believes that the date of 1508 suggested by Goddard is incorrect, and that the panels date after 1511, as the Saint Barbara especially is reminiscent of works by Joos van Cleve.
1. See D. Sander, Katalog der Gemälde, Leipzig 1995, fig. 437.
2. See S.H. Goddard under Literature, pp. 147, 157, nos. 67 and 101.
Sotheby's. Old Master Paintings Sale, 10 May 11, Amsterdam www.sothebys.com