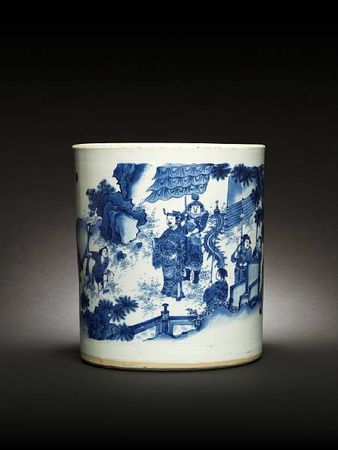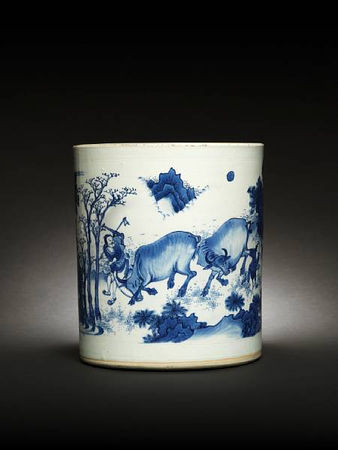 A large blue and white brushpot, bitong. Chongzhen-Shunzhi. Photo Bonhams
Superbly painted in vivid blue with a dignitary and his entourage including four warriors wielding lances, a banner and a canopy, with a horse in the background below the gnarled tree, all before a kneeling farmer and his companion leading two water buffaloes amidst rockwork and the characteristic V-shaped grass, the scene divided by a mountainous landscape amidst cloud scrolls, all framed by incised borders enclosing foliate patterns. 22.6cm (8 7/8in) high. Estimate: £40,000 - 60,000, HKD 510,000 - 760,000, $ 65,000 - 98,000
Provenance: The Bernheimer Collection, label no. C/675

Compare a blue and white jardinière, kang, from the Shanghai Museum, and a blue and white brush pot from the Norton Gallery of Art, West Palm Beach, both attributed to the Chongzhen period and painted with the same scene, illustrated respectively by A.White, Chen Xiejun and Wang Qingzheng, eds., Seventeenth Century Jingdezhen porcelain from the Shanghai Museum and the Butler Collections, Shanghai, 2005, pl.23, and by S.Little, Chinese Ceramics of the Transitional Period: 1620-1683, New York, 1984, Catalogue no.20.

The scene depicted is possibly that of Bing Ji enquiring about a buffalo in his History of Han. Bing Ji was then the Prime Minister. One day he saw a wounded person on the road and continued his trip. Then he saw a person chasing a buffalo and the buffalo was out of breath. Bing Ji stopped and asked how far the buffalo had been chased. His attendant official asked him why he had not enquired about the first case but had enquired in the second case. Bing Ji answered that it was the duty of local officials to investigate fights between locals, and that this kind of trivial affair should not bother a Prime Minister. .. but the second case was different. It was only spring, and the climate should not be hot. If the buffalo was only chased for a short distance but already out of breath, that meant the climate was already like summer. To balance the yin and yang of nature was the duty of a Prime Minister. That is why he had enquired about the second case. Another story suggested in connection with this scene is that it depicts Emperor Yao, first of the sage-kings , in front of his chariot beneath a parasol. He is asking Xu You, a reclusive sage and cowherd, to assume the reins of government.
Bonhams. Fine Chinese Art, 12 May 2011 . New Bond Street www.bonhams.com