NEW YORK, NY.- The market for important works by Andy Warhol, the reigning king of Pop, continued to reach new heights at Christie's New York tonight, as bidders chased two iconic self-portraits by the artist, setting a new world auction record for a Warhol portrait in the process.

The photo-booth style Self-Portrait, 1963-64 sold for $38,442,500 (£23,449,925/€26,909,750) after an epic 16 minute bidding battle between clients in the room and on the phone. After volleying bids back and forth for what was the longest Evening Sale bidding war in recent memory, Christie's Brett Gorvy, International Co-Head of Post-War & Contemporary Art, scored the winning bid on behalf of a client on the phone, and the audience erupted in applause. The price with premium surpasses the previous record of $32.5 million set for a Warhol self-portrait last year.

Painted in 1963-1964, Self-Portrait marks the first historic crafting of the artist's iconic image in a photo booth, a radical concept of picture-making that revolutionized art history. A four-panel masterpiece executed in four distinct variations of blue features shows Warhol for the first time in the guise of the enigmatic superstar, replete with silver hair, wayfarer sunglasses and a blank expression.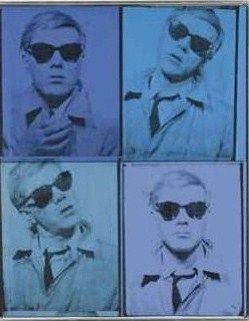 Andy Warhol (1928-1987) , Self-Portrait. Photo: Christie's Images Ltd 2011
signed and dated 'Andy Warhol /64' (on the overlap of the upper left, upper right and lower left panels); signed again, inscribed and dated again 'To Mrs. B Andy 64' (on the overlap of the lower right panel), acrylic and silkscreen ink on canvas, in four parts, overall: 40 x 32 in. (101.6 x 81.3 cm.).. Painted in 1963-1964. (4) - Estimate $20,000,000 - $30,000,000 - Price Realized $38,442,500
Provenance: Stable Gallery, New York
Florence and S. Brooks Barron, Detroit
By descent to the present owner
Property of the Barrin family collection
Literature: R. Crone, Andy Warhol, New York, 1970, p. 158, no. 163 (illustrated).
S. F. Hilberry, "Two Andy Warhol Self-Portraits," Bulletin of the Detroit Institute of Arts, vol. 50, 1971, p. 67, no. 4 (illustrated).
M. Kozloff, "Andy Warhol and Ad Reinhardt: The Great Accepter and the Great Demurrer," Studio International, vol. 181, no. 931, March 1971, no. 3 (illustrated).
R. Crone, Das Bildnerische Werk Andy Warhols, Berlin, 1976, no. 323.
C. Ratcliff, Andy Warhol, New York, 1983, p. 53, no. 170 (illustrated in color).
W. Lange, "Andy Warhol oder die Wiederaufbereitung der Kunst aus dem Geiste der Kulturindustrie," Kunstforum, vol. 92, December 1987- January 1988, p. 154 (illustrated in color).
D. Bourdon, Warhol, New York, 1989, p. 185, no. 170 (illustrated).
K. Larson, "Everybody's Andy," New York Magazine, 20 February 1989, p. 77 (illustrated in color).
M. Jover, "Le voleur d'images," Paris: Beaux Arts Hors Série, 1990, p. 4 (illustrated in color).
A. Abruzzese, "L'ultimo divo dell' arte," Art e Dossier, no. 44, March 1990, p. 6 (illustrated in color).
Art e Dossier, no. 105, 1995, p. 25 (illustrated in color).
G. Baldwin and J. Keller, Nadar, Warhol: Paris, New York, Photography and Fame, exh. cat., Los Angeles, 1999, p. 150.
G. Frei and N. Printz, eds., The Andy Warhol Catalogue Raisonné, Paintings and Sculpture 1961-1963, vol. I, London, 2002, pp. 426-427 and 435, no. 486 (illustrated in color).
G. Mercurio, D. Morera, and D. Paparoni, eds., The Andy Warhol Show, exh. cat., Milan, 2004, p. 146, no. 59 (illustrated in color).
D. Elger, ed., Andy Warhol Selbstportraits/Self-Portraits, exh. cat., Ostfildern-Ruit, 2004, p. 28 (illustrated in color).
D. Hickey, Andy Warhol "Giant" Size, London, 2006, p. 260 (illustrated in color).
E. Meyer-Hermann, ed., Andy Warhol: A Guide to 706 Items in 2 Hours 56 Minutes, exh. cat., Rotterdam, 2008, p. 51.
C. Lanchner, Andy Warhol, New York, 2008, p. 32, no. 19 (illustrated in color).
R. Marrone, Andy Warhol's "Big Retrospective Painting," exh. cat., Zurich, 2009, p. 116 (illustrated in color).
L. Menand, "Top of the Pops, Did Andy Warhol change everything?," New Yorker, 11 January 2010, p. 61 (upper right panel illustrated in color).
L. Cumming, A Face to the World: On Self-Portraits, London, 2009, p. 259 (illustrated in color).
D. Carrier, Proust/Warhol: Analytical Philosophy of Art, New York, 2009, p. 55.
T. Scherman and D. Dalton, Pop--The Genius of Andy Warhol, New York, 2009, n.p. (illustrated in color).
Exhibited: Rochester, Oakland University, Meadow Brook Art Gallery, Personal Preference, October-November 1967 (illustrated).
Kunsthaus Zurich, Andy Warhol: ein Buch zur Ausstellung, May-July 1978, pp.101 and 207, no. 67 (illustrated in color).
Humlebaek, Louisiana Museum of Modern Art, Andy Warhol, October-November 1978, no. 19.
Rochester, Oakland University, Meadow Brook Art Gallery, Contemporary Art in the Collection of Florence and S. Brooks Barron, September-November 1984, p. 23, no. 14 (illustrated in color).
New York, Museum of Modern Art; Art Institute of Chicago; London, Hayward Gallery; Cologne, Museum Ludwig; Venice, Palazzo Grassi and Paris, Musée National d'Art Moderne Centre Georges Pompidou, Andy Warhol: A Retrospective, February 1989-September 1990, p. 84, no. 3 (illustrated in color; New York); (illustrated in color on the cover; Paris).
Wolfsburg, Kunstmuseum; Vienna, Kunsthalle; Brussels, Palais des Beaux-Arts, Bilbao, Guggenheim Museum and Porto, Fundação de Serralves, Andy Warhol: A Factory, October 1998-April 2000, no. 160 (illustrated in color; Wolfsburg); (illustrated in color on the cover; Bilbao).

Notes: "The reason why I'm painting this way is that I want to be a machine, and I feel that whatever I do and do machine-like is what I want to do" (Andy Warhol cited in G. R. Swenson, "What is Pop Art?," Art News, Nov. 1963)

Alongside Egon Schiele, Pablo Picasso and Francis Bacon, Andy Warhol is one of the great 20th Century masters of the self-portrait. For an artist who so loathed his own self-image that he often resorted to make-up, wigs and even plastic surgery to disguise and hide himself, this makes his self-portraiture even more engaging as we try to deconstruct the real Andy Warhol behind the polite but wittily obtuse and evasive public persona. Andy Warhol's four-paneled Self-Portrait, 1963-1964, is acclaimed in every Warhol monograph and exhibition catalogue as his first seminal self-portrait. It ranks not only as one of the most iconic and enigmatic portrayals of an artist's own image, but its multi-panel format and use of mechanically-produced photographic imagery are also acknowledged as the most radical advancements in portraiture since Cubism.

Painted at the prime of his career, Self-Portrait documents publicly for the first time Warhol's self-transformation from insecure commercial artist into the high priest of Pop Art and the arbiter of Sixties cool. It is no surprise that the painting was used as the cover for the ground-breaking Andy Warhol: A Retrospective exhibition in 1989, travelling to the Museum of Modern Art in New York and the Pompidou in Paris; it was similarly featured as the cover and banner-image of Andy Warhol: A Factory, the European survey organized by the Guggenheim in 1999.

Warhol is recognized today as an American icon, his public image transcending even his art as he has become as famous as the celebrities he portrayed. Whereas Lichtenstein, Oldenburg, Wesselmann and Rosenquist are all acknowledged as leading Pop artists alongside Warhol in the 1960s, only "Andy" has become the personification of the very era and the glamor he immortalized.

It was the legendary dealer Ivan Karp of the Leo Castelli Gallery, who suggested to Warhol that he paint his first self-portrait. "You know, people want to see you. Your looks are responsible for a certain part of your fame - they feed the imagination" (I. Karp, as cited in C.Ratcliff, Andy Warhol, New York, 1983, p.52). Karp enlisted the support of pioneering Detroit collector Florence Barron. She had initially been taken to Warhol's studio to discuss the commission of her own portrait. In what was a brilliant reversal of the typical artist-patron relationship, Barron proposed instead that she would commission Warhol to paint his portrait for her - and to turn the icon-making apparatus of his Pop art vision on himself.

The self-portrait has been a major subject of art history since the Renaissance, often used by artists in order to investigate and express their inner psyche and emotions. Warhol's response to this tradition was to create a seemingly anonymous and emotionally vacant self-image. Photographing himself in a public photo-booth, and wearing a raincoat and dark sunglasses, he is dressed in the stereotypical garb of a spy or a man trying his best to hide his identity. Warhol's first self-portrait is therefore a revealing anti-self-portrait - a serial portrayal of a person deliberately hiding from the scrutiny of the camera lens and the glare of public exposure.

Like all of Warhol's finest work from the early 1960s, his Self-Portrait both establishes and investigates the ambiguous nature of the act of looking by questioning its boundaries and exploring the limitations of artifice and the viewer's voyeuristic impulse. Warhol's decision to make his first self-portrait using a photobooth was a genius act that reflected both his admiration for Marcel Duchamp and the latter's concept of the "ready-made" work of art, as well as Warhol's own oft-stated desire to be a machine.

The common dime store "photomat" clearly conformed with Warhol's desire to create a new mechanical and democratic art for a mass-consumer and mass-media-obsessed world. The photobooth's impersonal lens offered a non-prejudicial and artless image of whatever pose or face the sitter wished to present to it. Behind its closed curtain, anybody could be a "superstar" of their own making. While Warhol's earlier use of photography had been restricted to the recycling of previously published media images, his discovery of the coin-operated photobooth gave him a means to generate unique images that at the same time had been made by a public machine that everyone had access to.

Warhol was inspired to use the photobooth after being commissioned by Harper's Bazaar magazine to provide images for an article in the April 1963 issue entitled "Instant Self-Analysis, 25." The article included photostrip stills of the composer La Monte Young, painter Larry Poons, curator Henry Geldzahler and Warhol himself. "Andy brought each subject to a Times Square Photomat and played with them," recalled art director Ruth Ansel. "He encouraged them to loosen up while he dropped quarters into the machine" (As cited in T. Scherman and D. Dalton, Pop: The Genius of Andy Warhol, New York 2009, p.161).

The photobooth was the perfect tool for Warhol's vision: he loved the photostrip's seriality, its resemblance to filmstrips; he enjoyed the photobooth's elimination of the photographer, and along with the silkscreen, its ability to remove Warhol's art yet another step from the human touch. Within the private domain of the booth, one could act out one's fantasies as though in front of the bathroom mirror; and he reveled in the sleaze factor - the booths in Times Square were especially disreputable places.

Soon after the Harper's Bazaar commission, Warhol used the photobooth to create the 36 panel portrait of collector Ethel Scull. "I had great visions of going to Richard Avedon's, of having these magnificent pictures of me taken, and then Andy would do the portrait," stated Ethel Scull, who had dressed in an Yves Saint Laurent suit for the occasion. Instead Warhol took her down to an amusement arcade on 42nd Street which had several photobooth machines. "He said, 'Don't worry,' and took out coins. He had about a hundred dollars' worth of quarters He said, 'Just watch the red light,' and I froze. So Andy would come in and poke me and make me do all kind of things. I think the whole place thoughts they had two nuts here. We were running from one booth to another, and he took all these pictures and they were drying all over the place. And they were so sensational that I didn't need Richard Avedon. I was so pleased. I think I'll go there for all my pictures from now on" (E. Scull, quoted in exh. cat., Andy Warhol: Photography, Hamburger Kunsthalle, 1999, p.89).

As with the Ethel Scull painting, Warhol's Self-Portrait juxtaposes stills culled from strips of photobooth images: within the four-part composition he contrasts stoic expressionless faces with animated poses to create an almost film-like sense of narrative. Thus, Warhol uses disguise and theatricality to stage his personality in this work, representing himself as a hounded celebrity in trench coat and dark glasses as if he was trying to escape the glare of popping paparazzi flashbulbs. Despite the unwavering frontality (the seeming directness of the works has been compared to the simple truthfulness of Warhol's Soup Can paintings), the portraits disclose little about Warhol's inner life but reveal much about his consciousness of the artificiality of personal image. For Warhol, identity is the role one plays, the mask one chooses to wear. "I never like to give my background and anyway, I make it different all the time I'm asked," he stated (Warhol, quoted in G. Berg, "Andy Warhol: My True Story," The East Village Other, 1 November 1966).

The four different poses of Self-Portrait allows the picture to be read like a book page, from left to right, top to bottom. The sequence of images suggests a mini-movie, corresponding to Warhol's own film work such as his Screen Tests, where the sitter is left alone with a rolling movie camera and their personality played out in the stillness of the void. The serial nature of the portraits, like the Soup Cans, emphasizes a mass-produced quality and rather than providing more information, the repetition creates a numbness akin to the barrage of data constantly pushed by American advertising.

Warhol's choice of different hues of blue, with an electric intensity of tone that often defies illustration, helps the eye move from panel to panel. In the first image, Warhol stares directly at the viewer, his eyes shielded by the darkness of his glasses that masks any emotion. Warhol's hand appears to be in movement, a gesture that creates a certain sense of vulnerability and protectiveness. In the next two panels, the artist jerks his head from side to side like a marionette, his tie now askew. The fourth frame ends any perceived drama with a straight-on confrontation, mouth firmly set.

The passport-like mug-shots convey a powerful sense of film noir, augmented by the graininess of the pixilated silkscreen. This accentuates Warhol's presentation of himself as an outsider or indeed a "wanted" man or outlaw. In this respect, the artist was perhaps inspired by Marcel Duchamp, a heroic figure for Warhol whom he had recently met at a Duchamp retrospective in Pasadena in the autumn of 1963. At this exhibition, Duchamp's own "Rectified Ready-made" self-portrait, Wanted: $2000 Reward of 1923, had been used as the poster to advertise the show. Duchamp's faux-self-portrait was an altered "Criminal Wanted" poster he had found in a New York restaurant and changed by inserting his own image in place of the criminal's and altering the text accompanying it to read as a mock description of his own artistic activity as if it were a criminal one.

Almost certainly an influence on Warhol's later silkscreen mug-shots of America's Thirteen Most Wanted Men of 1964, Duchamp's "ready-made" self-portrait as a wanted criminal also finds an echo in the mug-shot-like self-depiction Warhol offers up in this four-part Self-Portrait. Here Warhol too presents himself as both an outsider from society and as an enigma - a face that hides its features and reflects the viewer's gaze back on itself. A clever conceptual device that deflects the inquiry of the viewer, it is also a pose, an artifice that transforms Warhol's image into a mystery man, part Clark Kent or Dick Tracy, part the Shadow - a figure who hides beneath the superficial surface imagery of his pictures. In this respect, the work establishes itself as not just the first icon of the famously empty, enigmatic and often frighteningly clairvoyant persona that Warhol would build for himself and increasingly present to the world, but also as the origin of the Warhol myth. "If you want to know all about Andy Warhol, just look at the surface of my paintings and films and me, and there I am. There's nothing behind it" (Andy Warhol cited in K. Honnef, Andy Warhol 1928-1987 Commerce into Art, Cologne, 2000, p. 45).
Earlier in the sale, Self-Portrait, 1986 — from the last great self-portrait series the artist completed before his death in 1987 — sold to a bidder in the room for $27,522,500 (£16,788,725 /€19,265,750). Executed in the artist's signature vivid red, the color in which he rendered his most famous image of Marilyn Monroe, as well as his greatest Death and Disaster Painting, Red Explosion (Atomic Bomb) of 1963. A powerful and contemplative painting, it is one of the largest self-portraits ever attempted by the artist, and was one of two giant works that were first exhibited in London in a seminal exhibition of new self-portraits at the Anthony d'Offay Gallery in 1986.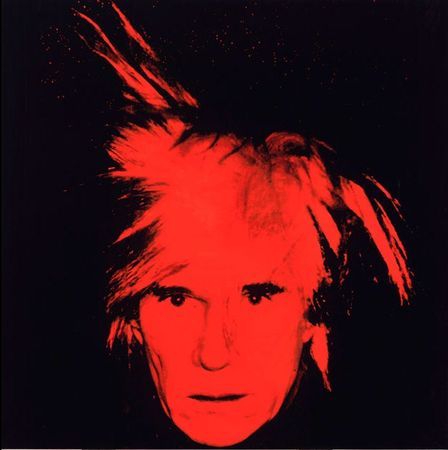 Andy Warhol (1928-1987) , Self-Portrait. Photo: Christie's Images Ltd 2011
signed with stamp, numbered and dated '1986 Andy Warhol PO40.084' (on the overlap), synthetic polymer and silkscreen ink on canvas, 106¾ x, 106½ in. (271.2 x 270.5 cm.) Painted in 1986. - Estimate$30,000,000 - $40,000,000. Price Realized $27,522,500
Provenance: Anthony d'Offay, London
Galerie Beyeler, Basel
Acquired from the above by the present owner, 1996
Exhibited: London, Anthony d'Offay Gallery, Andy Warhol, July-August 1986.
Notes: "I was always saying to him (Warhol), I want to do a big show of yours in London, 'what would you like to show,' and he would say to me 'I'll do whatever you want...' So, I then had to pick something and it took me a long time to come up with this completely obvious idea of a self-portrait. It was years since he had done a great self-portrait, and believe it or not, at the end of his life, nobody had a good word to say for him. Whether they were august museum directors, or collectors, or the general public. He was considered a has-been. It was considered that he had done nothing good or important since Mao ...in 1972. So I felt that it was behoven on me...if I was going to work with him, to make a great proposal to him for a really important work, to propose to him the self-portraits and for that to be a colossal success. And you know they went all over the world to great collections and museums. There's one hanging in the Metropolitan, there's one hanging in the Guggenheim..." (A. d'Offay, Tate Shots, Video, Tate Modern, London 2002).
Comprising solely of a flat, vibrant fiery-red silkscreen image of Warhol emblazoned like a single and dramatic paint-splash over the black void of the canvas, this vast, nearly nine square feet Self-Portrait is an imposing, ominous and ultimately poignant work from Warhol's great last series of self-portraits made in 1986. One of what is believed to be only five versions (green, blue, purple, yellow and here, red) that were made on this monumental scale, this vast but simple, even in some ways minimalist, image of the artist's famous but time-worn face peering tentatively out from under the wild hair of his instantly-recognizable "fright-wig" is one of the great self-portrait images of the Twentieth Century.

It is a comparatively rare self-exposure by the notoriously shy artist that is dazzling in the fearless way which it splashes Warhol's aging but instantly-recognizable features on such a dramatic scale and in such commanding color, once again seamlessly fusing the media of painting and photography into one searing and unforgettable image. Executed in the electric fiery-red color that distinguished so many of Warhol's great "Pop" images of the 1960s, from the Campbell's Soup Cans to his Car Crashes and Electric Chairs, this vast Pop-style icon of an aging Pop-icon, is also, like the late self-portraits of so many great painters throughout history, a simple and powerful personal meditation on death. With its solitary image of Warhol's public visage, seemingly illuminated in the fiery-red color of Pop, and isolated against an impenetrable black background, this work is, in this respect also, a timeless portrait of a visibly aging master confronting the inevitability of his own imminent disappearance from the light of existence.

Warhol's last series of self-portraits are for this reason, among the most iconic, moving and ultimately profound works of his entire career. Among the very last paintings he executed before suffering a premature and unexpected death - following complications that arose after a routine operation on his gall bladder in February 1987 - this series of self-portraits have consequently gained an uncanny sense of prescience and timelessness that has done much to reinforce the legend of Warhol as a modern-day seer. The "somewhat unearthly... and terrifying oracle" as Calvin Tomkins once described him, who "made visible what was happening in some part to us all," seems here, in these works, to be foreseeing intimations of his own death (C. Tomkins, "Raggedy Andy" in Andy Warhol, exh. cat., Eindhoven, 1970, p. 10).

Operating on more than just a personal level however, these depictions of the vivid but also ghost-like apparition of Warhol's gaunt features isolated against a black background and staring wild-eyed directly at the viewer, present, more than any of their many predecessors, a portrait not merely of Warhol the man but also of Warhol the icon and phenomenon. "If you want to know about Andy Warhol, then just look at the surface of my pictures, my movies and me and there I am, there's nothing in between," Warhol had famously said. Nowhere perhaps, is this better demonstrated than in these last self-portraits where the artist consciously and openly presented himself as an artificial construct staring bleakly out of and also into the void, nakedly exposing the strange creation he had become and his profound awareness of his own encroaching mortality.

In one respect, the 1986 self-portraits represent the culmination of a long sequence of paintings about death and mortality that Warhol had been making since the late 1970s. Taking in his paintings of skulls and morbid shadows and also his self-portraits with skulls or as a shadow, it is in these last, simpler, and in some ways less morbid, self-portraits that this pervasive sense of the ever-presence of death has been fused with the manifest artifice of Warhol's own features into a kind of Pop art momento mori.

Warhol was indeed, at this time keenly aware of his own mortality. It had played a major role in his life ever since his brush with death when Valerie Solanas shot him in 1968 when he had in fact died for a moment on the operating table. But since 1980, a seemingly increasing number of friends and colleagues around him had died, some, including his former lover Jon Gould succumbing to the then newly discovered AIDS virus. As a consequence of AIDS, a fatalistic sense of death and retrospection seemed integrally interwoven into much of the nature of New York's "post-modernism" in the early 1980s. No artist was to reflect this mood more than Warhol. In addition, by the time he came to make these self-portraits Warhol's own self-image had itself become a kind of death mask. His face was a mass of dermatological transformations having been tautened with astringents and smoothed with repeated collagen injections. His nose had been altered and his skin was powdered and pasted with numerous creams and cosmetics that he carried with him everywhere. Most notable of all, of course, was the trademark shock of peroxide hair that he used to adorn his strange and delicate visage, provided by his large collection of "fright wigs." Although fiercely aware of his own vanity as he struggled against the natural aging process, Warhol here, in these self-portraits, and especially in such vast canvases as this work, took the bold and rare step of openly displaying this aspect of himself in the starkest, simplest and most direct of ways.

Drawing on his unique ability to fuse painting and photography into an unforgettably iconic image, Warhol has condensed all the recent themes of his art - from the Shadows and Skulls to the dark-ground reversal images and the abstraction and masquerade of his Rorschachs and Camouflage paintings - into a single self-delineating splash of color set on a black background. The paintings were based on photographs of Warhol wearing a black turtleneck sweater which disappeared when placed against the black background allowing Warhol's strange ghost-like visage to float free in the apparition-like manner of the cloth of Saint Veronica, or perhaps more morbidly, the skull and crossbones of the Jolly Roger. Here, in what is a seemingly a single, fleeting and momentary flash-bulb-like exposure, the slow painstaking study, self-searching and self-analysis innate to the art of self-portraiture along with its inherent search for meaning and identity, is conveyed in an solitary splash of the artist's features. Expressive of the here-today, gone-tomorrow nature of both life and celebrity, it is in this way that this haunting self-exposure seems to speak powerfully of the existential nature of man and the dark, ever-present simplicity of death.

Warhol made these self-portraits in the spring of 1986 for an exhibition to be held at the Anthony d'Offay Gallery in London between July and August that year. Their genesis came from Anthony d'Offay himself who had prompted Warhol to think about doing a new series of self-portraits in the winter of 1985/6. 'At Christmas', d'Offay has recalled, "we visited a collector friend of Lucio Amelio who had a powerful red portrait of Beuys by Andy Warhol hanging in his house. As I looked at the painting I realized two things: first that Warhol was without question the greatest portrait painter of the 20th Century, and secondly that it was many years since he had made an iconic self-portrait. A week later, I visited Warhol in New York and suggested to him an exhibition of new self-portraits. A month later he had a series of images to show me in all of which he was wearing the now famous 'fright wig.' One of the images had not only a demonic aspect but reminded me more of a death mask. I felt it was tempting fate to choose this image, so we settled instead on a self-portrait with a hypnotic intensity. We agreed on the number of paintings and that some would have camouflage. When I returned to New York some weeks later the paintings were complete. The only problem was that Warhol had painted the demonic 'Hammer House of Horror' image rather than the one we had chosen. I remonstrated with him and reminded him of our agreement. Without demur he made all the pictures again but with the image we had first selected. And so between us we brought two great series of self-portraits into the world" (A. d'Offay, quoted in Andy Warhol: Self-Portraits, exh. cat. Kunstverein St. Gallen Kunstmuseum, 2004, p.127).

Both versions of the 1986 self-portraits derived from Polaroid photographs taken by Benjamin Liu, operating under Warhol's instructions, of Warhol sitting in the confined space of the stairwell outside his studio. The present Self-Portrait showing Warhol with the less upright hair is of the type that d'Offay and Warhol initially agreed to and which formed the basis of the exhibition in London. This exhibition - the last to take place in London during Warhol's lifetime - was a spectacular critical and commercial success, though the predominant reaction from the public was one of shock. Many viewers left the show "deeply moved," Warhol's friend and biographer David Bourdon recalled, 'Some spectators interpreted the pictures as a momento mori, an unblinking, unsentimental view of a hurriedly approaching mortality. Others perceived them as a metaphor for the multiplicity of ways in which the artist was perceived" (D. Bourdon, Warhol, New York, 1989. p.402.) Some spectators were so overcome by the combination of the morbid grandeur in the pictures and the rare presence of the artist himself at the exhibition, that they were moved to tears. "We had enormous press coverage, lots of TV," d'Offay remembered, Andy "came over for five days. It was fantastic. There were security guards and people asking him to sign their underwear. Four of the paintings were sold to museums. He was so amusing with the critics, too. He had this wonderful ability to work out what was lurking in the back of your mind. When he was asked why he was doing the show, he would reply: 'I've kinda run out of money.' When asked why he was doing self-portraits, he would say: 'I've kinda run out of ideas.' He adored London. We got him a nice suite at the Ritz. He came to the exhibition dressed all in black wearing Billy Boy jewellery. We gave a dinner for 120 people - at Brown's or the Ritz, I'm not sure - and I made a speech entitled Artist as Hero" (A. d' Offay, 'Interview by Leo Hickman' The Guardian, London, 4 February 2002.)

The overwhelming effect of the show, however, was that in these paintings Warhol, was addressing one of the great themes of art history - that of the aging master taking perhaps a last look at himself. Robert Rosenblum commented at the time that the show had a "melancholy introspection" like the "great late self-portraits of Rembrandt and Van Gogh" while also later pointing out that the works also betrayed a pervasive "mood of both personal and public retrospection" that aptly captured the "period flavor" of the time (R. Rosenblum "Warhol as Art History," On Modern Art, New York, 1999, p. 227).

For Warhol himself, the exhibition was also an important landmark even if he had felt awkward being among solely pictures of himself. "I don't like looking at myself. It's hard to look at yourself. This is just weird stuff. If it wasn't me in the pictures the exhibition would be great," he said at the time (A. Warhol, quoted in V. Bockris, The Life and Death of Andy Warhol, London, 1989, p. 481). Victor Bockris even recalled that "when Andy returned from England he seemed to have found some kind of serenity. It was the first time he had made a statement as a painter since the hammer-and-sickle paintings of 1977, and the first time he had done a whole show of himself (one of his favorite subjects since he was a child)" (V. Bockris, op cit, p. 481).

Seemingly presenting yet another, albeit more haunting, mask of himself in these images, Warhol had in fact also laid himself bare, bravely offering up one of his most open, undisguised and unmanipulated self-depictions. Though they were in one respect, once again portraits of a "mirror looking into the mirror," as he once observed, the 1986 self-portraits are really little more than photographic silkscreen representations of the spectral and mask-like figure he had turned himself into in life. Indeed, such was the physical fiction that Warhol's outward appearance had become, these paintings seem to assert, that the always shallow borderlines between his art, life and celebrity, had here finally dissolved into one another.

Although he differs from artists such as Beuys or Rauschenberg for example, who is often thought of in this context, the ideal of a fusion of art and life was also important for Warhol and often played a role in his work. As his Factory friend and colleague Brigid Berlin recalled, Andy was keen for people to "take more control of their lives" to, learn to see their "lives as movies, and to star and direct them. People need" he poignantly said, "to be made more aware of the need to work at learning how to live because life is so quick and sometimes it goes away too quickly"(A. Warhol, quoted in Victor Bockris, op cit, London, 1989, p. 7).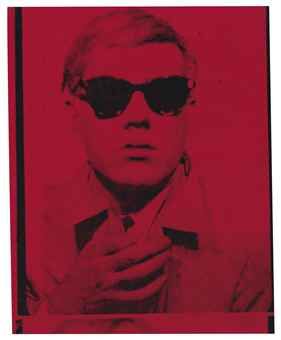 Andy Warhol (1928-1987) , Self-Portrait. Photo: Christie's Images Ltd 2011
Signed twice, inscribed and dated twice 'To Thilo with Love Andy Warhol 1963' (on the overlap), acrylic and silkscreen ink on canvas, 20 x 16 in. (50.5 x 40.6 cm.). Painted in 1963-1964. Estimate $6,000,000 - $8,000,000 . Price Realized $6,802,500
Provenance: Eleanor Ward, New York
Thilo von Watzdorf, New York
Anon. sale; Sotheby's New York, 14 May 1998, lot 22
Acquired at the above sale by the present owner
Literature: G. Frei and N. Printz, eds., The Andy Warhol Catalogue Raisonné of Paintings and Sculptures, 1961-1963, vol. 1, New York, 2002, pp. 428 and 434, no. 487 (illustrated in color).
Exhibited: Humlebaek, Louisiana Museum of Modern Art, Andy Warhol, October-November 1978.
Zurich, Kunsthaus, Andy Warhol, May-July 1978, no. 65.
Paris, Galeries Nationales du Grand Palais, Warhol: Le Grand monde d'Andy Warhol, March-July 2009, p. 70, no. 2 (illustrated in color). Las Vegas, Bellagio Gallery of Fine Art, Andy Warhol Celebrities, February-September 2003, no. 23 (illustrated in color).
New York, Van de Weghe Fine Art, Andy Warhol: Self-Portraits 1963-1986, April-May 2005, no. 1 (illustrated in color).
Notes: This powerful work is among the first self-portraits that Andy Warhol ever produced, and remains one of his most enigmatic canvases. Warhol projects the image of a cool, mysterious figure, concealed behind dark sunglasses, the collar of his raincoat upturned. We can still clearly see vestiges of the original photo-booth source material along the left edge, giving a strong sense of mechanical reproduction, Warhol's signature motif. This particular screen gives an enhanced sense of duplication by including a tantalizing glimpse of the next exposure in the strip along the canvas's lower edge. Warhol screened this intriguing work onto a canvas of cadmium red. Like its subject, this portrait is full of contradictions. It consummately represents Warhol at a time when he had become the archetypal artist of his generation, strong and bold yet with an innate sense of mystery.

The collector Florence Barron commissioned Warhol to produce his first self-portrait in late 1963 (see lot 22). The source of this particular Self-Portrait was the first exposure taken from a strip of photobooth images and shows Warhol undoing his tie with his right hand. While other screens from the series depict Warhol craning his neck first to the left, and then to the right, the image used for this screen has Warhol looking straight at the lens, engaging the viewer with a confrontational gaze. Warhol painted this Self-Portrait at a time when he was cementing his reputation at the center of the New York art world. He had already re-written the established rules of art with his series of Campbell's Soup Cans and celebrity portraits of Marilyn Monroe, Elizabeth Taylor and Elvis, giving birth to the Pop Art movement. When it came to producing his own portrait, Warhol decided against using hand drawn illustrations or pre-existing photographs as he had done previously, and instead ventured into one of the numerous photobooths that lined the seedy districts around New York's Times Square. Now, he created the object himself, and the leveling power of the photo-booth was like reverse magic, taking a glamorous subject or sitter and presenting them in a common, everyday, 25-cents-a-strip way. Warhol was especially interested in this equality bestowed upon the world, upon consumers, and by blowing these images up and presenting them as ardent monochromes, Warhol made them sing with contemporary life and energy. They embrace the aesthetic and mood of the 1960s, not just in the artist's look on the canvas, but also in the picture's own vibrancy.

This work marks Warhol's first foray into self-portraiture, which opened up a completely new avenue of potential for the artist. The genre has long provided artists, from Durer to Picasso and Bacon, with one of the most personal forms of self-expression. Warhol had already shown his fascination with the idea of representation through his uniquely conceived images of American consumerism and popular culture. Self-Portrait gave him the opportunity to use the reductive visual iconography he had developed with his earlier celebrity portraits, on himself. Warhol enjoyed, on the most aesthetic and superficial level, the "editing" he could perform on his own features to ensure the quality of the finished result, of the face to be committed to posterity: "When I did my self-portrait, I left all the pimples out because you always should. Pimples are a temporary condition and don't have anything to do with what you really look like. Always omit the blemishes - they're not part of the good picture you want" (A. Warhol, The Philosophy of Andy Warhol: From A to B and back again, San Diego, New York & London, 1977, p. 62).

Although Warhol was fast becoming the center of the art world, he was also a notoriously shy and socially awkward man and his Self-Portrait gave him the opportunity to adopt the persona of the man he wanted to become. Wearing shades and looking phlegmatic, Warhol presents himself as an archetypal combination of 1960s film star and underworld detective. By adopting this persona, he is controlling how much of the true Warhol he will allow the public to see. Warhol decided to dictate how much of himself to reveal, this very choice reflecting an integral part of his personality. He desired to remain discreet and at a distance, to avoid exposing himself too much too publicly. In capturing, albeit glamorously, this sense of shyness, Self-Portrait belies his often quoted statement that "If you want to know all about Andy Warhol, just look at the surface of my paintings and film and me, there I am. There's nothing behind it" (A. Warhol, quoted in K. Honnef, Andy Warhol, 2000, p. 45).

Warhol's painted his first self-portraits in 1963 and 1964 just as he was starting to emerge, blinking, into the full glare of the art world. The critical response to the showing of his Campbell's Soup Cans at the Ferus Gallery in Los Angles had propelled him into the public spotlight. This portrait of Warhol hints at the uncertainty he felt about his own position. Shielded by his sunglasses, his raincoat collar upturned, it epitomizes his boldness, tempered with youthful uncertainty. This picture hints at his own consciousness of his position as an artist, and a scandalous one at that. At the beginning of his momentous career, Self-Portrait astutely illustrates the enigma that was Andy Warhol.