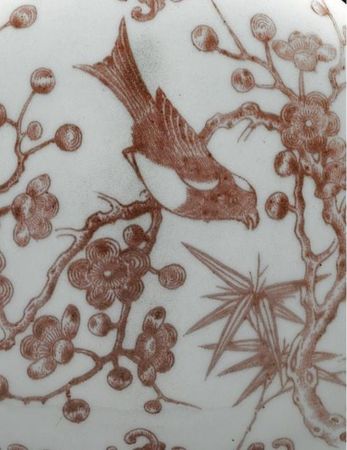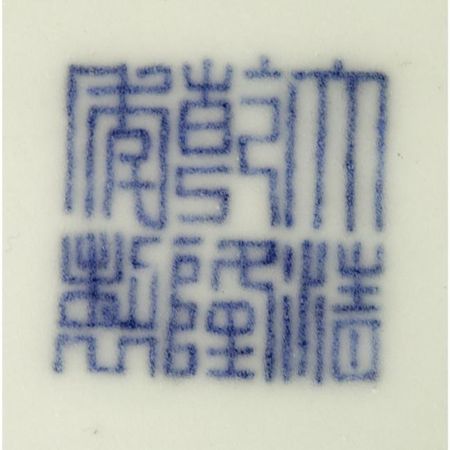 A Rare Underglaze-Red 'Magpie and Prunus' Moonflask, Qianlong Seal Mark and Period. Photo Sotheby's
the flattened globular body rising from a short oval foot to a waisted neck flanked by a pair of ruyi handles, painted on each side in underglaze red with a magpie perched on a gnarled branch of prunus blossom accompanied by bamboo, all between pendent and upright hooked flame motifs, the neck decorated with further bamboo branches, inscribed to the base with a six-character Qianlong seal mark in underglaze blue; 29.3cm., 11 1/2 in. Estimate 300,000—500,000 GBP. Lot Sold 1,049,250 GBP to an Asian Trade.
NOTE: Vessels decorated in copper-red are extremely rare and even more unusual are those in the form of a moonflask. This finely potted and painted flask, bearing the popular design of a magpie perched on a prunus branch, is closely related to a vessel from the Qing Court collection and still in Beijing, illustrated in The Complete Collection of Treasures of the Palace Museum. Blue and White Porcelain with Underglazed Red (III), Shanghai, 2000, pl. 177; and another is included in Chinese Ceramics in the Collection of the Rijksmuseum, Amsterdam, London, 1997, pl. 136, formerly in the collections of L. Wannieck, Paris, and R. May, London. The Rijksmuseum flask was sold in these rooms, 8/9th July 1974, lot 279. A third similar example was offered in these rooms, 21st June 1983, lot 345.
A blue and white version of the 'magpie and prunus branch' moonflask, from the de la Mare collection, was sold in these rooms, 2nd April 1974, lot 369. Blue and white flasks of similar form, size and handles can also be found decorated with flowers and fungus; see a vessel in the National Palace Museum, Taipei, included in Blue and White Ware of the Ch'ing Dynasty, bk. II, Hong Kong, 1968, pl. 16.
Both in shape and design this flask closely follows an early Ming blue and white original. For the Ming prototype compare the apparently unique flask, from the collection of Sir Percival David and now in the British Museum, London, illustrated in Oriental Ceramics. The World's Great Collections, vol. 5, Tokyo, 1982, col. pl. 28, and included in the exhibition Imperial Taste. Chinese Ceramics from the Percival David Foundation, Los Angeles County Museum, Los Angeles, 1989, cat. no. 30.
The painterly design found on this flask, which is closely related to Chinese fan paintings, is discussed in Margaret Medley, 'Sources of Decoration in Chinese Porcelain from 14th to 16th Century', Colloquies on Art and Archaeology in Asia, no. 5, Percival David Foundation, London, 1975, p. 63, where a detail of an anonymous Song painting and a Ming woodblock print with similar motifs of a perched bird are illustrated, pls IIIa and c.
The form of this flask is an adaptation of much earlier foreign pilgrim bottles made in leather. During the Tang dynasty they became the inspiration for ceramic replicas. It is thought that they were made to contain wine. Qing moonflasks, especially blue and white vessels were largely derived from the Ming prototypes. See a Yongle blue and white moonflask of this size and shape, painted with flower scrolls, sold in these rooms, 9th November 2005, lot 291; and another with the same flower scroll motif, and fitted with an Ottoman silver-gilt rim mount, formerly from the collection of the Ottoman sultans in Istanbul, published in Regina Krahl, Chinese Ceramics in the Topkapi Saray Museum, Istanbul, vol. II, London, 1986, pl. 613.
Sotheby's. Fine Chinese Ceramics & Works of Art, 11 May 11, London www.sothebys.com