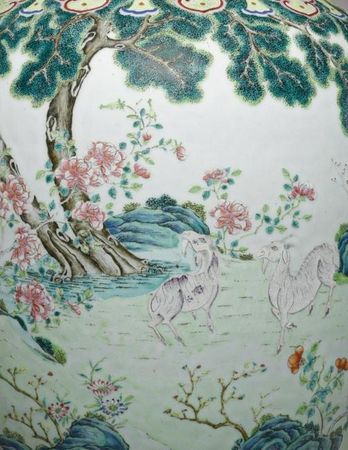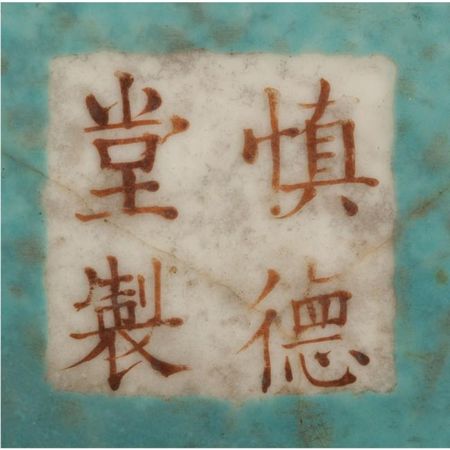 A fine and rare lime-green ground 'famille-rose' 'three rams' vase. Qing dynasty, Shende Tang Zhi mark, Daoguang period. Photo Sotheby's
the ovoid body resting on a short spreading foot, surmounted by a waisted neck flanked by a pair of iron-red enamelled and gilt archaistic phoenix handles, finely painted in brilliant famille-rose enamels on the gently rounded sides with three rams set in a landscape of blossoming berries, rose bushes and leafy trees between bands of ruyi heads enclosing floral sprays, the neck with stylised lotus blossoms borne on a meandering leafy scroll with bats and sanduo sprays reserved against a lime-green ground, between a band of ruyi heads and upright plantain leaves, the lipped rim and foot encircled with a band of flower heads against a ground of swirls, inscribed to the base with a four-character mark reading Shende tang zhi (Hall for the Cultivation of Virtue); 70.4cm., 27 5/8 in. Estimate 300,000—500,000 GBP. Lot Sold 361,250 GBP to an Asian Trade.
NOTE: The present vase is impressive for its very large size and well preserved condition. It bears the four-character hall mark Shende Tang zhi (Made for the Hall of Prudent Virtue), the main residence of the Daoguang emperor (1821-1850) located in the grounds of the Yuanmingyuan. It is known that wares bearing this mark were made for the emperor's personal use. Stacey Pierson notes that the Shende Tang was completed in 1831, allowing a more precise dating of vessels belonging to this special group of wares; about twenty years, between 1831 and 1850, the year when the emperor died. According to Pierson no less than 30 types of imperial Shende Tang porcelains are extant in public and private collections, mostly in the shape of bowls, dishes and vases. See Pierson, Rare Marks on Chinese Ceramics, London, 1998, p. 36. A Shende Tang bowl in the Victoria and Albert Museum, London, painted with cranes is illustrated, ibid., pl. 8.

This vase is painted with the 'Three Rams (san yang)' design that represents a change of fortune with the arrival of Spring and the New Year. The three rams are often shown together with the rising sun (taiyang) to form the rebus for 'three ram (yang) bring prosperity'. The Book of Changes (Yijing) first mentions the phrase san yang referring to the three male lines, called tai – the symbol of heaven. Tai is positioned under three female lines called kun that represent earth. Hence the phrase 'sanyang kaitai' which means the New Year brings renewal and a change in fortune.
See a large vase of related form decorated with the san yang motif on a similar lime-ground, also inscribed with the Shende Tang mark on the base offered in our New York rooms, 30th March 2006, lot 354. Another smaller Daoguang baluster form vase with elephant-head handles and a globular body painted with the san yang design was sold in our Hong Kong rooms, 11th April 2008, lot 3025.
Compare also three Shende Tang vases, one decorated with the popular boys design sold in our New York rooms, 31st March 2005, lot 122; and a pair of green-ground vases with dragons, also sold in our New York rooms, 17th September 2003, lot 119. Further examples, from the collection of the Nanjing Museum, are illustrated in The Official Kiln Porcelain of the Chinese Qing Dynasty, Shanghai, 2003, including five flowerpots of different forms and decoration, pls 398-402, and a blue-and-white bowl with a peony design, pl. 403.
Sotheby's. Fine Chinese Ceramics & Works of Art, 11 May 11, London www.sothebys.com