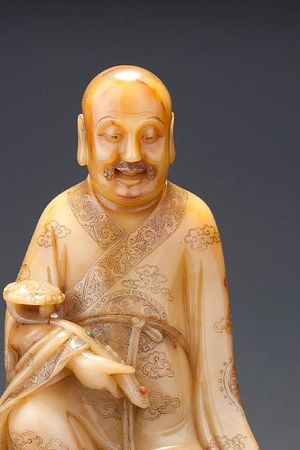 A large carved 'huang furong' figure of a luohan. Early Qing dynasty. Photo: Bonhams
HONG KONG.- The Q Collection is arguably the greatest collection of soapstone figures ever to be offered at auction. The 78 figures represent the personal journey of the collector, who showed remarkable vision in collecting these figures, starting in the late 1970s. They were purchased from top art dealers in USA, Europe and Japan, and also from street markets. One of the rarest examples was purchased for a token sum in Cat Street in the late 1970s.

Soapstone, or shoushan stone, is produced in South East China near to Fuzhou city. Prized throughout Chinese history, attractive to the eye and highly tangible, it was somewhat overlooked by collectors of Chinese art in the 20th century, who focused on porcelain and jade. Now however, there will be great interest from new Chinese collectors looking for pieces of quality and provenance.
Julian King, Head of Fine Chinese Ceramics and Works of Art, comments:"This is an unparalleled opportunity for collectors to acquire soapstone figures of the highest quality with impeccable provenance".

Highlights include:
A large carved 'huang furong' figure of a luohan. Early Qing dynasty. Photo: Bonhams
The exquisite stone of a rich orange-beige colour, sumptuously carved in the form of a luohan depicted seated with a ruyi sceptre in his right hand, his face sensuously rendered with full naturalistic attention, depicted in a serene, slightly humorous expression, with long pendulous ears, gently incised shaven hair, elaborate moustache and prominent brow, adorned in sumptuous robes tied with a long cord at the front, slightly open at the neck, intricately etched at the collar and hems with a broad frieze of meandering floral scroll against a wave ground, the sides and reverse with additional circular florettes enclosing additional floral scroll, interspersed by stylised cloud scroll, the head of the ruyi sceptre carved with a stylised taotie mask, the handle carved with gently incised scroll lines and inlaid with semi-precious stones, all resting on an elaborate russet and ochre dais simulating rockwork. 20.2cm high. Estimate: HK$2,000,000 - 3,000,000, US$ 260,000 - 390,000
清初 壽山黃芙蓉石雕執如意羅漢坐像
Provenance來源: Douglas J.K. Wright, London, 23 July 1980

The extraordinary size and quality of the carving on this luohan marks it out as among the most outstanding figural carvings of the early Qing dynasty. To find a boulder of such magnitude and such fine colour would have been difficult, making the figure an expensive commission. The skill of the artisan is apparent in the exquisite naturalistic attention on the luohan's face, and in the high quality foliate decoration on the robes.

The image of a luohan with a ruyi appears in literati and court paintings of the early to mid Qing dynasty, including the famous court painting by Jin Tingbiao (active in the Qianlong period), preserved in the Palace Museum, Beijing (fig.1), where as with the current lot, the name of the luohan is unidentified.

此拍品為本專拍中最大的一件,石質滋潤,石中黃色自羅漢頭漸淡至其身,其面相和藹,身穿雲紋地蓮花團紋服,周邊帶錦地蓮花紋花邊,手執獅首如意,嵌以寶石三棵。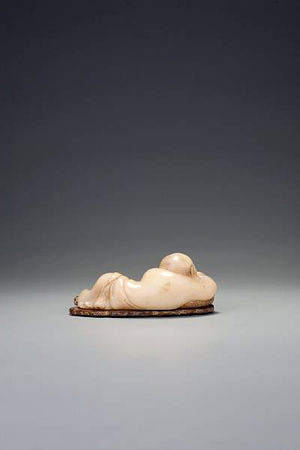 A carved 'bai furong' recumbent figure of Maitreya, by Zhou Bin. Early Qing dynasty, signed Shangjun. Photo: Bonhams
The 'furong' stone of an attractive translucent beige colour, exquisitely carved in the form of Budai depicted in a reclining position, his features naturalistically rendered with extraordinary detail, his close-cropped, stubbly hair delicately stippled, his broad smiling face finely cut and incised, his chin resting on his bare right forearm which is folded over his left arm, the hems on his plain, loose coat incised and gilded, his left, rope-sandalled foot protruding from the hem of his robe, the bundle on which he is leaning tied in a loose knot, the brocade cloth carved with a diaper and chi dragons in shaped reserves, and gilded, incised between the shoulders on the reverse in 'bafenshu' with the two- character signature 'shangjun, all supported on a thin cushion of deep maroon-purple Shoushan stone, minutely engraved with lotus scrolls on a wave diaper ground, the edge with a formal gilded lotus scroll and gilded, the underside decorated with a phoenix amidst cloud scrolls and a border of chi dragons. 9.8cm long.. Estimate: HK$2,000,000 - 3,000,000, US$ 260,000 - 390,000 .
清初 壽山白芙蓉石雕彌勒佛臥像 陰刻「尚均」八分書款
Provenance來源:
The Oriental Art Gallery Ltd., London, 1993

Illustrated出版:
The Oriental Art Gallery Ltd., Oriental Works of Art, London, 1993, no. 138

As discussed by Gerald Tsang and Hugh Moss, ibid, pg. 84-86, Shangjun is the 'zi' name for Zhou Bin, a native of Zhangzhou in Fujian, historically renowned as the most accomplished of all the known soapstone carvers. Little is known of his exact dates, but it is clear that his craftsmanship was appreciated by the scholar class, and that he expressed himself within their aesthetic. Throughout the Qing period, he was admired, as can be seen from an inscription on a Zhou Bin seal by the late Qing painter Wu Changshuo (1844-1927), 'This stone was carved by Zhou Shangjun, we should especially treasure it'.

In his definitive work on soapstone, Shoushanshi zhi (Records of Shoushan Stone), Fujian, 1982, Fang Zonggui expounds that Zhou Bin's work encapsulated the technique of 'xieyi', the thin, low-relief, painterly style of carving. 'Xieyi' literally translates as 'idea painting', but in literati eyes, through its association with a free, expressionist style, it transcended the medium of sculpture and became associated with the higher art of painting, thereby assuming the potential for profundity. Rather than focusing on the sheer technical skill that is evident in the current sculpture, Fang refers to Zhou Bin's work as being in a simple and rustic style, a compliment reserved for the highest levels of literati painting and calligraphy. Fundamentally, in the eyes of the literati class, the important impression from a masterpiece of Zhou Bin, such as the current sculpture, is not the quality of the carving, but of the meaning conveyed through the profundity of his expression.

Only a small number of figural sculptures by Zhou Bin are recorded in museum and private collections, of which the current lot is arguably one of the finest. The furong stone is an exquisite colour; the carving is strong and supple, with extraordinary sensitive and naturalistic details; the incised designs on the textiles are superb in their execution.


卧佛石質純粹細嫩,豐光澤,彌勒佛面相圓潤,雙目微合帶笑,和藹可親。雙手交疊壓在布包上,布包刻金線錦地夔龍團圈紋,側臥曲膝,足穿草鞋,悠然自得。身穿袈裟刻有纏枝蓮花紋花邊,背刻「尚均」八分書款,以簡單幾刀交代出袈裟紋理,也交代出人物結構,自然流暢。蒲團正面刻金線纏枝卷草紋,背面則刻有丹鳳並輔以夔龍紋邊。與北京故宮博物院藏品相比(fig.1),兩者在衣褶刻劃,以及人物神態上,皆渾厚古樸,如出一轍。

在壽山石藝術中,能與楊玉璇齊名的,可說是周尚均。周彬,字尚均,清康熙人,籍貫福建省漳州,擅長印鈕雕刻,有「尚均鈕」之稱。其作品常得文人歡喜,清徐子晉《前塵夢影錄》便有云:「印製鈕以尚均製作為第一。」,晚清海上派畫家吳昌碩(1844-1927)曾有周彬刻印一方,並刻上邊款,珍而重之。

All the known figural carvings by Zhou Bin are clearly individual works of art, sharing certain qualities of expression, incised designs on the robe and style of carving, but fundamentally different from each other. These include:

其他刻有「尚均」或「周彬」款的壽山石雕例子如下:

- a tianhuang figure of Maitreya in the Palace Museum, Beijing (13.5cm long), inscribed 'shangjun', illustrated by Yang Boda, Zhongguo Meishu Quanji. Diaosu Bian 6 Yuan Ming Qing Diaosu, 1988, pg. 145, pl. 158 (fig.1);

- a luohan (10.1cm high.), carved from creamy-beige stone, in the National Museum of History, Beijing, signed Zhou Bin, illustrated in Zhongguo wenwu jinghua daquan: Jin yin yu shi juan, Hong Kong, 1994, pg. 83, pl.242 (fig.2);

- a luohan (11.1cm) carved from mottled grey stone, depicted seated gazing at his open hand, illustrated by Tsang and Moss, ibid, pg. 86, pl. 44, inscribed 'Gumin Zhoubin Shangjun shi zhi' ('Made by Zhou Bin, Shangjun of Gumin' (fig.3);

- the lion-subduing luohan, carved from tianhuang, illustrated in Exquisite Chinese Artifacts, Collection of Ching Wan Society, National Museum of History, Taipei, 1995, pl.191 (fig. 4);

- Avalokitesvara and acolyte (10.5cm), illustrated by Sydney Moss Ltd., The Literati Mode. Chinese Scholar Paintings, Calligraphy and Desk Objects, London, 1986, pl. 84 (fig.5);

-a luohan (9cm high), sold at Sotheby's New York, The Arts of Buddha, 22 September 2004, lot 50, inscribed 'shangjun', illustrated on www.e-yaji.com, pl. 1.4.13;

-a meditating monk, inscribed 'shangjun', illustrated on www.e-yaji.com, pl. 1.4.14.;

- a luohan (10.4cm high) with miniature lion, formerly in the collection of R. Foster Reynolds, Providence, R.I., sold at Sotheby's New York, 25 February 1983, lot 194, inscribed Zhou Bin;

- other figures by Zhou Bin, sold at Sotheby's London, 12 November 1974, lot 89; Sotheby's New York, 31 March 2005, lot 202, and 22 September 2005, lot 60.
A carved 'gaoshan' figure of Kanakabharadvāja, by Wei Rufen. Early Qing dynasty. Photo: Bonhams
The exquisitely carved luohan depicted seated on a simulated rockwork cushion, the figure carved from 'gaoshan' stone of a mottled caramel and beige colour, highlighted with attractive russet blushes, his facial features sensitively rendered in a noble, relaxed poise, with long pendulous ears and bushy beard, adorned in a loose monastic robe truseed and tied around his shoulder, intricately incised at the hem with a minute floral scroll against a wave ground, the robe further incised around the back with a writhing dragon amidst cloud scroll, and gilded, the simulated rockwork cushion carved from 'yuewei' stone of a rich brown colour, intricately carved of quatrefoil form with eight circular medallions enclosing incised and gilded dragons, the cushion enclosed in pierced and carved simulated branches, the underside inscribed 'weiru fenjuan' in bold lishu script. 10.5cm (including cushion) high. Estimate: HK$1,500,000 - 2,500,000, US$ 190,000 - 320,000
清初 壽山高山石雕迦諾迦跋黎墮闍尊者坐像 陰刻填金彩「魏汝奮鐫」隸書款
Provenance來源:
Christie's Hong Kong, 30 October 1994, lot 338
Mary and George Bloch Collection, Hong Kong

Wei Rufen does not appear to be recorded in literature, which may be because his work was confined to figural carvings rather than seal carvings. However, the small number of known figures pay testament to a carver of outstanding skill, equal if not better than the renowned carvers Zhou Bin and Yang Yuxuan, with the ability to render naturalistic detail with exquisite detail creating what are arguably among the greatest examples of figural sculpture in Chinese art.

A figure of Bodhidharma of comparable quality is preserved in the Shanghai Museum, a gift of Hu Ruizhi, carved in brownish-green stone, marginally larger than the current figure at 10.7cm. It is illustrated by Shen Zhiyu, ed., The Shanghai Museum of Art, New York, 1983, no.208; and also by Robert D. Mowry, Objects from the Chinese Scholar's Studio. Examples from the Shanghai Museum, Orientations, August 1987, p.24, fig. 14 (fig.1).

See also figures of Nagasena and Rahula, illustrated on www.e-yaji.com, pl. 1.21.4 and 1.21.5 (fig.2 and 3); and a figure of a luohan holding a peach, carved in creamy yellow stone, sold at Sotheby's Hong Kong, 31 October 2004, lot 125.

此石質瑩晶透澈,肌裡隱見蘿蔔紋,交集秋葵黃、桃花紅及潔白等色,變化多姿。羅漢高額長耳,面帶微笑,安詳悠然。其肩披袈裟,廣袖長袍,右手按地,右手握掃拂;左腿彎曲,右腿盤臥於股下作坐姿。其帔肩線刻雲龍紋,並帶有纏枝蓮花卉紋花邊。薄衣貼軀,衣履交代清楚,用刀流暢,整體雕刻細緻。雕像底座主體成雲形,外帶樹枝形肌理。正面十方刻有夔龍團圈,補以纏枝卷草紋;背面刻有「魏汝奮鐫」隸書款。魏汝奮,生平不詳,但其作品收藏於重要博物館如上海博物館,此拍品與上海博物館藏品有不無相似之處,刻工皆是極其精細,見期刊Orientations, 1987年8月,頁24,圖14 (fig.1)。
Auction: 25 May at 11:30am
Public Viewing : 23 May from 1pm to 9pm - 24 May from 10am to 9pm - 25 May from 10am to 11:30am
Venue: Island Ballroom, Island Shangri-La Hotel, Admiralty; Hong Kong