A rare natural conch pearl and diamond necklace. Photo: Bonhams
Major shifts and changes took place in the jewellery industry worldwide at the beginning of the year, with high prices and a limited supply of fine jewellery deeply impacting the industry. The prices of large Fancy Vivid Blue and Fancy Vivid Pink diamonds that are popular amongst Asian and European buyers have strengthened significantly over the past few years. Among other exquisite gems, exceptional pieces of fine old jadeite, rare conch and natural pearls are particularly sought after by Asian collectors, while unheated royal blue sapphires and rubies are fast becoming rising stars in the Asian market.
Edmond Chan, Head of Bonhams Hong Kong Jewellery Department, comments: "The finest Jadeite and natural pearls have long been regarded as royal gems and cherished in Asian cultures from time immemorial. They represent the symbols of power, wealth and fame. Today, jadeite and pearl are equally popular in many western cultures while retaining its superb status within Asian communities. Our Spring Auction features some of these rare items: A rich emerald green "Gingko" nut jadeite double cabochon ring, and a elongated pyramid shape jadeite and diamond ring, circa 1930 from a private collection. In addition, there is a very fine translucent emerald green jadeite hoop. Other extremely rare pieces include a 22.34 carats natural conch pearl and diamond beads necklace, and a 22.98 carats royal blue unheated Burma sapphire. With diamonds being a girl's best friend, our offer of a 8.88ct D color internally flawless ring with double excellent grading in symmetry, polish, and cut is truly a gift from nature and much sought-after by collectors."
Bonhams Hong Kong Fine Jewellery and Jadeite Auction offers approximately 160 lots of carefully selected and unique pieces with a total estimate of HK$60 million.
Highlights of the auction include:
1. Lot 868. A very important 8.88 carats cushion-cut diamond Ring (D color IF clarity, ex, ex, Type IIa). Estimate: HK$8,800,000-10,000,000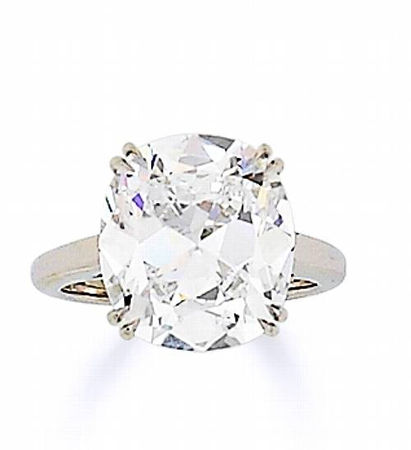 An important diamond ring. Photo: Bonhams
The cushion-cut diamond, weighing 8.88 carats, to a simple claw setting, mounted in platinum,ring size 5½. Estimate: HKD8,800,000 - 10,000,000, $ 1,100,000 - 1,300,000
.88克拉D/IF, Ex,Ex, Type IIa 鑽石 戒指
Accompanied by a certificate and illustrated monograph from GIA, stating that the 8.88 carats diamond is D colour, IF clarity, with excellent polish and symmetry and of Type IIa. Report number 5121497228, dated 15th September 2010

The facts associated with this important diamond make for absorbing reading; a D colour, internally flawless diamond will always make a diamond connoisseur sit up and take note. The rarity of this diamond is commented on by GIA in the monograph which accompanies this lot; 'In recent years GIA has graded more than half a million diamonds over 1 ct on an annual basis. Those graded D color and either Flawless or Internally Flawless represent less than one-half of one percent (0.5%) of those diamonds. In diamonds over 1 ct, the rarity of high-clarity stones increases exponentially. To achieve a grade of Internally Flawless requires a combination of luck in nature and of manufacturing by a skilled artisan.'

The diamond has been extensively analysed by the GIA who have determined it to be a Type IIa stone, a rare type of diamond that has no nitrogen (the impurity that imparts a yellow colour into a diamond) present in the structure. A tiny percentage of the world's diamonds are of this type – less than 2%. A diamond completely free of nitrogen, such as this one, tends to be colourless and whiter than the more usual colourless diamond. The Koh-I-Noor and Cullinan are both examples of Type IIa diamonds.

Additionally, that the diamond has been polished as a cushion brilliant-cut further excites interest, after all, this is the shape is associated with some of the most important diamonds in the world; The Hope, The Tiffany and The Agra.

Already this stone has ticked three of the four important boxes that collectors hold dear, colour, clarity and cut, but what of the forth important box - carat? This is where this particular diamond stands out even further from a small and elite crowd. The weight of 8.88 carats is not only impressive only for sheer size, but also the symbolism associated with the number 8 elevates it to a different level.

For centuries, the power of the number 8 has been acknowledged by cultures across the globe. The number 8 is associated with the symbol for infinity - ∞. Buddhists believe the number 8 to be lucky as a lotus flower, an important religious symbol, has eight petals. The lotus represents one of the Buddha's principal teaching, the Noble Eightfold Path. As the GIA note; 'In both the Mandarin and Cantonese dialects, the word for the number 8 is similar in pronunciation and spelling to the word for prosperity. In China, it is also considered a lucky number, so that it should come as no surprise that the 2008 Olympic summer games in Beijing began on August 8, 2008 (or 08/08/08) at 8:00 pm. The number 8 could also be considered lucky because it is a perfect symmetrical shape. You can cut the number 8 in half vertically or horizontally, and both halves mirror themselves perfectly. Perfect symmetry lends itself to perfect balance. In Chinese astrology, perfect balance is considered the ideal.'

To cut a diamond to exactly 8.88 carats will have taken supreme skill and that virtuosity is demonstrated further by the fact that GIA have determined the diamond has both excellent polish and symmetry.

On every level, the diamond offered here represents rarity and quality, and as GIA note 'With this combination of characteristics, the 8.88 ct Cushion Brilliant promises to convey its owner with far more than the auspicious sum of its parts'.
2. Lot 834. An extremely rare 22.34 carats natural conch pearl and diamond beads necklace. Estimate upon Request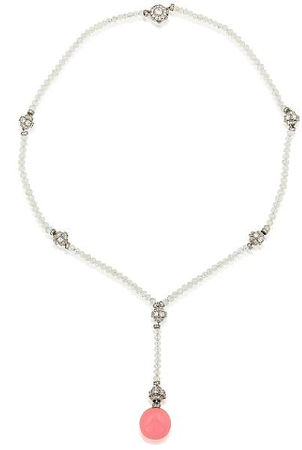 A rare natural conch pearl and diamond necklace. Photo: Bonhams
The salmon pink 12.10 - 15.35 mm conch pearl suspended from a necklace of faceted diamond beads spaced with brilliant-cut diamond-set roundels to a diamond-set clasp,length of pendant including conch pearl 6.3cm, length of necklace 42cm/ Estimate upon request
Accompanied by a certificate from Gübelin, stating that the 22.34 carats saltwater conch pearl is natural and of the non-nacreous variety, with additional appendix noting that all natural conch pearls derive from the mollusc species Strombus gigas (or queen conch), which is exclusively found in a marine environment. Report number 0809632, dated 25th September 2008

Accompanied by a certificate from SSEF, stating that the conch pearl is natural, is pink in colour with distinct flame structure and the authenticity of this natural conch pearl from a marine gastropod. Report number 58725, dated 10th March 2011


The conch pearl is an extremely rare natural phenomenon and is produced by the Queen conch gastropod mollusk (Strombus gigas), which lives primarily in the Caribbean Sea.

The conch is unusual as unlike the 'nacreous' types of pearls, such as South Sea, Tahitian, natural saltwater, etc. it is 'non nacreous'. This distinction is important as its structure and composition gives rise to the attractive porcelain-like quality of the pearl, and importantly to the spectacular visual flame effect sometimes observed.

It is thought that only around 1 in every 10,000 conchs will produce a pearl, and that less than 10% of those are of gem quality. Accordingly, to find matching sets is extremely difficult and time consuming. Additionally, most conch pearls are usually quite small, usually 3mm or less, the larger the size, the rarer and more valuable the pearl is.

Occurring in pink, yellow, brown, greens, white, and golden colours, conch pearls of pink and salmon hues are generally the most sought-after.
3. Lot 822. An important 22.98 carats unheated royal blue Burma sapphire and diamond ring. Estimate: HK$3,500,000 – 4,500,000
An important sapphire and diamond ring. Photo: Bonhams
Set with an oval mixed-cut sapphire, weighing 22.98 carats, flanked by a pair of half moon-cut diamonds, mounted in platinum,the diamonds estimated to weigh approximately 1.75 carats in total, ring size 6¼. Estimate: HKD3,500,000 - 4,500,000, $ 450,000 - 580,000
22.98克拉無加熱緬甸皇室藍寶 鑽石 戒指
Accompanied by a certificate from Gübelin, stating that the 22.98 carats sapphire is natural, of 'royal blue' colour with no evidence of heat treatment and originates from Burma (Myanmar). Report number 0910577, dated 2nd November 2009
Accompanied by a gemmological report, showing the same findings. Report number CS41301, dated 18th November 2009
The colour of this superb Burmese sapphire brings to mind some of the most important Burmese sapphires in the world; the Rockefeller sapphire ring and the Duchess Of Windsor brooch with the panther surmounting a sapphire sphere by Cartier.
As demonstrated by the names associated with the two pieces just mentioned, connoisseurs appreciate 'royal blue' sapphires from Burma, as they tend to possess a much richer colour and saturation than material from different origins.
The 'royal blue' sapphire set in this ring displays an intense vivid, well balanced and evenly saturated blue colour with a spectacular play of life.
4. Lot 785. An Art Deco pair of diamond and diamond drops earrings, circa 1920 (5.01 carats, F colour VVS1 and 5.03 carats F colour VS1). Estimate: HK$3,100,000- 5,100,000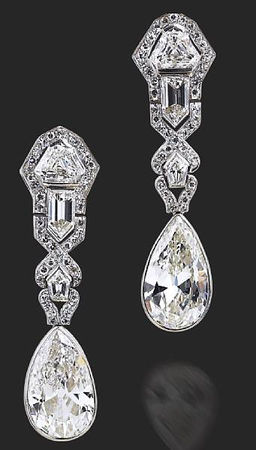 A pair of Art Deco diamond earrings, circa 1920. Photo: Bonhams
Each formed as an articulated geometrically designed fancy and single-cut diamond-set surmount suspending a pear-cut diamond, one weighing 5.01 carats, the other weighing 5.03 carats, mounted in platinum,the remaining diamonds estimated to weigh approximately 6.19 carats in total, length 4.6cm. Estimate: HKD3,100,000 - 4,100,000, $ 400,000 - 530,000
5.01克拉F/VVS1, 5.03克拉F/VS1 十九世紀初梨形鑽石 耳環 一對
Accompanied by two certificates from GIA stating the following;

The 5.01 carats diamond is F colour, VVS1 clarity. Report number 16938490, dated 31st March 2008

The 5.03 carats diamond is F colour, VS1 clarity. Report number 2101999187, dated 12th August 2009
5. Lot 831. A 7.12 carats round brilliant cut diamond and diamond ring (F colour VS1 clarity). Estimate: HK$2,350,000- 3,900,000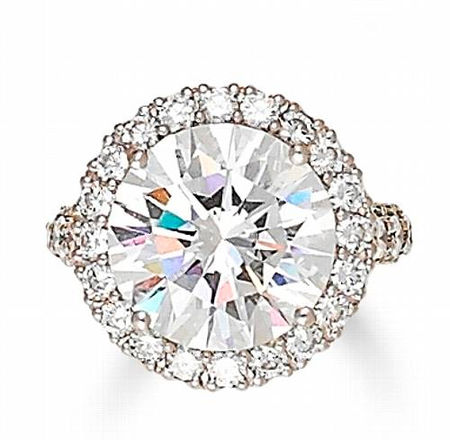 A diamond ring. Photo: Bonhams
Set centrally with a brilliant-cut diamond, weighing 7.12 carats, surrounded by a row of brilliant-cut diamonds, between diamond-set shoulders, mounted in platinum,the diamonds (excluding the principal diamond) estimated to weigh approximately 2.00 carats in total, ring size 5. Estimate: HKD2,300,000 - 3,900,000, $ 300,000 - 500,000
7.12克拉F/VS1鑽石 戒指
Accompanied by a certificate from GIA, stating that the 7.12 carats diamond is of F colour and of VS1 clarity. Report number 10484496, dated 10th December 1998
6. Lot 832. A 11.04 carats radiant cut Fancy Intense Yellow diamond and diamond ring, IF clarity. Estimate: HK$1,550,000- 2,350,000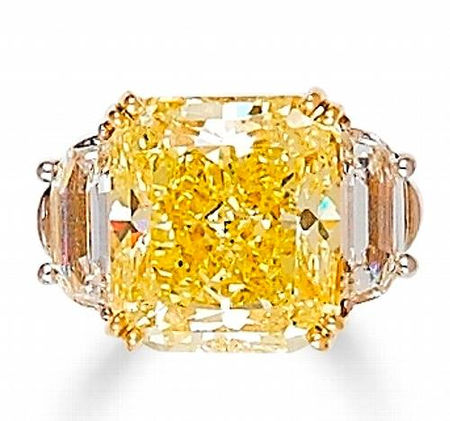 A coloured diamond and diamond ring. Photo: Bonhams
Set with a round-cornered rectangular modified brilliant-cut diamond, weighing 11.04 carats, between fancy-cut diamond-set shoulders, mounted in platinum and 18k yellow gold,the diamonds (excluding the principal diamond) estimated to weigh approximately 1.20 carats in total, ring size 5. Estimate: HKD1,600,000 - 2,300,000, $ 210,000 - 300,000
11.04克拉濃彩黄色IF鑽石 戒指
Accompanied by a certificate from GIA, stating that the 11.04 carats diamond is of natural fancy intense yellow colour and of IF clarity. Report number 12376254, dated 30th January 2003
7. Lot 855. A very fine translucent emerald green jadeite hoop. Estimate: HK$600,000 - 1,000,000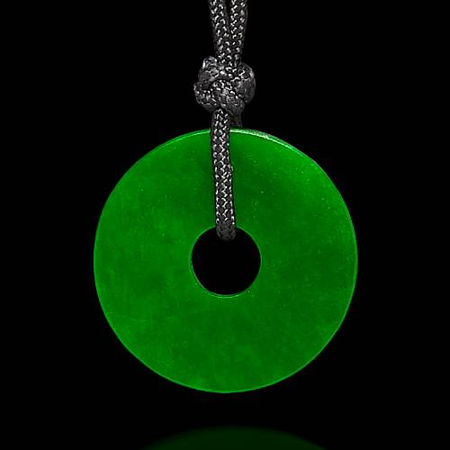 A jadeite hoop pendant. Photo: Bonhams
The fine translucent rich emerald green jadeite, measuring approximately 35.9mm x 4.0mm, carved as a flat circular hoop. Estimate: HKD600,000 - 1,000,000, $ 77,000 - 130,000
翡翠 玉佩
Accompanied by a certificate from the Hong Kong Jade & Stone Laboratory, stating that the jadeite is natural and no resin was detected. Report number EXKJ1806, dated 8 March 2011
8. Lot 758. A 11.83 carats Columbian emerald and diamond ring. Estimate: HK$1,200,000 – 1,800,000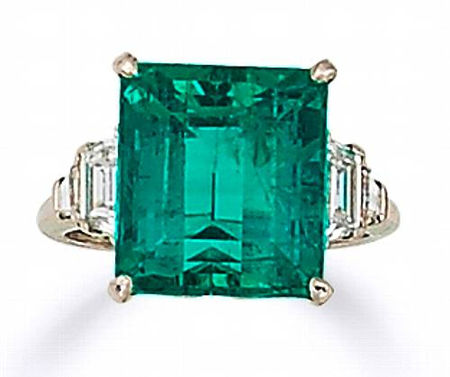 A fine emerald and diamond ring. Photo: Bonhams
The step-cut emerald, weighing 11.83 carats, to a simple corner-claw setting with a trapeze-cut diamond to each side, between shoulders each set with a tapered baguette-cut diamond to a plain hoop, mounted in platinum, the diamonds estimated to weigh approximately 1.30 carats in total, ring size 7. Estimate: HKD1,200,000 - 1,800,000, $ 150,000 - 230,000
11.83克拉哥倫比亞祖母緑 鑽石 戒指
Accompanied by a gemmological report, stating that the 11.83 carats emerald, has insignificant to faint clairty enhancement and originates from Colombia. Report number CS81026, dated 2nd February 2011
9. Lot 759. A 25.23 carats unheated Burmese cabochon sapphire and diamond ring/ Estimate: HK$780,000 – 880,000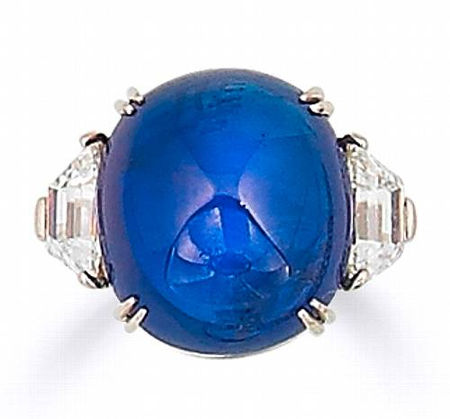 A cabochon sapphire and diamond ring. Photo: Bonhams
Set with a sugar loaf cabochon sapphire, weighing 25.23 carats, to a double-claw setting, with a trapeze-cut diamond to each side, mounted in platinum, the diamonds estimated to weigh approximately 2.00 carats in total, ring size 6½. Estimate: HKD780,000 - 880,000, $ 100,000 - 110,000
25.23克拉無加熱緬甸藍寶 鑽石 戒指
Accompanied by a certificate from GRS, stating that the 25.23 carats sapphire is natural blue colour, has no indication of thermal treatment and originates from Burma (Myanmar). Report number GRS2008-042202, dated 22nd April 2008
10. Lot 784. A 4.02 carats light pink VS2 diamond and diamond ring/pendant/ Estimate: HK$630,000 – 930,000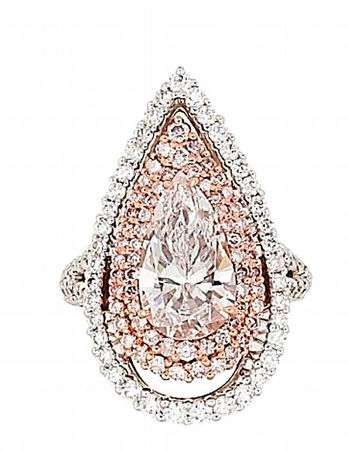 A coloured diamond and diamond ring/pendant. Photo: Bonhams
Set centrally with a pear-cut diamond of very light pink hue, weighing 4.02 carats, surrounded by a double row of brilliant-cut diamonds of pink hue (this section detachable and able to be worn as a pendant), further surrounded by a row of brilliant-cut diamonds, between similarly cut diamond-set bifurcated shoulders, the diamonds (excluding the principal stone) estimated to weigh approximately 3.10 carats in total, ring size 6¾. Estimate: HKD630,000 - 930,000, $ 81,000 - 120,000
4.02克拉淡粉紅色VS2鑽石 鑽石 戒指/吊墜
Accompanied by a certificate from GIA, stating that the 4.02 carats diamond is of natural very light pink colour and VS2 clarity. Report number 14740755, dated 07th December 2005
11. Lot 787. An important diamond pendant necklace, heart-shaped diamond approximately 4.40 carats, pear-shaped diamond approximately 11.70 carats. Estimate: HK$1,600,000 – 2,200,000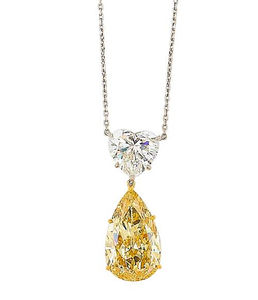 An important diamond pendant necklace. Photo: Bonhams
The heart-cut diamond suspending a pear-cut diamond of brownish yellow hue, all to a belcher-link chain,the heart-cut diamond estimated to weigh approximately 4.40 carats, the pear-cut diamond estimated to weight approximately 11.70 carats, length of pendant 3.4cm, length of chain 39.0cm. Estimate: HKD1,600,000 - 2,200,000, $ 210,000 - 280,000
彩鑽 鑽石 項錬
12. Lot 833. An important pair of natural pearl and diamond earrings. Estimate: HK$680,000 – 880,000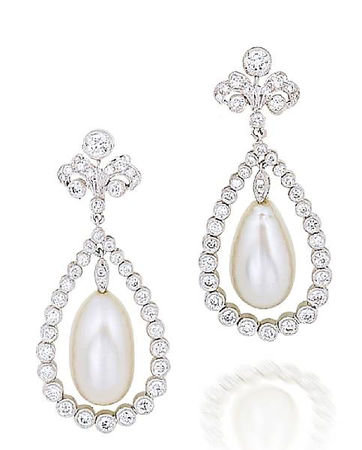 An important pair of natural pearl and diamond earrings. Photo: Bonhams
Each pear-shaped natural pearl, one measuring approximately 8.75 x 15.35 mm, the other measuring 8.45 x 15.90mm, suspended within a brilliant-cut diamond-set pear-shaped frame, surmounted by a diamond-set fleur-de-lys, mounted in 18k white gold,length 4.0cm. Estimate: HKD680,000 - 880,000, $ 88,000 - 110,000
天然海水珍珠 鑽石 耳環 一對
Accompanied by a certificate from Gübelin, stating that the saltwater pearls are natural. Report numbers 0804755/1 and 0804755/2 dated 8th April 2008
13. Lot 851. An Art Deco jadeite and diamond ring. Estimate: HK$38,000 – 58,000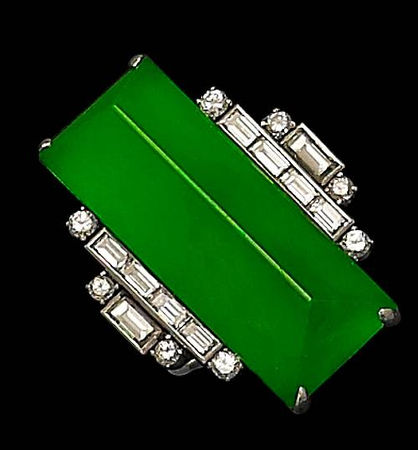 An Art Deco jadeite and diamond ring. Photo: Bonhams
The bright apple green jadeite of very good translucency, measuring approximately 28.2 x 11.3mm, carved as an elongated pyramid, flanked by baguette and brilliant-cut diamonds to each side, mounted in platinum, the diamonds estimated to weigh approximately 0.94 carats in total, maker's mark, ring size 5½. Estimate: HKD38,000 - 58,000, $ 4,900 - 7,500
翡翠 鑽石 戒指
Accompanied by a certificate from the Hong Kong Jade & Stone Laboratory, stating that the jadeite is natural and no resin was detected. Report number EXKJ1805, dated 8 March 2011
Auction: 26 May at 2pm
Public Viewing: 23 May from 1pm to 9pm 24 and 25 May from 10am to 9pm 26 May from 10am to 2pm