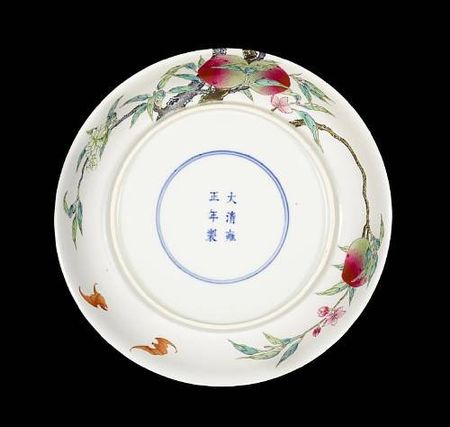 A finely enamelled famille rose 'peach' dish. Yongzheng six-character mark within a double circle and possibly of the period. Photo Bonhams
The delicately potted circular dish with steep sides rising from a pronounced footring and flaring out at the rim, brilliantly enamelled in shades of pink, white, green and brown with three bats in flight amongst five peaches on flowering branches, the design continuing over the rim to the underside with an additional three peaches and two bats forming the 'wufu' ('five abundances'), the convex base inscribed with a six-character mark within a double circle. 21.4cm diam. Estimate: HK$3,000,000 - 4,000,000, US$ 390,000 - 510,000. Unsold
清 粉彩過枝福壽紋盤 雙圈青花「大清雍正年製」楷書款
Provenance: Du Yuesheng, Shanghai, and thence by descent to the current owner.

Du Yuesheng (1888-1951), was an infamous gangster in pre-war Shanghai, and a close supporter of Chiang Kaishek. The current dish was reputedly a gift to him, which has been handed down to and preserved by his granddaughter.

A Yongzheng-reign marked dish of similar size and design in the Shanghai Museum is illustrated in Ancient Chinese Ceramic Gallery: The Shanghai Museum, Shanghai, 1996, pl. 83, differing from the current example in that it is inscribed with a square reign mark. For another peach dish of this size in the British Museum, see The World's Great Collections. Oriental Ceramics, vol. 5, Tokyo, 1981, pl. 226. See also a dish in the B.Y. Lam Foundation, illustrated in Qing Imperial Porcelain, The Art Gallery, the Chinese University of Hong Kong, Hong Kong, 1995, cat.no. 62.
Bonhams. FINE CHINESE ART, 25 May 2011 to 26 May 2011, Hong Kong, Island Shangri-La Hotel www.bonhams.com