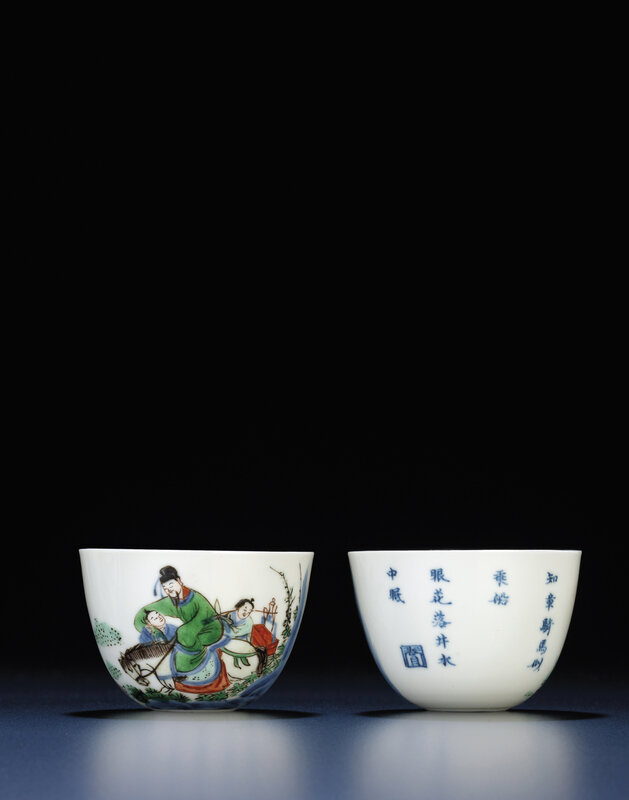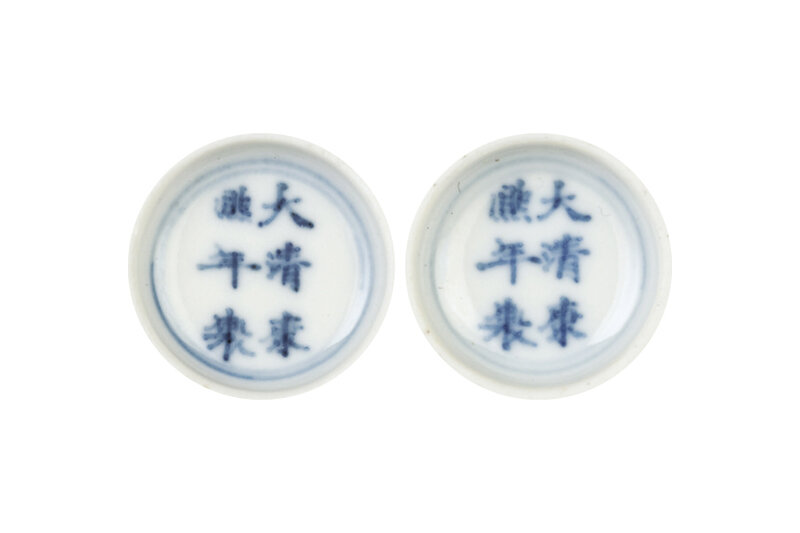 Lot 3586. Two fine and very rare famille verte wine cups, Kangxi six-character marks within double-circles and of the period (1662-1722); 2 3/8 in. (6 cm.) high. Estimate HK$2,500,000 - HK$3,500,000($322,858 - $452,001). Price Realized HK$7,220,000 ($932,418). Photo: Christie's Images Ltd. 2011
Each finely potted, the gently rounded sides rising steeply from the recessed base, both bearing a short poetic inscription in underglaze-blue, delicately enamelled on the exterior of one cup to depict He Zhizhang on horseback accompanied by two young servants carrying his belongings; the other depicting two attendants waiting on the drunken Li Bai lying on a bed, stands and box (2).
Provenance: Edward T. Chow Collection, sold at Sotheby's Hong Kong, November 25, 1980, lot 149
The T.Y. Chao Private and Family Trust Collection of Important Chinese Ceramics, sold at Sotheby's Hong Kong, 28 November 1986, 119
The property of Dr Elizabeth Shing
Note: On the back of the cup is inscribed the verses from Du Fu's poem relating to He Zhizhang and Li Bai. The first may be translated as:
Zhizhang rides the horse as if riding on a boat, his eyes dazzle, if he falls into the well, he will sleep in the water.
The other reads:
The taverns in Chang'an are closed and the people asleep, Li Bai drinks a dou of wine and writes one hundred poems, the Emperor summons him to come, he refused to board the boat and calls himself the Drunken Immortal.
The current famille verte wine cups are particularly fine, and would have come from a set of eight, each one depicting one of the characters from Du Fu's poem with the relevant verse inscribed on the reverse of the cup along with a seal reading: Shang, meaning 'Appreciation' or 'Reward'.

The poem 'Eight Immortals of the Wine Cup' (Yinzhong baxian ge) was written by the famous Tang dynasty poet Du Fu (AD 712-770). Like many Tang dynasty men of letters, Du Fu derived considerable enjoyment, and possibly inspiration, from drinking wine. He chose to celebrate the drinking habits of other literary men of his time, including that of his great friend Li Bai, in a poem. The eight literati that he chose to celebrate were He Zhizhang (AD 659-744), Li Jin, nephew of Emperor Xuanzong (r. 712-756) and prince of Ruyang, Li Shizhi (d. 747) who was also Duke of Qinghe , Cui Songzhi, Su Jin, Li Bai (AD 701-762), Zhang Xu (active 710-750), and Jiao Sui.

These two of the Eight Immortals of the Wine Cups were all known for particular characteristics. He Zhizhang was born in present-day Xiaoshan in Zhejiang province, and was a distinguished calligrapher, who could write wonderful prose and poetry when drunk, but could not do so when sober. Du Fu's poem describes him riding his horse as if he were riding in a boat, and with his vision blurred by drink falling into a well, where he falls asleep in the water. Li Bai was one of the great poets of the Tang dynasty, but was also famous for being somewhat unpredictable and for his love of wine. Du Fu describes his as being able to write a hundred stanzas of poetry for each gallon of wine he consumed and relates the story of his falling asleep in a Chang'an wine shop and missing the boat which should have conveyed him to court to take up an official appointment, at which point he retorted that he was a drunken immortal.

A Kangxi wine cup decorated in famille verte enamels with one of the Eight Immortals of the Wine Cup - He Zhizhang - was sold at Christie's Amsterdam in May 1994, lot 729, while two wine cups decorated in underglaze-blue with the same subject were sold at Christie's Amsterdam in December, 1998, lot 283. Three wine cups decorated in underglaze-blue depicting Su Jin, Jiao Sui and Li Jin were sold at Christie's Hong Kong, December 1, 2009, lots 1895-97.
Christie's. The Imperial Sale, Hong Kong, 1 June 2011