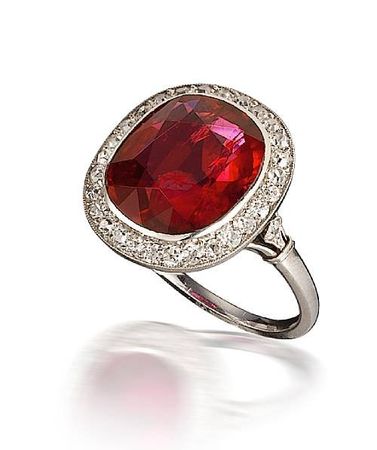 An art deco ruby and diamond ring, Mauboussin, 1924. Photo Bonhams
centering an oval-shaped ruby within an old European-cut diamond surround;with maker's mark, no. 81844; ruby weighing approximately 4.75 carats; mounted in platinum; size 5 3/4. Sold for US$69,540
Accompanied by GIA report #2135341639, dated April 29, 2011, stating: Thai origin, no indications of heat treatment.
Accompanied by a certificate of authenticity from Mauboussin dating the ring June 11, 1924.


A pair of art deco ruby and diamond pendant earrings, Mauboussin, 1924. Photo Bonhams
each designed as an oval-shaped ruby within an old European-cut diamond surround suspended from a geometric line of old European-cut diamonds;
with maker's mark, no. 81513; rubies each weighing approximately: 4.45 carats; mounted in platinum; length: 2 3/4in.
Sold
for US$63,440
Accompanied by GIA report #5131341621, dated April 29, 2011, stating both rubies as: Thai origin, no indications of heat treatment.

Accompanied by a certificate of authenticity from Mauboussin dating the earrings April 20, 1924
Note: In 1922, Georges Mauboussin had become the named partner with his uncle, of "Mauboussin, Successeur de Noury," the French jewelry house that traces its roots to M. Rocher, founder, in 1827. The War To End All Wars had left a tramatized world. These "crazy years" or "roaring twenties" were characterized with dynamic political, social, technical, and artistic change that provided an uncensored flamboyant environment. As Paris recovered during the aftermath of World War I, it returned to its former elegance and opulence. It was a decade in which the house of Mauboussin saw tremeduous growth, rivaling that of Cartier and other Parisian competitors, indeed Mauboussin had come into its own.

Mauboussin was well established by the 1920s; and for a span of seven years (1924 to 1931), participated in no less than eighteen exhibitions worldwide; establishing branches in London, New York and Buenos Aires. In 1925, Mauboussin was awarded the Grand Prix at the Exposition des Art Decoratifs in Paris, and Georges Mauboussin was named to the prestigious "Legion d'Honneur". In order to accommodate the needs of his growing business, in 1923 Georges Mauboussin moved the business to 3 Rue de Choiseul, a space that provied more light, and a workshop to house the many artistans under employment. A catalog from this year exhibits the tremendous breath of their oeuvre. Interestingly to note, out of the thirty-three pairs of earrings illustrated, four pair are pearl studs, the remainder are long diamond set ear pendants, designed to compliment the cropped hair style then in vogue, and which are similar to the ear pendants in Lot 165. Additionally, out of the 140 rings that appear in the catalog, gemstones of color – ruby, emerald, and sapphire - seem to dominate the selection, the vast marjority of the central stones are faceted, yet we see the introduction of cabochon cut stones. Reflecting the taste and preference of their clients, Mauboussin created several variations using rubies, emerald, sapphires with diamonds. Similar examples of the ruby and diamond ring, Lot 166, are evident and denote a popular preference.

It is unusual and fortunate to find a set of ruby and diamond jewelry of the art deco glamours years by Mauboussin. Even more unlikely and rare is that these jewels, created in 1924, signify the heady years of expansion and global recognition of one of the finest French jewelry houses and embody the epitome of the style of this bygone era.
Bonhams. Fine Jewelry, 15 Jun 2011, New York, California, San Francisco and California, Los Angeles www.bonhams.com