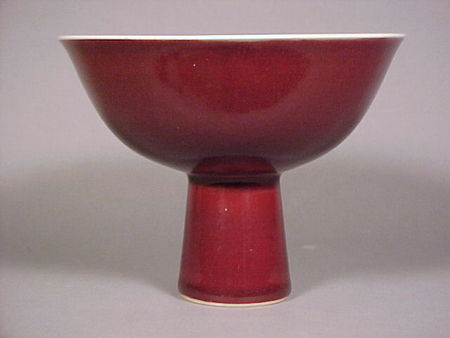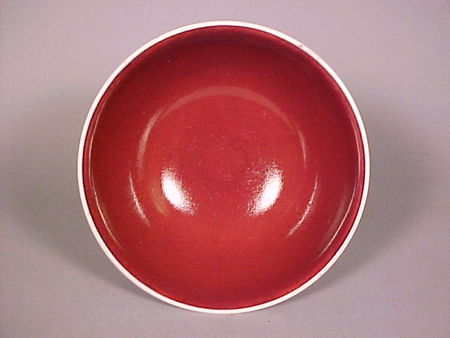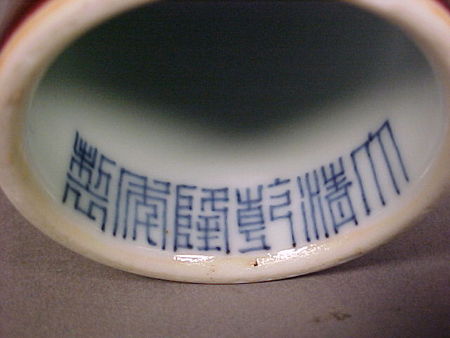 Sacrificial Red (Jihong) Glazed Stem Cup (Gao Zu Bei). 清代 Qing Dynasty, 乾隆 Qianlong Period (1736-1795 © 2000-2011 vermeer-griggs.com
A very rare stem cup (gaozu bei) with well potted flared sides raised on a tall conical stem foot, richly applied inside and out with a dark red, bubble suffused, orange peel jihong glaze, also referred to as fresh red imitating Ming sacrificial red, xianhong. The Qing jihong glaze is thinner than the Ming xianhong glaze and the formulation is different but the results are very similar. The rim and the base of the interior of the foot are glazed white.. Height: 4 5/8" (11.8cm) Diameter: 6" (15.2cm) - Price on request.
Condition: Very tiny glaze flake on the rimPlease refer to item #MO-565-420 when inquiring.
Provenance: Sotheby's, Vermeer & Griggs Collection No. 420, Bonham's London, Jan-Erik Nilsson Collection.
A nearly identical stem cup from the Wah Kwong Collection was exhibited November 1973-February 1974 at the Art Gallery, Institute of Chinese Studies, Chinese University of Hong Kong.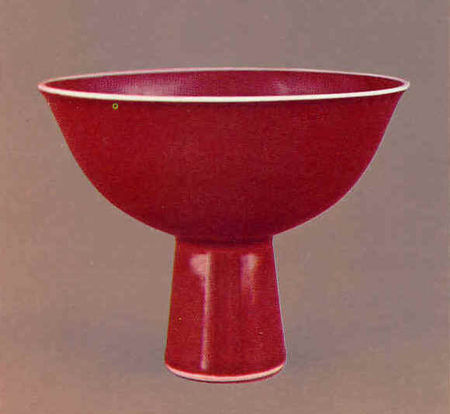 Stem Cup from the Wah Kwong Collection. Art Gallery, Institute of Chinese Studies, Chinese University of Hong Kong
Vermeer & Griggs http://vermeer-griggs.com