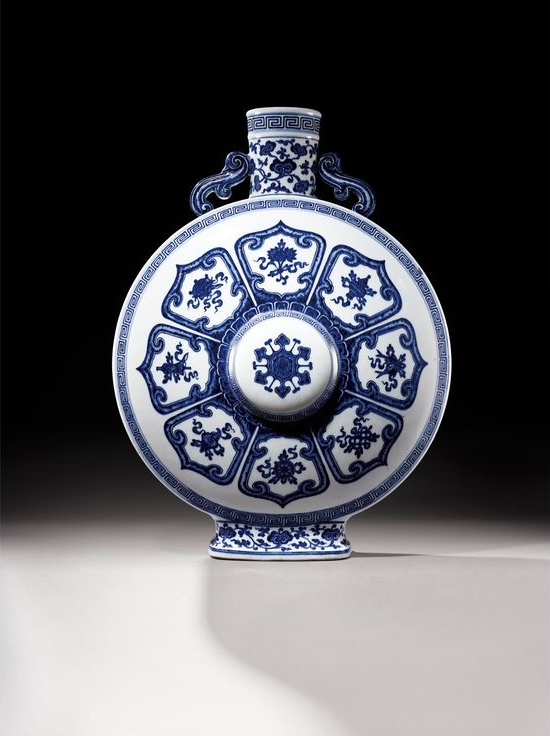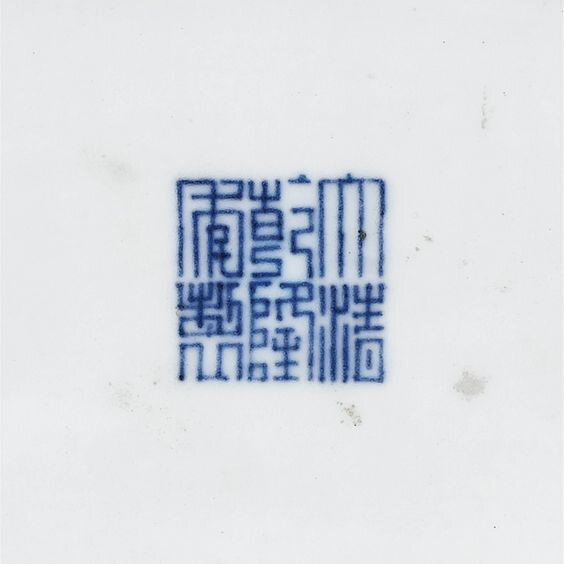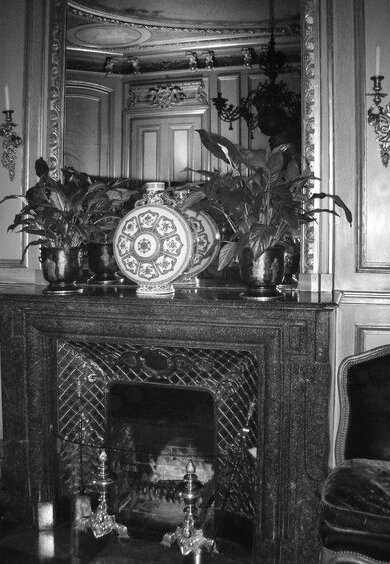 Lot 89. Importante gourde en porcelaine bleu blanc de style Ming, Chine, dynastie Qing, marque et époque Qianlong (1736-1795); 49 cm, 19 5/16 in. Estimate 600,000-800,000 EUR. Lot Sold 660,750 EUR. Photo Sotheby's 2011
la panse circulaire reposant sur un haut pied évaséᅠet surmontée d'un col tubulaire agrémenté de deux anses mouvementées, à décor d'un médaillon central en relief entouré de huit pétales de lotus peints en bleu cobalt, chacun comprenant un des huit emblèmes bouddhistes bajixiang, les côtés plats ornés d'une bande centrale peinte d'un enroulement de fleurs de lotus et feuilles,ᅠle col et le pied délicatement décorés de lingzhi dans des rinceaux feuillagés, le pourtour de la gourde et le colᅠfinementᅠsoulignés d'une frise de grecques, marque à six caractères en cachetᅠen bleu sous couverte à la base ; fêle de cuisson à l'intérieur du col.
An important Ming-style blue and white porcelain moonflask, China, Qing dynasty, Qianlong seal mark and period (1736-1795)
Note: Qianlong fasks of this pattern are illustrated in the revised Sekai Toji Zenshu, vol. 15, Tokyo, 1983, pl. 151 from the Idemitsu Museum of Art; in the Illustrated Catalogue of Ch'ing Dynasty Porcelain in the National Palace Museum, pl. 5; in the Ohlmer Collection cat., no. 58, in the Roemer Museum, Hildelsheim; by Beurdeley, La Céramique Chinoise, Paris, 2005, no. 138, in the Brundage Collection; and by Macintosh, Chinese Blue and White Porcelain, pl. 59. Another was inluded in the Tokyo Exhibition of Far Eastern Blue and White Porcelain, Tokyo, 1977, cat. no. 61.
See a similar moonflask sold at Christie's Hong Kong, 1st December 2010, lot 2826 and another one sold in our Hong Kong rooms, 8th April 2010, lot 1802.
Sotheby's. Arts d'Asie. Paris, 8 juin 2011 www.sothebys.com