Lucio Fontana (1899-1968) , Concetto spaziale, Attese. Photo Sotheby's
signed, titled and inscribed ieri ho visto la partita di fobbal on the reverse, waterpaint on canvas; 60 by 51cm. 24 ¼ x 19 ¾in. Executed in 1967. ESTIMATE 500,000-700,000 GBP - Lot Sold: 814,050 GBP
NOTE: "The discovery of the Cosmos is that of a new dimension, it is the Infinite: thus I pierce this canvas, which is the basis of all arts and I have created an infinite dimension, an x which for me is the basis for all Contemporary Art"
The artist cited in Exhibition Catalogue, New York, Solomon R. Guggenheim Museum, Lucio Fontana, Venice/ New York, 2006, p. 19
LITERATURE: Enrico Crispolti, Lucio Fontana Catalogue Raisonné, Vol. II, Brussels 1974, pp. 194-195, no. 67 T 91, illustrated
Enrico Crispolti, Lucio Fontana Catalogue Raisonné, Vol. II, Milan 1986, p. 671, no. 67 T 91, illustrated
Annette Kuhn, Zero Avantgarde der sechziger Jahre, Berlin 1991, no. 101, p. 141, illustrated
Mittwoch, Vienna, 12 August 1992, illustrated
Der Standard, Vienna, 12 August 1992, illustrated
Enrico Crispolti, Lucio Fontana Catalogo Ragionato, Vol. II, Milan 2006, p. 865, no. 67 T 91, illustrated
Lucio Fontana (1899-1968) , Concetto spaziale, New York 3. Photo Sotheby's
signed , lacerations and graffiti on copper; 58 by 58cm. 22 7/8 by 22 7/8 in. Executed in 1962. ESTIMATE 400,000-600,000 GBP - Lot Sold: 791,650 GBP
NOTE: Resplendent in the ever-changing reflections of its faceted copper surface, Lucio Fontana's Concetto Spaziale, New York 3, not only sculpts light itself but also lures us through its powerful lacerations into the limitless Spatialist depths beyond the picture plane. Pioneering a unique form of hanging sculpture, this work typifies Fontana's irrefutable status as a genius of European Abstract Art. This reputation is founded not only on his groundbreaking invention and development of Spatialism, but also a tirelessly innovative use of unprecedented materials. Rooted in his training as a sculptor, Fontana's artistic dialect invariably implicates three-dimensions. By the early 1960s he had incorporated his diverse lacerations and punctures into polygonal and oval canvases; invented new forms of paint; extensively incorporated coloured glass, stones and glitter; experimented with neon tubes; and wrestled with vast volumes of terracotta and bronze. However, with the Metalli works Fontana again reinvented his media, creating breathtaking effects with sheets of metals – aluminium, brass, copper – in search of new artistic possibilities. The Metalli produced between 1961 and 1968 were initially inspired by Fontana's trip to New York from Italy in November 1961. Fontana had been invited to exhibit paintings from his Olii cycle dedicated to Venice at the gallery of Martha Jackson, whom he had previously met through the Director of Architecture at the Museum of Modern Art, Philip Johnson. Of course, it is important to remember that at that time, the Chrysler, Empire State and GE Buildings were barely thirty years old, and Mies Van Der Rohe's extraordinary Seagram Building had been completed in only 1958. The magnificent architecture of New York and the extraordinary light-reflecting sky-scrapers had an overwhelming and inspirational impact on Fontana. After visiting the Seagram Building the artist wrote: "I went to the top floor of the most famous of the skyscrapers...the one made of bronze and gilded glass... It seemed to contain the sun..." (the artist in: Exhibition Catalogue, Venice, Peggy Guggenheim Collection, Lucio Fontana: Venice/New York, 2006, p. 42). Indeed, Luca Massimo Barbero has observed how the island of Manhattan "may paradoxically be compared to Venice's magnificence of the past, but New York was vital, teeming with energy, life, the future" (Ibid).
Concetto Spaziale, New York 3, executed in 1962 belongs to the first group of Metalli, titled New York, which together with the Venice series is the only group of works by the artist which have a figurative subtitle, although Fontana's intentions were certainly never descriptive or illustrative. In 1962 Fontana returned from New York determined to find a pictorial translation for the inspirational emotions he felt generated by the city, which would subsequently become the New York series. Beyond brilliant architectural feats, sky-scrapers also emblematised a future way of life, implementing technological advances to create a more efficient mode of living and working. While in New York, Fontana had attempted to reproduce the city in the work New York, 1961, an oil and collage work on board, but the medium was not sufficiently dynamic or exciting. Fontana had experimented in the Venice series with metallic colours, whose reflective nature fascinated him, but the oil paint maintained a smooth opacity which failed to convey "a city made of glass colossi on which the sun beats down causing torrents of light" (the artist in: Grazia Livi, Vanita, p. 53).
Back in his studio in Milan, Fontana realized that he would have to enlist unprecedented media that referenced directly the shiny structures of New York's buildings. His choice of metallic sheets came quite spontaneously as the only material able to render the magnificent aura of skyscrapers. After experimentation with aluminium and brass, copper became the principal metal employed in the New York series on account of its comparable malleability, lustrous colour and capacity to reflect light and forms into magical fragmentation. Fontana particularly appreciated its strength and resilience despite the creation of multiple facets and fissures necessary to achieve reflections and shadows throughout the sheet. Indeed, for the Metalli series, Fontana conceived light as a fundamental part of the artwork, creating surfaces which recall the ephemeral patterns of reflections left by the sun on the glass windows of Manhattan skyscrapers. He observed how "no other material so successfully captures the sense of this Metropolis made all of glass, of windowpanes, orgies of light and the dazzle of metal" (the artist cited in: Exhibition Catalogue, Venice, Peggy Guggenheim Collection, Op Cit, p. 45).
Executed in 1962 and exhibited at Galleria dell'Ariete in Milan on that year, Concetto Spaziale New York 3 is a strikingly evocative depiction of the sights, sounds and movements of a city, immortalised by the indelible marks of Fontana's line.
LITERATURE: Leader, no. 1, Milan, December 1963, p. 94, illustrated
Shuzo Takiguchi, 'Fontana, Arte Contemporanea', in: Misuzu, no. 25, Tokyo, 1964, pp. 48-49, illustrated
Enrico Crispolti, Lucio Fontana Catalogue Raisonné, Vol. II, Brussels 1974, p. 122-3, no. 62 ME 11, illustrated
Enrico Crispolti, Lucio Fontana Catalogo Generale, Vol. II, Milan 1986, p. 411, no. 62 ME 11, illustrated
Enrico Crispolti, Lucio Fontana Catalogo Ragionato, Vol. II, Milan 2006, p. 598, no. 62 ME 11, illustrated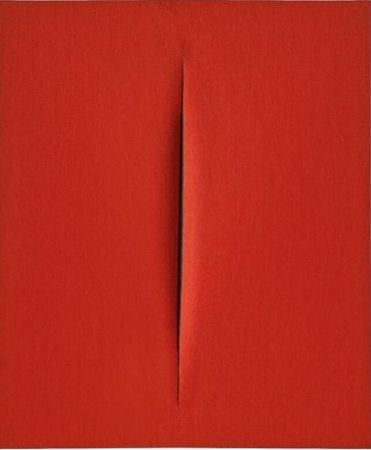 Lucio Fontana (1899-1968) , Concetto spaziale, Attesa. Photo Sotheby's
signed, titled and inscribedᅠChe cielo sereno!! Che serenità d'animo on the reverse, waterpaint on canvas; 55 by 46cm. 21 5/8 by 18 1/8 in. Executed in 1964-65. ESTIMATE 400,000-600,000 GBP - Lot Sold: 758,050 GBP
NOTE: Produced in 1964-65 after having participated in the XXXII Biennale Internazionale d'Arte in Venice, Concetto Spaziale, Attesa epitomizes the artist's groundbreaking explorations of Spatialism. This red variation on Fontana's signature Concetto Spaziale fuses together sensual intimations and the artist's research in conceptually translating infinity of space onto the canvas.
Exquisitely executed, the vertical lyrical slash simultaneously evinces spontaneity and control. The rich, saturated layer of red waterpaint allows the weave of the canvas to show through, insistently drawing attention to the materiality of the artwork. With a sculptor's sensibility, Fontana discarded conventional reverence for the canvas, and instead treated it as an artistic object in its own right.
As an image of spatial reality, Fontana emphasises the canvas' presence with bold, invasive gesture. Fontana cutting directly into the canvas, creates a beautiful contrast to the delicacy of the waterpaint.
In Concetto Spaziale, Attesa Fontana performed surgery on the very concept of painting, committing sacrilege on Clement Greenberg's high altar of Modernism - the flat picture plane. As Fontana declared in his last recorded interview: "I make a hole in a canvas in order to leave behind the old pictorial formulae, the painting and the traditional view of art and I escape, symbolically, but also materially, from the prison of the flat surface" (conversation with Tommaso Trini, July 19, 1968, in Exhibition Catalogue, Amsterdam, Stedelijk Museum; London, Whitechapel Art Gallery, Lucio Fontana, 1988, p. 34). This inquiry into the grey area between painting and sculpture takes a particularly alluring form in the brilliant red of the present Concetto Spaziale, Attesa.
LITERATURE: Enrico Crispolti, Lucio Fontana Catalogo Ragionato, Vol. II, Milan 2006, no. 64-65 T 88, p. 745, illustrated
Sotheby's. Contemporary Art Evening auction, 29 june 2011, London www.sothebys.com