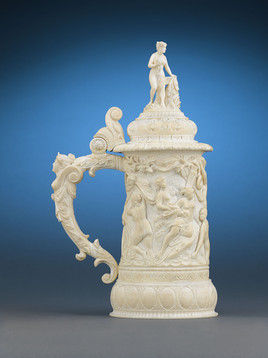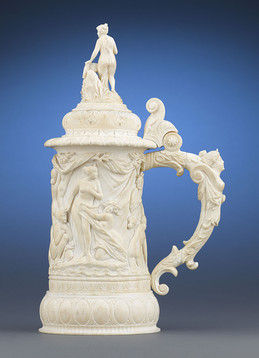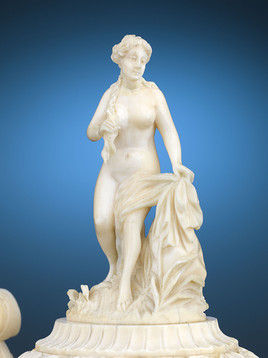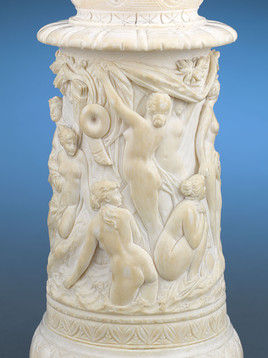 Ivory Artemis and Actaeon Tankard. Circa 1860. Photo MS Rau Antiques
6 3/4" wide x 12 1/8" high.. Price: $34,500

Crafted entirely of precious ivory, this large covered tankard is adorned with the most intricate carving we have ever seen on such an item. Every part of this glorious stein is meticulously executed, from the elegant nude finial on its lid and spectacular handle, which is graced with a carytid, to the magnificent frieze depicting the myth of Artemis and Actaeon. Even the pin in the hinge is delicately carved of ivory! Beer steins and tankards have been crafted from a wide variety of materials, from sturdy metals like silver, pewter, and copper to more fragile materials like glass, salt glaze pottery, porcelain, ivory, stoneware, and faience. Those of the finest quality were made of porcelain and ivory, as they often displayed the most stunning and detailed relief. Those of ivory are extremely fragile, so to find such a remarkable example, so beautifully maintained and intricately carved, is indeed rare.

The tale of Artemis and Actaeon is one that clearly illustrates the ruthlessness of the gods. In it, the hapless hunter Actaeon stumbles across the goddess and her nymphs while they are bathing. Transfixed by Artemis' beauty, Actaeon could only stop and stare. Unfortunately for Actaeon, he is discovered. Incensed that this mortal should see her naked, the virgin goddess turns him into a stag, and he is subsequently torn apart by his own hounds.
MS Rau Antiques. www.rauantiques.com