Lucian Freud in his studio in the photograph entitled Working at Night. Photograph: David Dawson
Lucian Freud en décembre 2008. Richard Young / Rex Fea/REX/SIPA
Lucian Freud. photo AFP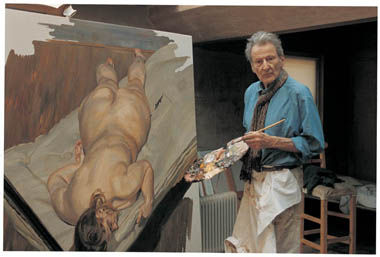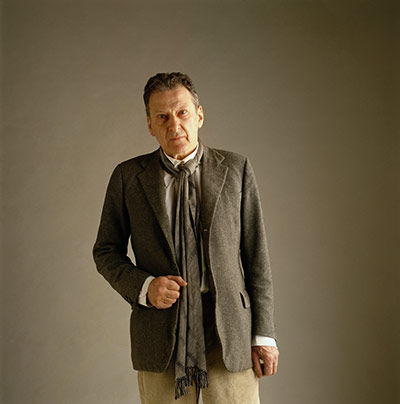 A portrait of British painter Lucian Freud taken circa 1990.
"When I look at a body it gives me choice of what to put in a painting, what will suit me and what won't. There is a distinction between fact and truth. Truth has an element of revelation about it. If something is true, it does more than strike one as merely being so." Lucian Freud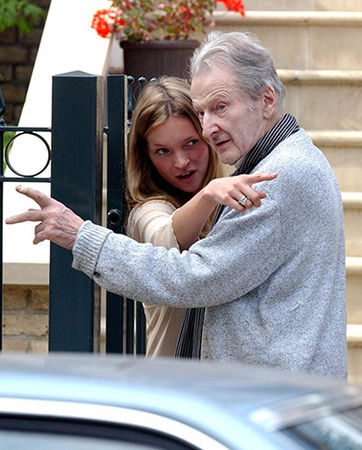 Kate Moss with Lucian Freud. Freud painted the fashion model when she was pregnant. Photograph: Stephen Butler /Rex Features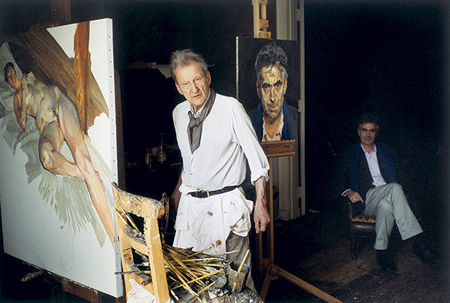 Lucian Freud with Martin Gayford in his studio. Photograph: David Dawson
Lucian Freud painting the Queen in 2001. Photograph: David Dawson/Government Art Collection
"I am only interested in painting the actual person, in doing a painting of them, not in using them to some ulterior end of art. For me, to use someone doing something not native to them would be wrong." Lucian Freud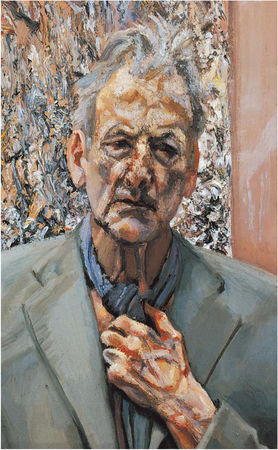 Lucian Freud, Self-portrait, Reflection (detail), 2002. Photograph: © Lucian Freud 2005
Lucian Freud, Reflection (Self Portait). 1985. 56.2 x51.2 cm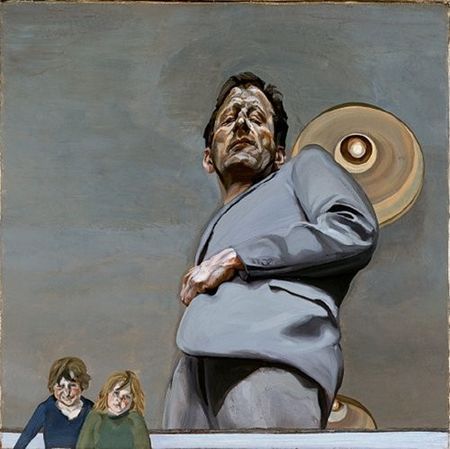 Lucian Freud, Reflection with Two Children (Self-Portrait), 1965 / Reflet avec deux enfants (autoportrait), 1965 © Madrid, Museo Thyssen Bornemisza / photo : José Loren / Lucian Freud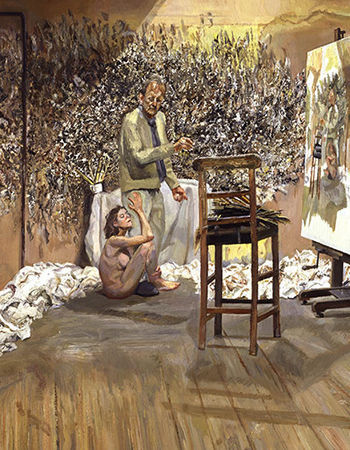 Self portrait entitled The Painter Surprised by a Naked Admirer Photograph: Lucian Freud/AFP/Getty Images
"My work is purely autobiographical.. It is about myself and my surroundings. I work from people that interest me and that I care about, in rooms that I know." Lucian Freud
Francis Bacon, Lucian Freud.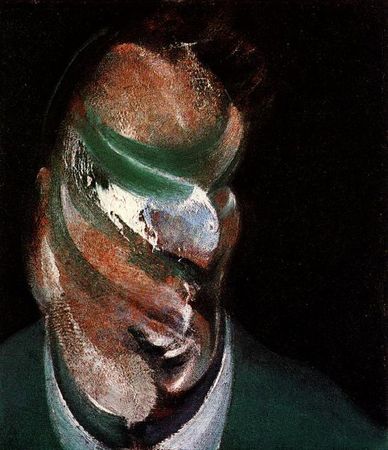 Francis Bacon, Study for Head of Lucian Freud
I remember Francis Bacon would say that he felt he was giving art what he thought it previously lacked. With me, it's what Yeats called the fascination with what's difficult. I'm only trying to do what I can't do." Lucian Freud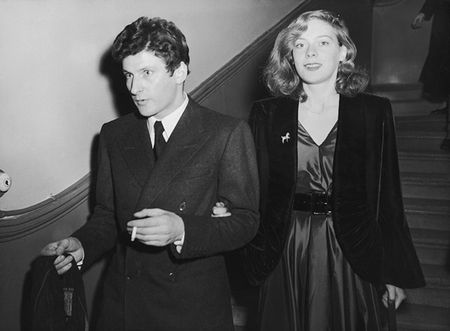 Lucian Freud and Lady Caroline Blackwood leaving Chelsea registry office after their wedding, 9th December 1953. Photograph: Popperfoto/Getty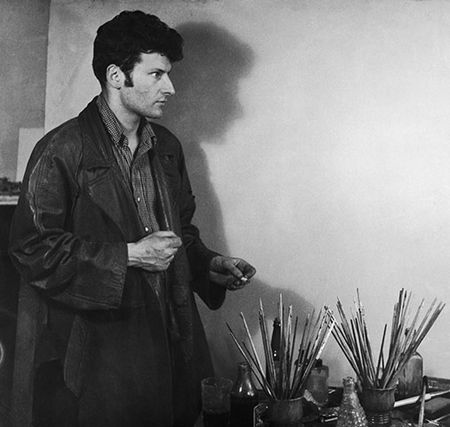 A young Lucian Freud in a studio, 1954. Photograph: Paul Popper/Popperfoto
A portrait of Lucian Freud in his studio. Photograph: Jane Bown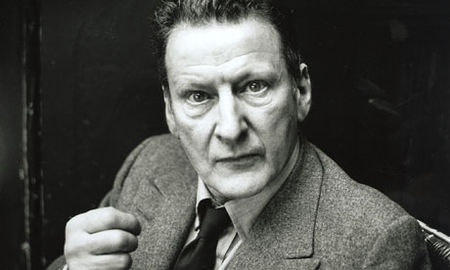 Lucian Freud, British artist. Photograph: Jane Bown
I have a hatred of habit and routine. And what dogs love is just that. They like regular everything, and I don't have regular anything. I have a timetable, but no routine.". Lucian Freud
LONDRES (ROYAUME-UNI) [22.07.11] – « L'artiste Lucian Freud, né le 8 décembre 1922 à Berlin, est mort paisiblement la nuit dernière à son domicile à Londres », confirmait un communiqué de son avocate Diana Rawstron le 21 juillet 2011. En 2008, son œuvre « Benefits Supervisor Sleeping » le consacrait artiste vivant le plus cher au monde. Ce tableau restera le symbole d'une peinture figurative obsédée par la chair humaine.
Le peintre britannique Lucian Freud, petit-fils du célèbre psychanalyste Sigmund Freud, est décédé le 20 juillet 2011, à l'âge de 88 ans. « Il a vécu pour sa peinture et a peint jusqu'à sa mort, se tenant à l'écart du vacarme de la vie artistique », résume William Acquavella, son galeriste londonien.

Selon le New York Times, l'artiste est décédé des suites d'une brève maladie à son domicile de Londres. Lucian Freud vivait à Notting Hill, dans une maison où il avait également installé ses ateliers. Il était né à Berlin en 1922. Mais, dès 1934, sa famille avait fuit le nazisme en s'installant au Royaume-Uni.

Le peintre était surtout connu pour ses nus et ses autoportraits. Il était aussi devenu l'artiste vivant le plus cher au monde, lors de la vente de son Benefits Supervisor Sleeping à New York, en 2008. Ce tableau, représentant une femme obèse nue sur un canapé, avait alors été adjugé pour 33,6 millions de dollars au collectionneur russe Roman Abramovitch.

« La vitalité de ses nus, l'intensité de ses natures mortes et la présence de ses portraits de famille et d'amis ont assuré à Lucian Freud une place unique dans le panthéon des artistes de la fin du XXe siècle », a depuis déclaré le directeur de la Tate Gallery de Londres, Nicholas Serota. En 2010, Cécile Debray, conservateur au Musée national d'Art moderne de Paris assurait le commissariat de l'exposition Lucian Freud. L'Atelier. A cette occasion, elle avait déclaré à L'œil : « Lucian Freud est porté par un profond souci de réalisme. Il aspire à la transcription d'un réel beaucoup plus complexe que le réel ». (www.artclair.com)
LONDON (AP).- Lucian Freud, a towering and uncompromising figure in the art world for more than 50 years, has died, his New York-based art dealer said Thursday. He was 88.

Spokeswoman Bettina Prentice said that Freud died after an illness at his London home late Wednesday night, but didn't give any further details.

Freud was known for his intense realist portraits, particularly of nudes. In recent years his paintings commanded staggering prices at auction, including one of an overweight nude woman sleeping on a couch that sold in 2008 for $33.6 million.

William R. Acquavella, his dealer, said in a statement that he would mourn Freud "as one of the great painters of the twentieth century."

"He lived to paint and painted until the day he died, far removed from the noise of the art world," he said.

Freud stubbornly refused to follow the trends of that world, insisting on using his realist approach even when it was out of favor with critics and collectors. He developed his own unique style, eventually winning recognition as one of the world's greatest painters.

"He certainly is considered one of the most important painters of the 20th and 21st Centuries," said Brett Gorvy, deputy chairman of the postwar art department at Christie's auction house in New York. "He stayed with his figurative approach even when it was extremely unpopular, when abstraction was the leading concept, and as time moved on his classic approach has proven to be very important. He fought the system and basically won."

He said Freud remained totally dedicated to his work, overcoming all obstacles and painting long hours every day well into his late 80s in a sustained bid to complete his life's work before death overtook him.

"He lived and breathed his art," said Gorvy. "For someone who was so successful, he was extraordinarily regulated in his day, with three main sittings a day and some at night. He worked each and every day to this very tough regime. He was very aware of his own mortality and he knew his time was very, very precious."

Freud was the grandson of Sigmund Freud, a leading pioneer of modern psychoanalysis. He was born in Berlin in 1922 and moved to London with his parents Ernst and Lucie Freud in 1933 after Hitler and the Nazis rose to power in Germany.

He was naturalized as a British subject six years later and spent almost his entire working life based in London, where he was often seen at fashionable restaurants, sometimes with beautiful younger women, including the fashion model Kate Moss, who he painted nude, and other luminaries.

He was at the height of his fame in the last decades of his life, when he still continued to paint for long hours at his studio in London's exclusive Holland Park. He was even named one of Britain's best dressed men by the fashion magazine GQ when he was well into his ninth decade.

But there was little beautiful or sexy in Freud's nude portraits, which did not gloss over a subject's flaws. The intimate detail of his paintings sometimes left viewers uncomfortable.

"He has certainly divided critics," said Starr Figura, a curator at the Museum of Modern Art in New York. "The ones who don't appreciate him find his work hard to look at and a bit out of step with what is going on in the rest of the world. They have a hard time categorizing it."

She said Freud's work can be unsettling.

"I think his work is very charged, and it is quite disturbing to look at," she said. "That's what gives people a problem and that's what gives his work power and fascination. His work is incredibly personal, and that comes through. On the other hand it is also very detached and critical and that is what makes it so intense.

Among his most famous subjects was Queen Elizabeth II, who posed for Freud fully clothed after extensive negotiations between the palace and the painter. The colorful portrait, which the artist donated to the queen's collection, remains one of the most unusual and controversial depictions of the British monarch.

"It makes her look like one of the royal corgis who has suffered a stroke," Other critics said more enthusiastically that the work had broken the staid mold of royal portraiture.

Other critics said more enthusiastically that the work had broken the staid mold of royal portraiture.

In his studio, Freud worked extremely slowly and deliberately. People who posed for Freud said it sometimes took him months or years to complete a portrait because of his attention to every tiny detail and the complex nature of his brushwork, which gave his paintings a lifelike intensity.

He sometimes spent entire days mixing paints without putting a brush to canvas. When he did finally paint, he would wipe his brush on a cloth rag after every stroke. Great piles of rags lay on the floor of his studio and eventually he began to incorporate the rags into some of his paintings.

Freud often painted his friends, relatives and fellow artists. Others were simply ordinary people who received a small daily fee for posing for Freud. He usually refrained from using professional models because he felt they brought artifice into his studio.

His 1950-51 portrait of his first wife was to remain one of his most famous and best loved works. The detail of her features, the shadows in the room and her partial nudity are typical of the nuance and frankness of much of Freud's work.

Nudity became a central feature of Freud's art. Painting people without their clothes, he believed, peeled away their outer layer and helped reveal their instincts and desires.

"I'm really interested in people as animals," he told curators at the Tate Britain museum in advance of a major show in 2002. "Part of my liking to work from them naked is for that reason, because I can see more ... I like people to look as natural and as physically at ease as animals."

His first solo exhibition was at the Lefevre Gallery in 1944 after a brief stint working on a merchant ship during World War II. After the war, Freud left London for several years to paint primarily in France and Greece.

On his return in 1948, he started showing his work regularly at various exhibits and also taught art at several schools.

His first major retrospective exhibition appeared at London's Hayward Gallery in 1974 to critical acclaim. Further retrospectives appeared in Paris, Berlin and Washington between 1987-88 and in 2002 at London's Tate Britain museum.

Freud's work can be found in major public collections around the world, including the Tate Gallery and the National Portrait Gallery in London, the National Gallery of Modern Art in Paris and the Museum of Modern Art in New York.

In 1998, prominent art critic Robert Hughes described Freud as "the greatest living realist painter."

Despite the accolades, he kept trying to improve his work even as the end of his life neared.

"I think the most dangerous thing for an artist would be to be pleased with one's work simply because it is one's own," he once said. "One wants every picture to be better than its predecessors. Otherwise, what's the point?"

The painter feuded for many years with his late brother Clement Freud, a popular writer and broadcaster who died in April, 2009. He did not attend Clement Freud's funeral.

Freud's marriage to Kathleen Garman lasted four years and was dissolved in 1952. They had two daughters together. His second marriage, to Caroline Blackwood in 1953, ended in 1957.

Prentice, the spokeswoman, said in an email that funeral arrangements had not yet been made public.

Karolina Tagaris and Raphael G. Satter contributed to this report. Copyright 2011 The Associated Press.