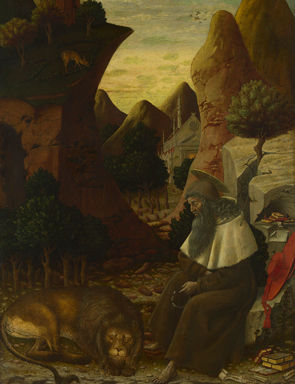 Bono da Ferrara, Saint Jerome in a Landscape, about 1440. Egg tempera on poplar, 52 x 38 cm. The National Gallery, London. Bought, 1867
LONDON.-
This summer, the history of the
National Gallery
comes alive in Room 1. Art for the Nation introduces the first Director of the Gallery: Sir Charles Lock Eastlake (1793–1865), a man described by one contemporary as the 'Alpha and Omega' of the Victorian art world. The exhibition shows a handful of Eastlake's purchases of Italian Renaissance art and also demonstrates, using little-known items from the Gallery's archive and library, the extent to which Eastlake laboured behind the scenes for the National Gallery.
Eastlake was trained as painter and spent his formative years in Rome. He was in touch with many influential European thinkers and writers on the practice and theory of art, and was diligent in touring Europe to see the Old Masters at first hand. He made copies of some of them, including a painting by Titian that was later destroyed in a fire – the Death of St Peter Martyr (private collection). He returned to London in 1830, and first made his mark as a painter of genre scenes, idealising portraits and religious subjects, before becoming known as a writer on art and, increasingly, as an arts administrator. He was elected President of the Royal Academy in 1850.
On 27 March 1855, aged 62, Eastlake was appointed Director of the National Gallery. In his capacity as Keeper (between 1843 and 1847) and then a Trustee (from 1850) he had become acutely aware of the Gallery's shortcomings. Using his executive powers he set about developing coherent policies on acquisition and display at the Gallery. From this point, he abandoned his career as a painter.
Eastlake spent at least six weeks of each year abroad in search of masterpieces for the nation. He was regularly accompanied by his wife, Elizabeth, and often by his manservant Nicholas Tucker (both of whom are named in his official passport, which can be seen in the exhibition). Otto Mündler, who was employed as the Gallery's Travelling Agent for three years, was another regular companion on Eastlake's excursions. As Director, Eastlake continued to support the view that the Gallery needed to acquire pictures that could form a representative account of the history of western European painting. He made it his first priority to build up the collection in the direction of early Italian art – of the 14th and 15th centuries. However, the majority of Italian paintings that Eastlake acquired dated to the late 15th and early 16th centuries (including Giovanni Bellini's Madonna of the Meadow and Catena's Saint Jerome in his Study).
'Art for the Nation' displays one of Eastlake's travel notebooks of 1858, including his jottings about Pisanello's Virgin and Child with Saints. Thirty-six of his notebooks are preserved in the National Gallery's archives, and in all they cover a period of 35 years (1830–1865). Their character changes significantly when Eastlake started to travel as the Director of the National Gallery. For one thing, he began systematically to write down facts about, and his reaction to, the arrangement of other European museums, notably the galleries in Berlin and Munich.
Most importantly, as Director, Eastlake started to assess whether a potential purchase was truly 'eligible' for the nation's collection. Certain criteria became standard in Eastlake's assessment in his notebooks: the painting's subject matter and its ability to complement the Gallery's holdings in some manner, as well as its state of conservation and the asking price.
During this time, Eastlake developed three principal methods to secure his attributions of paintings: comparative analysis of a comprehensive range of art works documented in his notebooks; use of archival and secondary source material; and, most pioneering, first-hand and proto-scientific analysis of the materials and methods used to create paintings.
Apart from securing more than 150 paintings for the nation, Eastlake was instrumental in bringing about a number of new developments at the Gallery. For one thing, a highly impressive catalogue was published of all the paintings in the collection, which included for the first time details about the artist, subject matter, measurements and medium. In connection with the revised programme of cataloguing, labels were added to the paintings from 1856, therefore supplying the public with free information. Eastlake also thought hard about the visual appearance of the galleries and he attempted for the first time to arrange pictures by date and country of origin, in order to help the public gain a better understanding of the history of western art.
Eastlake died in Pisa on Christmas Eve, 1865. He had ensured that his nation possessed an art collection of remarkable range and of extraordinarily consistent high quality. 'Art for the Nation' celebrates a man who undertook many important initiatives at the National Gallery, which helped to form it into the institution it is today. Arguably, no subsequent Director has been able to match the range and quality of Eastlake's acquisition during his decade in office. Furthermore, his desire to display pictures in well-lit and sympathetically decorated rooms, and to arrange them in appropriate frames and in historical sequence, still influences the arrangement of paintings in the Gallery's permanent collection today.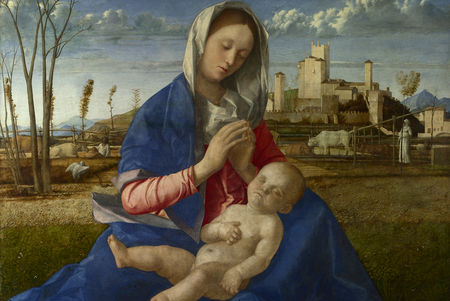 Giovanni Bellini, Madonna of the Meadow, about 1500. Oil and egg on synthetic panel, transferred from wood, 67.3 x 86.4 cm. The National Gallery, London. Bought, 1858.