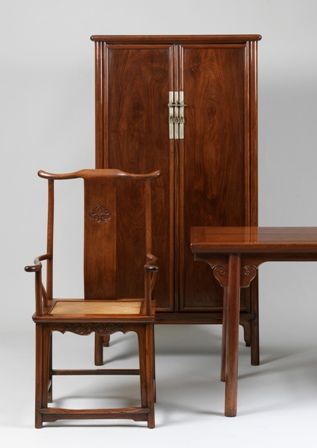 Group of Chinese furniture.
LONDON.- A superb private collection of Chinese furniture, all made of the South-east Asian hardwood that has come to be known as huanghuali, will be exhibited at Eskenazi, one of the world's leading dealers in Chinese works of art, at 10 Clifford Street, London W1, from Thursday 3 to Friday 25 November 2011. The exhibition will coincide with the 14th staging of Asian Art in London which takes place from 3 to 12 November 2011, an annual event that unites London's Asian art dealers, major auction houses and societies in a series of selling exhibitions, auctions, receptions, lectures and seminars that attract visitors from around the world.
The history of Chinese furniture dates back some two and a half thousand years, the designs gradually evolving over the centuries and reaching their apex in the late Ming and early Qing dynasties, c. 1600-1700, the classic period from which come all the pieces in the Eskenazi exhibition. At this time a convergence of styles, newly available imported exotic hardwoods such as huanghuali and zitan and an affluent scholar and merchant class led to the creation of some of the finest furniture ever made. Although created hundreds of years ago, its clean modernist lines make it extremely popular today with both western and Chinese collectors.
The ancient Chinese, in common with other cultures, knelt or sat cross-legged on woven mats surrounded by such furnishings as low tables, screens and armrests. Raised seating began to be developed during the 2nd century AD with the spread of Buddhism from India . Stools proliferated through every level of Chinese society and were not solely the seat of the wealthy – while they could convey rank and importance they also served as a more intimate form of seating whereby scholars could sit together on the same level. Stools were also the most varied and used forms of Chinese furniture and among the examples to be shown by Eskenazi is a rare pair of huanghuali stools (deng).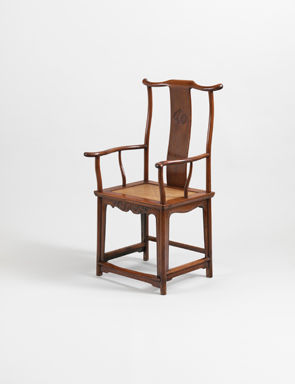 Huanghuali high yoke-back armchair, sichutouguanmaoyi. Late Ming-early Qing period, c. 1600-1700. Height: 119.0 cm. Depth of seat: 47.5 cm. Width of seat: 56.5 cm.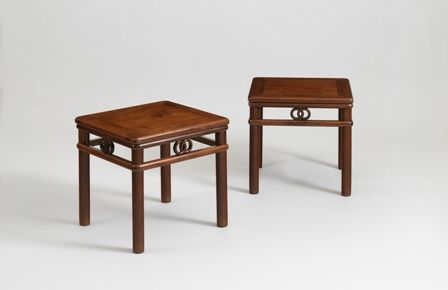 Pair of Huanghuali stools, deng. Late Ming-early Qing period, c. 1600-1700. Heights: 49.0 cm. Widths: 50.3 cm. Depths: 46.7 cm
There are two, more important, chairs in the exhibition, both showing the traditional soft seat construction, each an example of a highly desirable type. One is a high 'yoke-back' armchair (sichutouguanmaoyi), so called because of the curving elements projecting from the top rail; the other is a 'horseshoeback' armchair, its descriptive name self-explanatory, finely carved with a crane inside a roundel on the back splat. There are two similar, substantial round-corner cabinets (yuanjiaogui) made of beautifully figured panels of huanghuali, both with internal drawers and shelves, one constructed with a central stile separating the doors, the other without.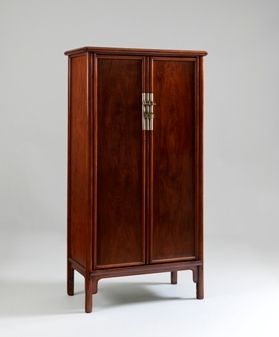 Huanghuali round-corner cabinet, yuanjiaogui. Late Ming-early Qing period, c. 1600-1700. Height: 189.2 cm. Width: 95.5 cm. Depth: 53.0 cm
The range of tables in the show includes some very rare types. Along with the other pieces so far mentioned, all demonstrate the mastery of the Chinese craftsman over his material and the highly skilled joinery essential to create these seemingly unfussy, light but sturdy, strong yet elegant utilitarian works of art that have survived for hundreds of years without a screw or a nail being required for their construction. Of the tables, the small Ming wine table with its decorative burlwood panel (that would have been cut from a large, diseased growth on another, different type of tree), the extremely rare pair of side tables with their 'wraparound' elements (banzhuo) and the large, beautifully balanced painting table with its openwork apron (tiaozhou) are particularly worthy of mention.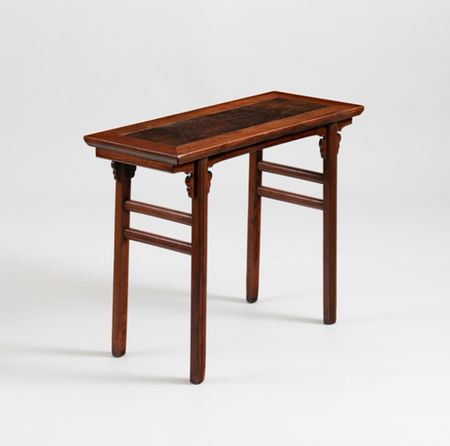 Huanghuali and burlwood wine table, jiuzhuo. Late Ming period, 16th-17th century.Height: 74.5 cm. Length: 95.0 cm. Depth: 38.5 cm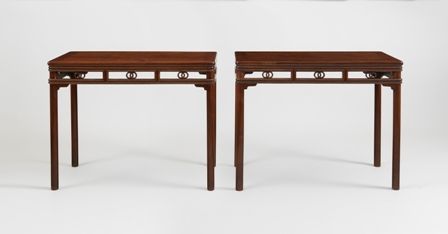 Pair of Huanghuali side tables, banzhuo. Late Ming-early Qing period, c. 1600-1700. Heights: 89.0 cm, Lengths: 111.5 and 111.6 cm. Depths: 54.5 and 55.5 cm
Huanghuali painting table, tiaozhuo. Late Ming-early Qing period, c. 1600-1700. Height: 82.0 cm. Length: 157.4 cm. Depth: 70.0 cm
The joinery system and decorative styles of Song furniture laid the foundation for the technical and aesthetic perfection of the classical furniture of the late Ming and early Qing dynasties made from the new exceptionally durable and beautiful South-east Asian imported hardwoods. Valued for their natural beauty, the expensive, richly-grained hardwoods were finished with only wax. This classic furniture is characterised by simple, elegant structures with fluid lines, balanced proportions and concealed joints. As the supply of imported hardwoods was depleted during the late 1700s, the high technical and artistic standards of the previous two centuries were largely lost. The pure and simple lines and integrity of classical Chinese furniture gave way in the 19th century to a greater concern with ornament for its own sake.

Eskenazi's exhibitions are always eagerly awaited for the beauty and rarity of the objects offered and this elegant furniture is no exception. Since the family business was founded in Milan in 1925, the Eskenazi name has become synonymous with expertise in oriental art. Giuseppe Eskenazi, who has been head of the business for over 40 years, has an unrivalled reputation for his knowledge and love of the subject and clients have included over seventy of the world's major museums as well as private collectors.