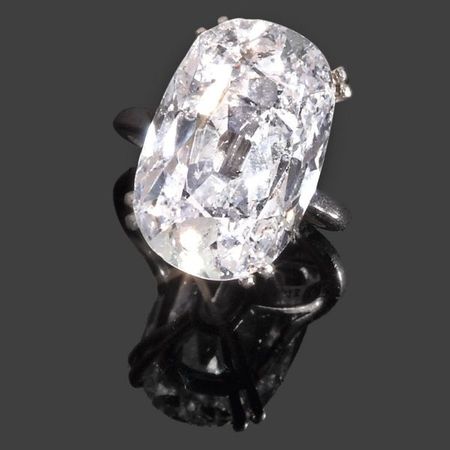 Bague en platine, sertie d'un diamant de taille coussin allongé. photo Tajan
pesant 14,39 cts, il surmonte par sa colette un petit diamant baguette serti en son fond. Poids : 8,7 g. Dim. de la pierre : 19,13 x 12,69 x 7,66 mm (ébréchures marquées) -
Provenant de l'écrin de bijoux de la comtesse Maria G.B.
A platinum and diamond ring.

La pierre accompagnée d'un certificat L.F.G. attestant : couleur G, pureté P2 et d'un rapport de pierre exceptionnelle attestant : Type IaAB présentant des inclusions remarquables comme des grenats pyropes orangés ou des pyroxènes bleu-vert.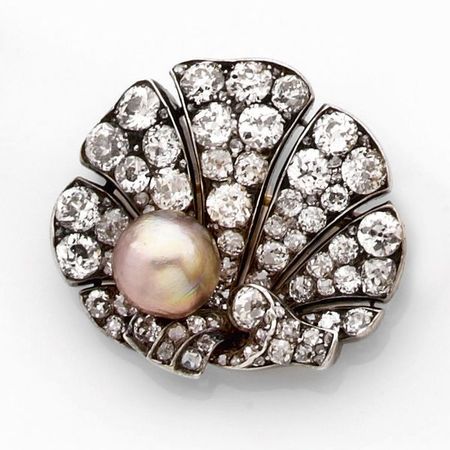 Broche coquille en argent et vermeil. Travail de la fin du XIXe siècle. Probablement russe. photo Tajan
sertie de diamants de taille ancienne, ponctuée d'une perle grise rosée. Poids : 17,2 g. Dim. de la perle : 9,5 - 9,8 x 7,2 mm - Estimation : 8 000 / 10 000 €
Ancienne collection Comtesse Maria G.B.
A late 19 th century diamond, pearl, vermeil and silver brooch.

La perle accompagnée d'un certificat LFG attestant : perle fine.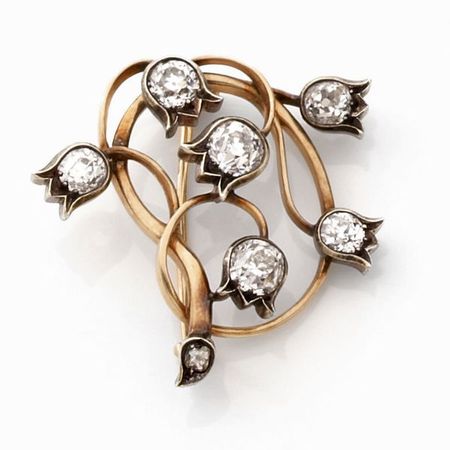 Broche muguet en fils d'or jaune entrelacés, chacune des fleurs en argent sertie de diamants. Poinçon russe. Vers 1900. photo Tajan
Poids : 8 g (14k). Haut. 3,1 cm environ. Poids total des diamants : 2 cts environ - Estimation : 2 000 / 3 000 €
Ancienne collection Comtesse Maria G.B.
A diamond, 14K gold and silver brooch. Russian assay marks for gold.

Note: La comtesse Maria G.B., célèbre pour son élégance et son goût pour les bijoux, a quitté la Russie au début du XXe siècle, chassée par la révolution dans son pays. Après avoir voyagé en Europe, elle a rejoint la France.
Danseuse réputée ayant dansé à l'Opéra de Paris, à la Scala de Milan, elle a, à la grande époque des ballets russes, fondé une école de danse à Paris. Le roi Farouk lui avait alors proposé d'enseigner la danse aux enfants royaux d'Egypte.
Tajan - 98000 Monaco. Mardi 2 août 2011. Monte-Carlo - Café de Paris - Salon Bellevue - 98000 Monaco www.tajan.com