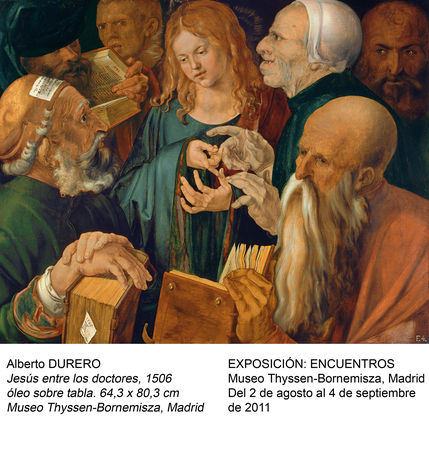 MADRID.- Within its Permanent Collection of Old Master Paintings, the Museo Thyssen-Bornemisza has a group of works depicting episodes from the life of Christ, from his childhood to the period after the Resurrection. Between 2 August and 4 September and in conjunction with the celebration of World Youth Day 2011, the Museum will be presenting the exhibition Encounters. It comprises a selection of nine of the above-mentioned paintings by 14th- to 18th-century artists including Albrecht Dürer, Duccio di Buoninsegna, Giovanni Paolo Panini, Aert de Gelder, Il Guercino and Matthias Stom.
The exhibition will enable visitors to become familiar with the works of these celebrated artists of the northern schools (Dutch, Flemish and German) as well as those from southern Europe, in particular Italy, expressed in a range of styles that correspond to the particular schools with which these painters are associated.
The works will be displayed in the Context exhibitions gallery in the Balcony-Gallery on the first floor of the Museum, with direct access from the main hall and free entry. The exhibition will benefit from the Museum's summer opening hours and will remain open until 11pm from Tuesdays to Saturdays. Opening hours on Sundays are from 10am to 7pm.
The first "encounter" in the exhibition is the one that took place between Christ and the Doctors (1506), an episode from the childhood of Christ depicted by Albrecht Dürer (1471-1528), the greatest German Renaissance artist. Considered one of the masterpieces in the Museo Thyssen-Bornemisza, this original composition reveals the influence of Italian painting in the use of half-length figures, the arrangement of the heads and the emphasis on gestures.
Among the various episodes to be seen here from the earthly life of Christ are two important ones that depict the meeting between Christ and the Woman of Samaria by Jacob's well, as recounted in the Gospel of Saint John. The first is a small panel by Duccio di Buoninsegna (active 1278-1319) entitled Christ and the Woman of Samaria (1310-1311), which was originally part of the altarpiece that the artist executed for the Duomo in Siena. The second version, which is another masterpiece within this exhibition, is entitled Christ and the Woman of Samaria at the Well (ca.1640-1641) and symbolises baptism and conversion through the word. It was painted by Il Guercino (1591-1666) who focused his attention on the dialogue between the two figures beside the well.
Finally, and within the section devoted to the period after the Resurrection, the exhibition includes The Supper at Emmaus (ca.1633-1639) by Matthias Stom (ca.1600 – after 1652), who focused on the moment described in the Gospel of Saint Luke when Christ revealed himself to his followers after he had blessed and broken the bread.