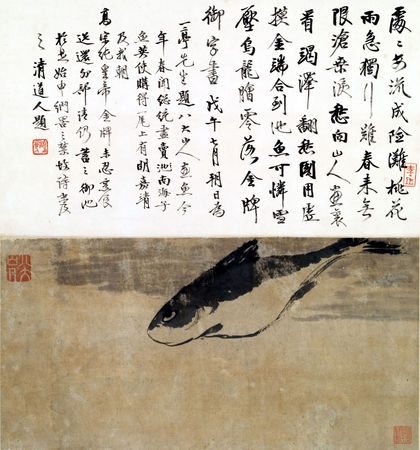 明/清 朱耷 魚樂圖 軸. Zhu Da (1626 – 1705), Fish. Undated. Hanging scroll, ink on paper, 26 x 51 cm. Cat. no. 63.
The collapse of the Ming dynasty (1368-1644) and subsequent conquest of China by semi-nomadic Manchu tribesmen from northeast of the Great Wall engendered some of the most traumatic events in Chinese history. This wrenching era also spurred an enormous outpouring of creative energy as many former Ming subjects turned to the arts to express their loyalty to the noble but doomed cause of Ming restoration and to assert their defiance and moral virtue. Drawn from one of the finest and most comprehensive private assemblages of the art of the Ming-Qing transition, The Art of Dissent in 17th-Century China: Masterpieces of Ming Loyalist Art from the Chih Lo Lou Collection will showcase more than 60 landscape paintings and calligraphies that highlight the intensely personal styles created by the leading artists of that time. Particularly noteworthy are the clusters of exceptional works by Huang Daozhou, Hongren, Bada Shanren (Zhu Da), and Shitao. The exhibition, recently on view at the Hong Kong Museum of Art, will open at The Metropolitan Museum of Art on September 7.
The exhibition was organized by the Hong Kong Museum of Art of the Leisure and Cultural Services Department of HKSAR Government and the Chih Lo Lou Art Promotion (Non-profit Making) Ltd.
The Manchu conquest followed several decades of political weakness at the Ming court that had left large portions of the country in chaos. When the capital in Beijing fell to a Chinese bandit army in 1644, Manchu forces poised along the Great Wall routed the rebels but then continued their march southward. After crushing Ming resistance in the city of Yangzhou, which was burned for 10 days as an example, the southern capital of Nanjing surrendered, but it took another 40 years to suppress various Ming claimants to the throne and to quell armed rebellions in the south.
During this time, many former Ming subjects maintained their loyalty to the fallen regime by refusing service under the Manchu Qing ("pure") dynasty (1644-1911). To endure the often harsh conditions of alien rule, these so-called "leftover subjects" took psychological as well as physical refuge in nature, and their representations of landscape often project their emotional responses to this radically changed world order. In transforming painting and calligraphy into vehicles for self-expression, they demonstrated a remarkable independence from traditional styles and techniques. For this reason, they have been celebrated as visionary individualists, whose styles have remained influential to the present day.
In order to provide an appropriate aesthetic and intellectual context for the material, the exhibition will be organized into five thematic or regional groupings: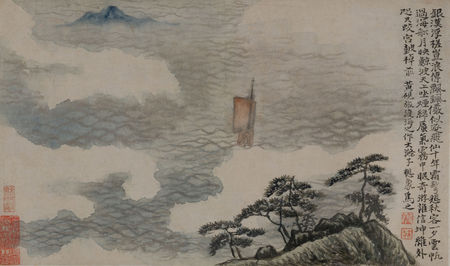 清 石濤 寫黃研旅詩意 冊. Shitao (1642–1707), landscapes depicting a poem of Huang Yanli, dated 1701-1702. 12 leaves from an album of 22 leaves, ink and colour on paper. Each 20.5 x 34 cm. Cat. no. 75. LEAVES 75.6, 9, 18
Ming Martyrs
After taking Beijing, the capital of the Ming state, in 1644, the Manchus extended their rule through a succession of southward military campaigns against Ming loyalist resistance, which officially ended in 1661. During the intervening years, a number of Ming officials and scholars sacrificed themselves for the revivalist cause. The first gallery in this exhibition will highlight some of these martyrs, notably Ni Yuanlu (1593-1644) and Huang Daozhou (1585-1646), whose highly acclaimed paintings and calligraphies reveal their noble characters through both their choice of subject matter and expressively daring styles.
The Yellow Mountain and Nanjing Regional Schools
The next two galleries will focus on two of the most important centers of loyalist artistic activity: Nanjing and the rugged wilderness environs of Yellow Mountain (Huang Shan). The two served as complementary poles in the long-established urban-rural continuum of Chinese life, as city dwellers and rural residents alike found in landscape depictions a quintessential reflection of enduring cultural and moral values. Among the works on view are masterpieces by Zhang Feng (act. ca. 1628-1668), Kuncan (1612-1673), and Gong Xian (1619-1689), three of the leading loyalist artists active in Nanjing, as well as two iconic images by Hongren (1616-1663), the patriarch of the Yellow Mountain School.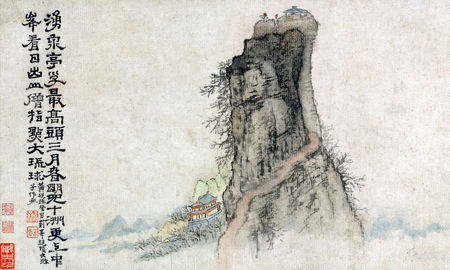 清 石濤 寫黃研旅詩意 冊. Shitao (1642–1707), landscapes depicting a poem of Huang Yanli, dated 1701-1702. 12 leaves from an album of 22 leaves, ink and colour on paper. Each 20.5 x 34 cm. Cat. no. 75. LEAVES 75.6, 9, 18
Guangdong Artists
A major focus of the collection is loyalist artists from the Guangdong region in southwestern China. On view will be works by Kuang Lu (1604-1650), Zhang Mu (1607-1687), and other Guangdong artists who were either martyrs during the dynastic transition or active participants in the ensuing resistance movement.
Monk Painters
Two of the greatest artists of the early Qing period, Bada Shanren (or Zhu Da, 1626-1705) and Shitao (1642-1707)—both descendants of the Ming imperial house who became Buddhist monks to escape persecution—will be the focus of a large gallery devoted to works by monk artists. Bada cultivated a deeply personal style in both landscape and flower-and-bird painting with abbreviated enigmatic imagery that suggests a deeply troubled mental state. Shitao, a sophisticated theorist as well as a versatile artist, relied upon direct observation of nature as well as his great technical facility with brush and ink to create the most original landscape style of the 17th century.
明/清 蕭雲從 山水 冊. Xiao Yuncong (1596-1673), Landscapes. Dated 1645. Album of 12 leaves, ink and color on paper. Each 23 x 15 cm. Cat. no. 18. LEAF 18.1
Jiangsu and Zhejiang Artists
The final galleries of the exhibition will present major works by masters working in the traditional artistic centers of Suzhou and Hangzhou. Among the Suzhou painters, Huang Xiangjian (1609-1673) will be represented by a remarkable album that chronicles his perilous 1,400-mile journey from Suzhou to Yunnan and Guizhou Provinces in search of his parents. Among the paintings by Zhejiang artists working near the old Song capital of Hangzhou, a mammoth 12-panel set of landscapes of the four seasons by the professional master Lan Ying is a tour de force of painterly craft.
The works featured in the exhibition were collected in the 1950s and 1960s by the late Hong Kong collector Ho Iu-kwong (He Yaoguang, 1907-2006), who named his studio the Chih Lo Lou or "Hall of Supreme Bliss." The collection is now held in a non-profit public entity administered by Mr. Ho's descendents.
In conjunction with the exhibition, a variety of education programs will be offered, including gallery talks and a Sunday at the Metlecture program (September 18), during which noted historians will discuss art, culture, and dissent in Chinese history.
In New York, The Art of Dissent in 17th-Century China: Masterpieces of Ming Loyalist Art from the Chih Lo Lou Collectionis curated by Maxwell K. Hearn, Douglas Dillon Curator in Charge; with Shi-yee Liu, Research Associate, both of the Metropolitan Museum's Department of Asian Art. Exhibition design is by Michael Langley, Exhibition Design Manager; graphics are by Kamomi Solidum, Associate Graphic Designer; and lighting is by Clint Ross Coller and Richard Lichte, Lighting Design Managers, all of the Museum's Design Department.
The exhibition will be accompanied by a catalogue. September 7, 2011 – January 2, 2012
清 陳字 山水人物 冊. Chen Zi (1634 – 1711), Figures and landscape. Undated. Album of 8 leaves, ink on paper. Each 16.5 x 34 cm. Cat. no. 71. LEAVES 71.2, 4