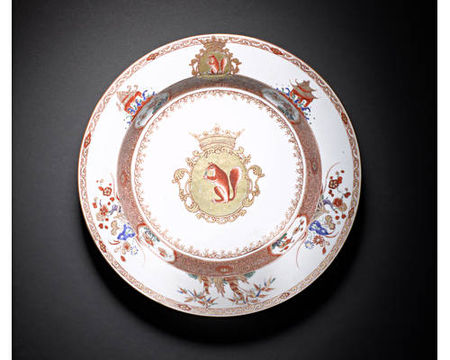 An elegant rouge-de-fer armorial soup dish of circular form decorated with the arms of The Sichterman Family of Gronigen. Yongzheng/circa 1740-45. Photo Bonhams
The base with an old label, written in French, mistakenly stating that the Squirrel device and arms are those of the Fouquet Family, famous for Nicholas Fouquet's service as Minister of Finance under Le Roi Louis XIV; 22.5cm (about 9in) diameter. Estimate: £500 - 800, HK$ 6,400 - 10,000
Note: For a similar dish, see: Christian Jorg's 'Chinese Ceramics in The Collection of The Rijksmuseum', page 306. This service was manufactured for Jan Albert Sichterman [1692-1764] who served in Batavia as Assistant Merchant with the VOC, 1716. Sichterman eventually retired in 1744, returning home to Gronigen the following year.
An underglaze blue Armorial teapot with domed cover and white-metal spout. Qianlong. Photo Bonhams
Decorated with The Arms of Edwards with Hanbury in pretence (see Howard/page 597; said to be circa 1755) (2).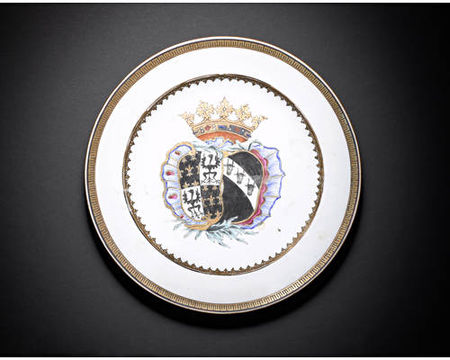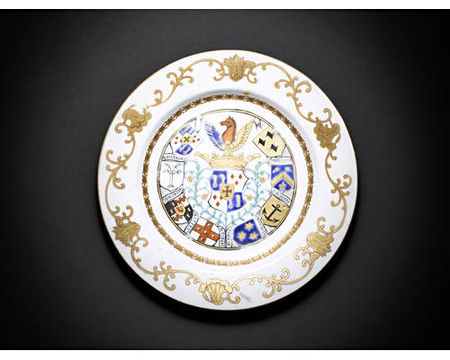 Three armorial dishes, including: one in famille rose decorated with the arms of The De Famars of Amsterdam/The Vriesens of
Zwolle; and another dish with scroll and shell border decorated with The arms of Theodorus Van Reverhost and his ancestors. Photo Bonhams
Each dish about 23cm (9in) diameter (3). Estimate: £1,000 - 2,000, HK$ 13,000 - 26,000
Note: For another example of The De Famars/Vriesen armorial dish, see Christian Jorg's 'Chinese Ceramics in The Collection of The Rijksmuseum' on page 309. This service was ordered by Johan Wilhelm de Famars and Mechteld Johanna Geertruid Vriesen who were married at Zwolle in 1752. The service is thought to have been ordered for this occasion.

Another dish from the Theodorus van Reverhost service is illustrated in David Howard's 'The Choice of The Private Trader' on page 92. Van Reverhost was a member of the Court of Justice in Batavia, retiring to Holland in 1752. See also Lunsingh Scheurleer's 'Chinese Export Porcelain' [148/173/274] for other pieces from this service.
A famille rose Armorial dish of octagonal form, made for The Gordons of Invergordon. Qianlong/circa 1745. Photo Bonhams
Decorated with the arms of a branch of Gordons quartering Forbes [Howard/page 313]; together with a another famille rose dish with a similar, central design. The octagonal dish about 23cm (9in) long (2). Estimate: £1,000 - 1,500, HK$ 13,000 - 19,000
Bonhams. Chinese & other Asian Works of Art, 7 Sep 2011, Knightsbridge
www.bonhams.com