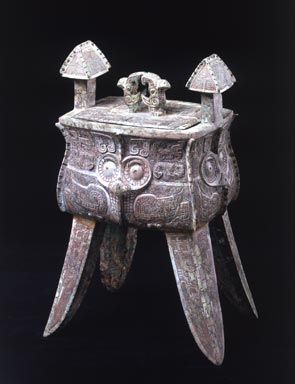 Wine Vessel and Cover, Fangjia, Bronze, Late Shang Dynasty.
LONDON.- Sotheby's London announces that it will host "Fine Chinese Archaic Bronzes from Compton Verney". The Exhibition will feature rare works from one of the most important private museum collections of Chinese archaic bronzes in the U.K and will take place at Sotheby's London 34-35 New Bond Street from November 6th-9th 2011 during London Asian Art Week. Meticulously curated, it features 12 remarkable archaic bronzes dating from the Shang (1600-1100 BC) to the Zhou (1100-256 BC) dynasties, a period of over 1,000 years and will offer visitors to London the opportunity to view a selection of treasures from this prestigious private museum.

Stephen Loakes, Senior Specialist of Sotheby's London Department of Chinese Ceramics and Works of Art said: "Sotheby's is honoured to stage this important exhibition of treasures from Compton Verney, whose collection of ancient Chinese bronzes is internationally renowned. The exhibition features some of the rarest ritual vessels of the Bronze Age, many of them landmark achievements of Chinese art."
Bronzes featured in the exhibition
* Archaic Bronze Ewer and Cover, He - Late Western Zhou Dynasty Length: 33 cm.
Supported on four animal form legs, the body cast in low relief with concentric rings of interlocking dragon scroll, the spout formed as a rearing animal with pricked ears and wide open mouth and the cover decorated with stylized bird and animal figures, vessels of this type were used as wine containers during the Western Zhou dynasty.
*Archaic Bronze Vessel and Cover, Lei - Eastern Zhou Dynasty Height: 39.2 cm

Of compressed globular shape with two handles in the form of dragon-heads, this vessel derives from stoneware prototypes made since early Eastern Zhou times. The body is finely cast with a band of dragon roundels in high relief, while the large domed cover is topped with an open-work knop. The two large handles support a triple-link loose ring-handle that may have been used to suspend the vessel over fire or to be carried. The vessel bears the inscription which may be translated: '(the result of the divination is that) the long journey of Chen Shu's grandson Ke Huang is auspicious.'

*Archaic Bronze Vessel and Cover, You - Middle Western Zhou Dynasty Height: 18.5 cm

Finely cast of oval section, this slightly compressed pear-form vessel is richly decorated in high relief with stylized mythical birds against a leiwen ground. The ring handles terminate in tapir-form heads, while the decoration of the domed cover is made to match the main vessel. The interior of the vessel and cover is cast with a three-character pictogram zuo bao yi that may be translated 'made this precious vessel'.

*The Teng Hu Gui Archaic Bronze Vessel, Gui - Early Western Zhou Dynasty, Height: 23.8 cm.

Supported on a square pedestal stand, this vessel is one of the most important archaic bronze pieces in the Compton Verney collection. The main body is of deep bombé form swelling gently below a flared straight mouthrim. This rare gui can be attributed to its area of origin through the long three-column inscription which names a certain Hu of Teng as its maker. This suggests that it is from the feudal court of Teng in the region of Yangzhou, southwest of Tengxian, present day Shandong province.

*The Albright-Knox 'Owl' Decorated Archaic Bronze Vessel, Fangjia Late Shang Dynasty, Height: 30.7 cm.

Fangjia is among the rarest types of archaic bronze vessels from the Shang dynasty with only a small number of comparable examples known. The robustly cast body of square section is set with a pair of finials and is adorned on three sides with strikingly rendered magnificent owl heads. The flat rectangular cover is surmounted by a pair of openwork birds encircled by four pairs of confronting birds in low relief around the edge. Vessels of this type were used as wine containers during ritual ceremonies.

*Archaic Bronze Vessel, Lei - Western Zhou Dynasty, Height: 45 cm.

This massive ovoid form vessel is supported on a high spreading foot and is cast in high relief with eight large pendant blade-shaped panels enclosing confronting kuei dragons. Six whorl bosses divided by stylised dragons decorate the shoulder that also bears two large buffalomask loop handles. The interior of the neck is inscribed with a single pictogram ge that is the name for an ancient dagger-axe weapon or that of a clan.
*Archaic Bronze Vessel and Cover, You - Early Western Zhou Dynasty, Height: 42.8 cm.

The present pear-form vessel and cover is made of four sections that are richly decorated with four horned dragons on the outer edges and at the top curves of the handle. The finial of the cover is cast with six animal masks, as are the two protrusions on the sides that are cast with the taotie motif.

*Archaic Bronze Vessel and Cover, Hu - Late Western Zhou Dynasty, Height: 48 cm.

The present hu is unusual in its exaggerated proportions, with an angular cover and linear decoration. The body is of circular form cast in relief with alternating grooved bands and narrow stylised small borders beneath the waisted neck. It is also flanked on each side with horned animalmask handles with loose rings that are decorated with a scroll pattern.

*Archaic Bronze Bird-Form Vessel and Cover, Hu - Warring States Period Height: 41.6 cm.

In the form of a plump bird raised on a spreading pedestal foot, this vessel was used as a wine container during ritual ceremonies. The beak of the bird forms a broad spout, while the top of the head consists of a hinged section of slightly domed cover. The raised sections on either side of the cover act as eyes and two of the thee upright rings on the cover form the ears of the animal.

*Archaic bronze vessel, Zhi - Early Western Zhou Dynasty, Height: 16.6 cm.

Made of a slightly compressed body crisply cast in relief on each side with a bold taotie mask design with raised horns, this zhi bears a six-character pictogram that may be translated 'This fugui vessel was made by royal commission'. Vessels of this type are after earlier, Shang dynasty, pieces although those with handles are rare.

*Archaic Bronze Owl-Form Vessel and Cover, Xiaoyou Shang Dynasty, Height: 22.9 cm.

Finely cast in the form of two owls, their plump bodies forming the vessel, this xiaoyou bears a twocharacter pictogram in its interior, possibly a clan name that reads long and consists of a dragon head and two hands. Vessels of this unusual owl form were primarily made during the Shang dynasty and were either covered all over with a dense decoration or left more austere and plain.

*Archaic Bronze Vessel, Gui - Western Zhou Dynasty, Width: 27 cm.

The present gui with its compressed globular body, two bovine mask handles and standing on a high flanged base with a waisted neck, is characteristic of the Western Zhou period. However, the decoration of bosses within diamond patterns are typical of the Shang tradition, as is the decoration of dragons found below the neck around the body.

*Exhibition to take place during London Asian Art Week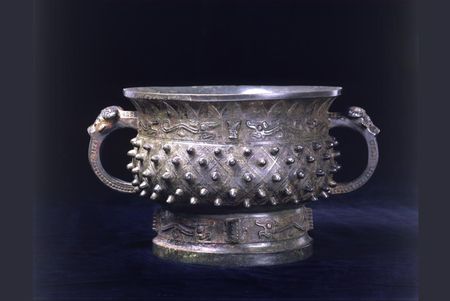 Photo Sotheby"s