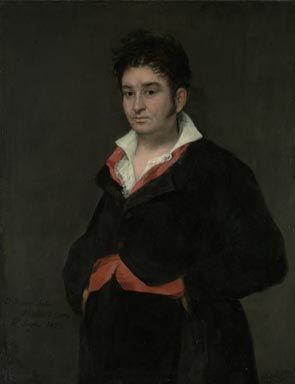 Portrait of Don Ramón Satué, Francisco de Goya. 1823. Oil on canvas, Rijksmuseum.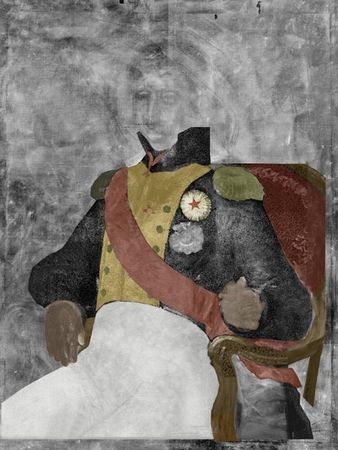 Discovered Portrait of a French general (scan).
AMSTERDAM.-
An innovative method for examining paintings has revealed a hitherto unknown painting beneath Goya's Portrait of Don Ramón Satué, one of his most celebrated masterpieces and the only painting by this famous Spanish artist in The Netherlands. The hidden portrait, which is almost certainly also by Goya himself, was brought to light using Scanning Macro X-ray Fluorescence Spectrometry a new technique developed by the University of Antwerp and the Delft University of Technology.
From the scans it can clearly be seen that Goya (1746-1828) painted his portrait of the casually-posed Spanish judge, Ramón Satué, over a much more formal portrait of a man wearing uniform. The decorations embellishing the uniform are those of the highest ranks of a chivalric order instituted by Joseph Bonaparte when his brother, the emperor Napoleon, created him King of Spain. The hidden portrait must thus date from between 1809 and 1813. Goya's portrait of Satué is signed and dated 1823.
Although the hidden sitter's face is not entirely legible, the portrait almost certainly depicts one of the French generals who accompanied Joseph to Madrid, and may, perhaps, even be of Joseph himself. The portrait is likely to have been left on Goya's hands when the French army was driven from Spain in 1813, and Ferdinand VII restored to the throne. Ten years later Goya would have had good reason to cover it up. He had subscribed to the liberal Spanish Constitution of 1820, and when Ferdinand resumed absolutist rule in 1823 Goya feared reprisals,. going so far as to go into hiding with a kinsman of Satué's. Under the circumstances, his possession of a portrait of a Napoleonic officer could only have been construed as compromising
Professor Joris Dik of Delft University of Technology: We can take the new mobile scanner to a museum and map the layers of a painting. This enables us to estimate which pigments and colours are present underneath the visible painting without ever touching it.
The October issue of the leading academic journal for art history, The Burlington Magazine, will contain a detailed article about the hidden portrait by Duncan Bull (Rijksmuseum Curator of International Art), Anna Krekeler (Rijksmuseum painting restorer), Matthias Alfeld (University of Antwerp), Koen Janssens (University of Antwerp) and Joris Dik (Delft University of Technology).
Goya's portrait of Ramón Satué is on display at Museum Boijmans Van Beuningen in Rotterdam until the opening of the Rijksmuseum's main building in 2013.