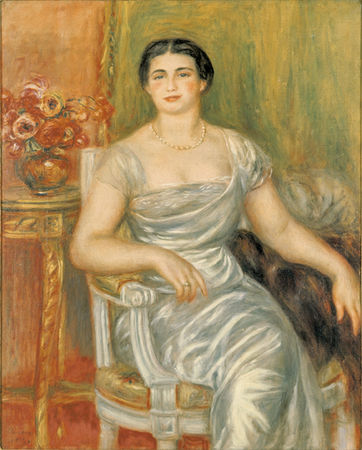 Pierre-Auguste Renoir, Porträt der Dichterin Alice Vallières-Merzbach, 1913. Öl auf Leinwand, 92 x 73 cm. Association des Amis du Petit Palais, Genève. Foto: Studio Monique Bernaz, Genève
CHEMNITZ.- The Kunstsammlungen Chemnitz is presenting the large-scale exhibition PIERRE-AUGUSTE RENOIR. Like Painted Silk from 18 September 2011 to 8 January 2012. The exhibition aims to cast an altogether new light on the great Impressionist painter. In addition to masterpieces from private collections and from European museums such as the Musée d'Orsay, Paris, the National Museum of Stockholm and the Belvedere in Vienna, the show will also include the rich stock of prints by Renoir from the Saarland Museum in Saarbrücken. This unique exhibition of more than 90 paintings and prints will be shown exclusively in Chemnitz, indeed it is the first solo exhibition of Renoir's works on the territory of the new federal German states.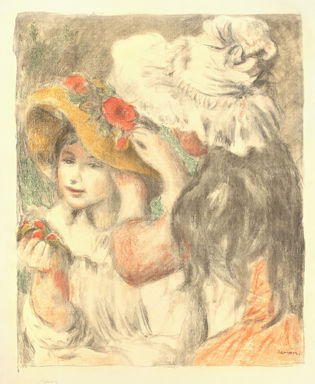 Pierre-Auguste Renoir, Das Feststecken des Hutes, Berthe Morisots Tochter und ihre Kusine, 1898 Farbige Kreide- und Pinsellithografie auf Vergépapier, Variante II, 84 × 62 cm. Stiftung Saarländischer Kulturbesitz, Saarlandmuseum Saarbrücken, Sammlung Kohl-Weigand. Foto: Raphael Maaß, Dillingen
Pierre-August Renoir (1841-1919) was the son of a tailor and a seamstress and therefore familiar from childhood with fabrics, their visual and haptic features, their colours and ornamentations, and their symbolic power. So from the very beginning of Renoir's career as an artist, silks and velvets, and with them the raw materials of contemporary fashion, were vital sources of inspiration. Like scarcely any other representative of Impressionism, Renoir succeeded in capturing and reproducing the sensual aspects of luxurious textiles. In response to the question of which women's clothing he most liked to paint, Renoir replied: "To be honest, I prefer to paint a woman naked; but if I have to paint her clothed, then preferably in a princess's dress that ensures a pretty contour." As for colours and materials, he had a preference, among others, for metallic blue with a silvery gleam, traditional embroideries full of patina, but also for the rustle of silk. The impact he strove for in his paintings was that of "painted silk". The sensuality of the fabric not only influenced Renoir's choice of subject, it was also a conscious decision in favour of the sitters' particular clothing. What could be more natural therefore than to study Renoir's paintings with a view to the clothing, colours and fabrics depicted. Yet so far this aspect has never been addressed in the literature or in exhibitions. And it is a theme that is eminently suitable for the Kunstsammlungen Chemnitz, given that the museum has a unique collection of French silks and velvets dating from around 1900. Parallel to the exhibition of works by Renoir, a representative selection of those precious fabrics will be on show for the first time in the exhibition VELVET AND SILK. French Luxury – Fabrics from the Era of Pierre-Auguste Renoir. The items in this exhibition will enter into a unique sensual dialogue with the artist's paintings.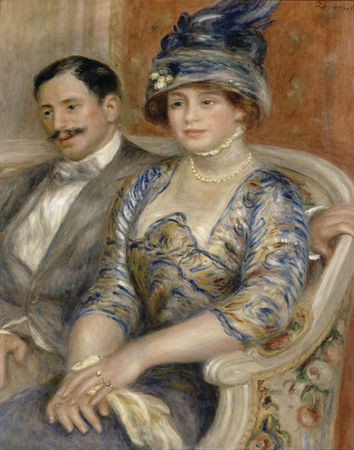 Pierre-Auguste Renoir, Monsieur und Madame Bernheim de Villers, 1910. Öl auf Leinwand, 81 x 65,5 cm. Paris, Musée d`Orsay, don de M. et Mme Bernheim de Villers, 1951. Foto: bpk / RMN / Hervé Lewandowski
The works chosen for the Renoir exhibition illustrate a clear development in the artist's handling of textiles. The depiction of fabrics and clothing in his early paintings testify to the zeitgeist and to modernity, whereas in the late works it reveals an artistic mise-en-scène and a sensual uxuriating in very specific patterns, colours and silk's particular capacity to envelope and delineate the body. In his late oeuvre, which in view of the gently flowing and iridescent coloration might also be called his "silk period", the material coalescence, as it were, of clothing and body, fabric and skin, is visually rendered in nudes wonderful arranged amidst drapes and fabrics.
Pierre-Auguste Renoir, Im Sommer, 1868. Öl auf Leinwand, 85 x 59 cm. Staatliche Museen zu Berlin, Nationalgalerie. Foto: bpk / Nationalgalerie, SMB / Jörg P. Anders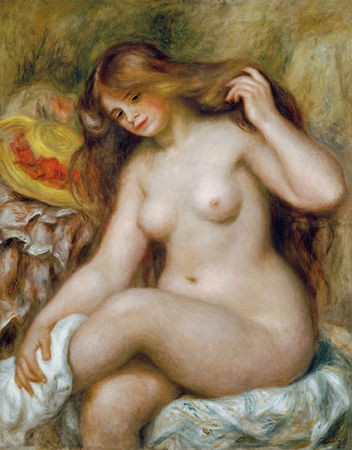 Pierre-Auguste Renoir, Badende mit blondem, offenem Haar, um 1903. Öl auf Leinwand, 92,7 × 73,4 cm. Belvedere, Wien. Foto: Belvedere, Wien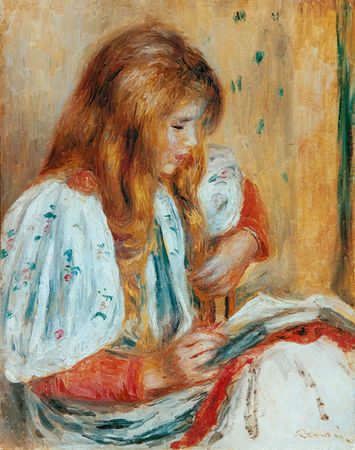 Pierre-Auguste Renoir, Lesendes Mädchen (Mädchen in Weiß), 1891-1905. Öl auf Leinwand, 41 × 32 cm. Privatsammlung Foto: Privatsammlung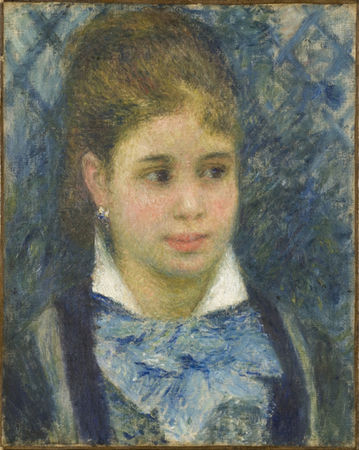 Pierre-Auguste Renoir, Junge Pariserin, 1875. Öl auf Leinwand, 40 × 32 cm. Nationalmuseum, Stockholm © Erik Cornelius / Nationalmuseum, Stockholm