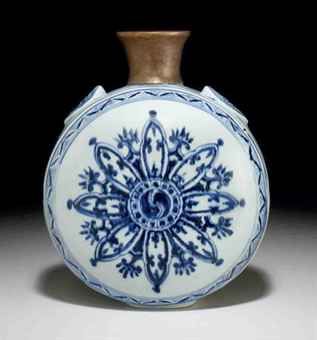 A Rare Blue And White Moonflask, Bianping. Yongle Period (1403-1425) . photo Christie's Ltd 2011
Raised on a short, rounded rectangular foot, each convex side painted in underglaze blue of dark, inky tone with a stylized flower formed by eight palmette-joined petals radiating from a central yinyang motif encircled by a narrow petal band, all within an outer diaper border, the narrow sides painted with two vertical parallel lines interrupted on the shoulder by petal-shaped terminals painted with lotus sprays; with later-added neck: 10½ in. (26.7 cm.) high, wood stand, box. Estimate $60,000 - $80,000 - Price Realized $110,500
Provenance: Sotheby's, London, 12 June 1990, lot 210.
The Tsui Museum of Art.
Notes: Intact flasks of this type from the Yongle period are illustrated by R. Krahl, Chinese Ceramics in the Topkapi Saray Museum, Istanbul, vol. II, London, 1986, no. 616; J. Ayers, Far Eastern Ceramics in the Victoria and Albert Museum, London, 1980, no. 145; and J. Harrison-Hall in Ming Ceramics in the British Museum, London, 2001, p. 110, no. 3:21, where it is noted that Yongle examples are far more rare than Xuande ones. Compare, also, with an example sold in our Hong Kong rooms, 28 November 2006, lot 1512.

These moonflasks were made primarily for export or as gifts to Near Eastern rulers. For the origins of this shape and decoration, see B. Gray, 'The Influence of Near Eastern Metalwork on Chinese Ceramics', T.O.C.S., 1940-41, vol. 18, p. 57 and pl. 7F; and M. Medley, 'Islam and Chinese Porcelain in the 14th and early 15th Centuries', Bulletin of the Oriental Ceramic Society of Hong Kong, no. 6, 1982-84, fig. 11.
Christie's. Fine Chinese Ceramics and Works of Art Part I & II, 15 - 16 September 2011. New York, Rockefeller Plaza. www.christies.com