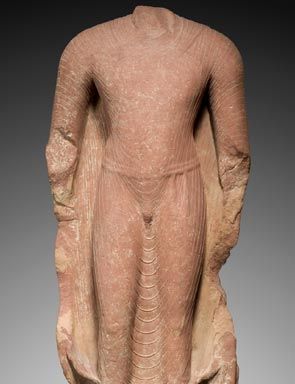 Torso of a Buddha, 5th century c.e. Mathura, Uttar Pradesh. Gupta period (320–551 c.e.) Sandstone Height: 45-1/4 inches (115 cm) Purchase: Nelson Trust, 45-15
KANSAS CITY, MO.-
Five works of art from
The Nelson-Atkins Museum of Art
's internationally acclaimed Asian collection have been loaned
to The Pulitzer Foundation for the Arts in St. Louis for Reflections of the Buddha, a superb selection of some of the greatest Buddhist sculptures and hanging scrolls held in the United States. The Nelson-Atkins' contributions range from some of the earliest depictions of Buddhist art to a Tibetan thangka, painted in color on cloth, from the 18th century. Reflections of the Buddha offers visitors a unique encounter with Buddhist visual and spiritual traditions, experienced in harmony with the contemplative atmosphere of the Foundation.
"The Nelson-Atkins Museum is an extraordinary treasure; its Asian collections are among the very best anywhere in the Western world,"
said Robert Mowry, curatorial advisor to the exhibition and the Alan J. Dworksy Curator of Chinese art.
"We are all fortunate that the Nelson is lending so many fine works to Reflections of the Buddha, as they are works that are pivotal to the understanding of the development of Buddhist art."

Mowry did his graduate work in Chinese art at The University of Kansas. He studied with Lawrence Sickman, the founding curator of the Nelson-Atkins. Mowry chose the five pieces from the Nelson-Atkins with the guidance of Colin Mackenzie, senior curator, Chinese art, and Kimberly Masteller, Jeanne McCray Beals curator of south and southeastern Asian art.

"Buddhism is a remarkably tolerant and adaptable religion," said Mackenzie. "It is the union of wisdom and compassion, and this exhibition adds beauty to that."

Two of the pieces the Nelson-Atkins contributed are the sandstone sculpture Torso of the Buddha and the deeply cut panel Scene from the Life of a Buddha.

"Torso of the Buddha is one of the best sculptures of its kind outside of India," said Masteller. "When you stand before it, you feel a serenity that translates through its stone medium. This piece can be compared to ancient Greece and the search for higher knowledge through the perfection of the human body."

The panel from Pakistan, Scene From the Life of a Buddha, is beautifully sculpted with muscular forms emerging out of the stone that harkens back to the great sculptures of Rome.

"This striking composition speaks to the power of the Buddha to persuade humanity to follow the path to spiritual enlightenment," said Mackenzie.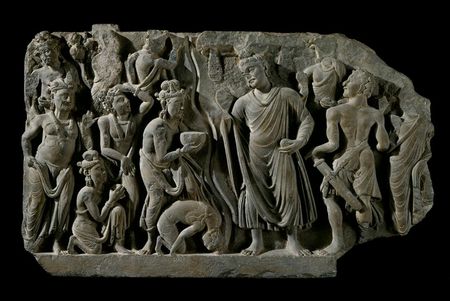 Scene from the Life of the Buddha,
late
2nd century c.e. Pakistan. Kushana period, Gandhara (1st–3rd century c.e.) Phyllite ; 22-1/2 × 36 inches (57.2 × 91.4 cm) Purchase: Nelson Trust, 55-105